Back to selection
Jessica Oreck and Murmur Launch Interactive Documentary, The Aatsinki Season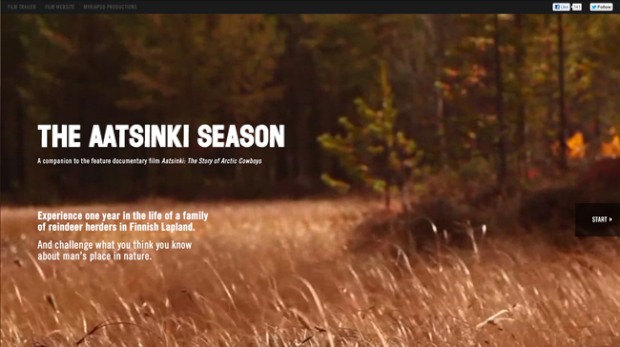 When we last checked in with 25 New Face filmmaker Jessica Oreck, she was attending the POV Hackathon, a two-day event at which the documentary television series paired filmmakers with web developers. There Oreck met Mike Knowlton and Hal Siegel of the hybrid studio/technology company Murmur, and in just over three months the team has created The Aatsinki Season, an online counterpart to Oreck's forthcoming feature documentary, Aatsinki: The Story Of Arctic Cowboys. Launching today, the work is both hypnotic and thoughtful, comprising text, film and flow charts, and allowing the viewer to initiate debate over the ecological issues facing these Finnish farmers.
"Experience one year in the life of a family of reindeer herders in Finnish Lapland," the website beckons. "And challenge what you think you know about man's place in nature."
Commented Oreck, "The film is very pure, direct cinema—an immersive and atmospheric study of this family and their connection to the land.. Without changing the experience of the film, we wanted to find a way to get people talking about the complex issues that affect these herders and modern, independent farmers around the world. The Aatsinki Season enabled us to build out the story in both an engaging and educational way."
The Aatsinki Season is designed to unfold over the course of a full year. As the seasons change, will viewers will be confronted with the new challenges facing the herders.
"The act of conceiving, designing and developing The Aatsinki Season represented a meshing of the two traditionally separate processes of filmmaking and programming. We believe that this is a way forward for cinema, and The Aatsinki Season is a step toward realizing this vision," said Mike Knowlton, partner at Murmur and the technical lead on the project.
While covering the POV Hackathon, Randy Astle shot this video with Oreck, Knowlton and Siegel where they discuss the prototyping that led, months later, to this work.