Back to selection
Sundance Institute Announces Selections for the Feature Film Program 2013 Screenwriters Lab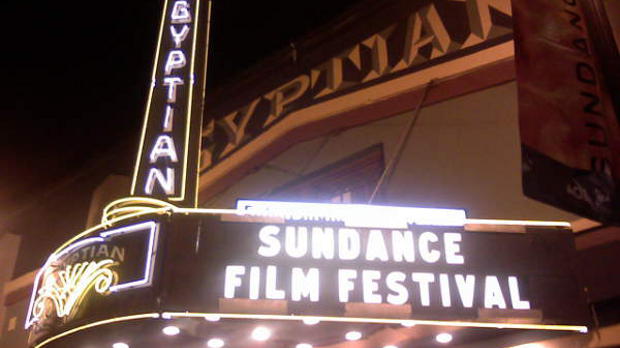 Sundance Institute has selected 12 projects for its 2013 January Screenwriters Lab, an immersive, five-day (January 11-16) writers' workshop at the Sundance Resort in Utah. Participating independent screenwriters will have the opportunity to work intensely on their feature film scripts with the support of established writers including Marcos Bernstein, D.V. DeVincentis, Michael Goldenberg and Erin Cressida Wilson. The 2013 Lab is dedicated to the memory of Frank Pierson (1925-2012), a founding creative advisor of the Feature Film Program.
Keri Putnam, Executive Director of Sundance Institute, said, "Across all Sundance Institute Labs, which include offerings for various forms of artistic expression, the constant is creating an environment that encourages innovation and creative risk-taking. We look forward to building a unique community of artists at our Lab, in support of these emerging screenwriters and their stories."
The projects and Fellows selected for the 2013 January Screenwriters Lab are:
700th and International (U.S.A.)
Chinaka Hodge (writer)
A trash-talking hood track phenomenon named Tuka dies by an unexpected bullet; she awakes to find herself in a corrupt version of heaven where everyone has a job—namely, to decide the exact moment of death for someone still living on earth.
Chinaka Hodge is a poet, educator and playwright from Oakland, California. She received her BA from NYU's Gallatin School and her MFA from USC's School of Cinematic Arts. After nearly a decade of performing her own words around the globe and on two seasons of Def Poetry, she made the transition to the screen and received her first credit for Brave New Voices on HBO.
The Adderall Diaries (U.S.A.)
Pamela Romanowsky (writer/director)
While covering a real-life murder mystery, writer Stephen Elliott realizes he'd rather investigate his own dysfunctional relationships with women, his father and himself. Based on the memoir by Stephen Elliott.
Born and raised in Minnesota, Pamela Romanowsky moved to New York to attend NYU's Graduate Film Program. Her short film Gravity premiered at the Slamdance Film Festival and won the National Board of Review and the Wasserman/King Foundation's student filmmaking awards. Her most recent directorial effort is TAR (James Franco, Mila Kunis, Jessica Chastain, Zach Braff), a multi-director omnibus based on the life and poetry of CK Williams.
Avalanche (Iran)
Morteza Farshbaf (co-writer/director) and Anahita Ghazvinizadeh (co-writer)
When a nurse takes the graveyard shift, a period of sleeplessness and solitude leaves her with a new perspective on her life.
Morteza Farshbaf is an Iranian writer and filmmaker. He studied cinema at the Tehran University of Art, during which time he was a student of and assistant for Abbas Kiarostami. After making several short films, Farshbaf's first feature Mourning won the New Currents Award and FIPRESCI Prize at the 2011 Busan International Film Festival.
Anahita Ghazvinizadeh is an Iranian writer and filmmaker. She studied cinema in Tehran and is continuing her education in film in the United States. She was also a student of Kiarostami, and has made short films in Iran and the US. She has collaborated with Farshbaf on several projects, including as a co-writer of Mourning.
Franny (U.S.A.)
Andrew Renzi (writer/director)
When the daughter and new husband of late family friends move back to Philadelphia, a larger-than-life but damaged man cannot control his desire to recreate the past.
Andrew F. Renzi wrote and directed the short film The Fort, which premiered at the 2012 Sundance Film Festival. His newest short film, Karaoke!, will premiere at the 2013 Sundance Film Festival. Previously, Renzi worked with the New York production company Borderline Films on Antonio Campos' Afterschool (Cannes 2008) and Alistair Banks Griffin's Two Gates of Sleep (Cannes 2010).
The Incident (U.S.A)
Jan Kwiecinski (writer/director)
When a young man decides to cover up an accidental murder, his whole life comes into focus in ways he never expected.
Jan Kwiecinski graduated from the filmmaking departments of the London Film School and the Wajda's Master School of Directing. His award-winning short film, The Incident, screened internationally at many festivals including the Shanghai International Film Festival and the T-Mobile New Horizons Film Festival. Recently, Kwiecinski directed the segment entitled Fawns of the omnibus feature The Fourth Dimension, co-directed by Alexey Fedorchenko and Harmony Korine. The film premiered in the Narrative Competition at the 2012 San Francisco Film Festival.
Let the Northern Lights Erase Your Name (U.K. / Germany / U.S.A.)
Eva Weber (co-writer/director) and Vendela Vida (co-writer)
Twenty-eight-year-old Clarissa discovers on the day of her father's funeral that everything she believed about her life was a lie. She flees New York and travels to the Arctic Circle to uncover the secrets of her mother who mysteriously vanished when Clarissa was fourteen. Based on Vendela Vida's novel.
Originally from Germany, Eva Weber is a London-based filmmaker working in both documentary and fiction. Her award-winning films have screened at numerous international film festivals, including Sundance, Edinburgh, SXSW, BFI London, and Telluride; and have also been broadcast on UK and international television. Her documentary short film The Solitary Life of Cranes was selected as one of the top five films of the year by critic Nick Bradshaw in Sight & Sound's annual film review in 2008.
Vendela Vida is the author of four books, including the novels Let the Northern Lights Erase Your Name and The Lovers. She is a founding co-editor of the Believer magazine and co-writer of the film Away We Go, which was directed by Sam Mendes.
Love After Love (U.S.A.)
Russell Harbaugh (writer/director)
Taking place over the course of several years, Love After Love is a messy, autobiographical love story about grief, sex and the separation of a family.
Russell Harbaugh's short film Rolling on the Floor Laughing played the 2012 Sundance Film Festival and many other festivals around the world including the FSLC/MoMA co-curated New Directors/New Films, Maryland Film Festival, Sarasota International Film Festival, Milano, Warsaw, and others. Previously, Harbaugh was the assistant to Eric Mendelsohn on the film 3 Backyards, which earned the Best Director award at the 2010 Sundance Film Festival. Harbaugh received his MFA from Columbia University in 2011 and is originally from Evansville, Indiana. He lives in New York.
Maanokoobiyo (Somalia/U.S.A.)
K'naan (writer/director)
In war-torn Somalia, an artistic orphan named Maano joins the mercenary killing squad of a notorious warlord, only to discover his adoptive father and gang leader is responsible for wiping out his family.
K'naan is a Somali poet, rapper and singer, songwriter. He spent his childhood in Mogadishu, Somalia and was on one of the last commercial flights out of the country before its collapse. He rose to prominence with the success of his song "Wavin' Flag" after it was chosen as the anthem of the 2010 FIFA World Cup. He lives in New York.
Mercy Road (U.S.A.)
Ian Hendrie (co-writer/co-director) and Jyson McLean (co-writer/co-director)
Based on true events, Mercy Road traces the political and spiritual odyssey of a small town housewife as she turns from peaceful pro-life activist to underground militant willing to commit violence and murder in the name of God.
Ian Hendrie is a San Francisco-based director, screenwriter, producer. He is also the co-founder of Fantoma Films, a production company and independent DVD label which has been releasing premium edition DVDs of films by such famed auteurs as Francis Ford Coppola, Rainer Werner Fassbinder, Samuel Fuller, Fritz Lang, Kenneth Anger and Alex Cox, among others, since 1999. Along with Jyson McLean, Hendrie was the recipient of the Fall 2011 San Francisco Film Society/Kenneth Rainin Foundation Grant for Screenwriting for Mercy Road.
Jyson McLean began making short films in high school. He attended Art Center College of Design in Pasadena and shortly thereafter began directing commercials and music videos, which have aired nationally and overseas. His commercial credits include spots for Bud Light, Career Builder and Quaker Oats. He has won the Gold ITVA PEER award three years in a row, and has worked with numerous award-winning advertising agencies including DDB Los Angeles, BBDO London and Fred & Farid, Paris.
State Like Sleep (U.S.A.)
Meredith Danluck (writer/director)
Under the surreal cloud cover of northern Europe, a young American widow reluctantly revisits her past when her mother is hospitalized in Brussels. While coping with the bleak reality of parental loss, Katherine explores her deceased husband's secret life of underground sex clubs and finds comfort in a relationship with a stranger as equally broken as she is.
Meredith Danluck is an artist and filmmaker. Her work has screened at major art institutions internationally including MoMA, PS1, Venice Biennale, Liverpool Biennial, and Reina Sofia, as well as various film festivals including SXSW, TIFF, Doc NYC, Margaret Mead and Hamburg International. This year, as part of the New Frontier exhibition at the Sundance Film Festival, she will be showing her four-screen film installation North of South, West of East.
Zeus (Mexico)
Miguel Calderón (writer/director)
Sporadically employed and still living with his mother, Joel finds his only joy in falconry in the flatlands outside Mexico City, until an encounter with a down-to-earth secretary forces him to face reality.
Miguel Calderón is a visual artist working in various mediums, notably photography, video and writing. His exhibitions have been included at the Sao Paolo Biennial, Museo Tamayo, Yokohama Triennial, Centro de Arte Reina Sofia and Jumex Collection. He lives in Mexico City.
Alfred P. Sloan Fellowship – Given to a project that explores science and technology themes and characters:
Prodigal Summer (U.S.A.)
Nicole Kassell (co-writer/director) and Barbara Kingsolver (co-writer)
Prodigal Summer, based on the best selling novel by Barbara Kingsolver, weaves together three utterly unexpected love stories through the course of one summer in southern Appalachia. In this extravagant ode to the natural orders of biology and the human spirit, the forces of life, death and procreation connect every life that inhabits the lush landscape.
Nicole Kassell is an MFA graduate of NYU's Film Program. Her first feature, The Woodsman, premiered in competition at the 2004 Sundance Film Festival and went on to receive numerous accolades including nominations for the Gotham Award for Breakthrough Director and Best First Feature at the Independent Spirit Awards. Kassell has continued to write and direct film and episodic television. She lives in New York City with her husband and two children.
Barbara Kingsolver is the author of fourteen books of fiction and nonfiction including the current bestseller Flight Behavior. Translated into more than 20 languages, her books have earned a devoted readership and numerous awards including the National Humanities Medal. She lives with her family on a farm in southern Appalachia.