Back to selection
Louisiana Film Prize Announces 2013 Competition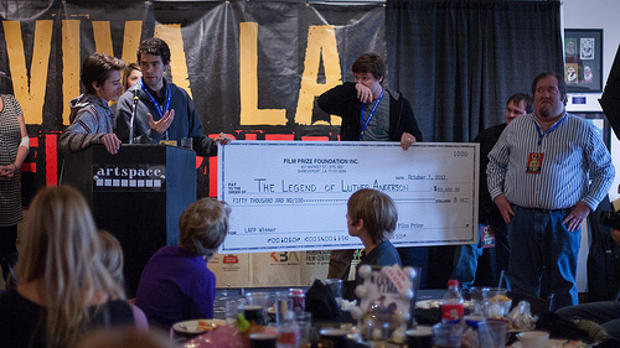 After an overwhelmingly successful inaugural year, Executive Director Gregory Kallenberg announced that the second annual Louisiana Film Prize filmmaking competition will launch today, complete with a $50,000 cash prize to be awarded to the Grand Prize Winner.  Building on last year's success, this year's festival will also increase the number of "Founder's Circle" Grants from 3 to 5 recipients. These grants, of $3000, are awarded by the judges' panel during the festival weekend and are meant to enable filmmakers to offset the future costs of creating their submissions for the following year's festival.  The 2013 Louisiana Film Prize jury, a combination of film industry executives, filmmakers, and press, will be announced this spring.
The 2012 Louisiana Film Prize competition drew twice as many submissions as the organizers had anticipated from all over the country, from Los Angeles to New York, Houston to Chicago.  The twenty finalists played to sold-out theaters and the overall economic impact on the area was valued at nearly $3,000,000. Legend of Luther Anderson from Thomas Woodruff, Noah Scruggs and Chris Armand took home last year's Grand Prize.
Kallenberg stated, "We were amazed at the response for Louisiana Film Prize 2012. We think we have started one of the most unique film events in the country, and we look forward to seeing how it grows and what it becomes.  The Louisiana Film Prize is truly a magical mix of filmmaking chutzpah, an incredibly supportive community and a huge prize. It's like the Gumball Rally, but with cameras and $50,000 cash to the winner."
The Louisiana Film Prize contest and festival invites filmmakers from all over the world to create and present a short film under one condition – it must be shot in the Shreveport-Bossier area.
The film community in Louisiana has rapidly expanded, with more than 100 films and television shows shooting on location in the past 5 years. Recent shoots have included Beasts of the Southern Wild, Olympus Has Fallen, Texas Chainsaw Massacre 3-D and Playing for Keeps.  Shreveport-Bossier provides great locations at low cost, as well as four sound stages, full grip/electric rental facilities, local camera rentals, experienced crew, and a wide base of talent.  Shreveport is also home to Moonbot Studios, who won their first Academy Award for Best Animated Short Film with The Fantastic Flying Books of Mr. Morris Lessmore in 2012.
 The deadline for submissions is July 9, 2013.
Visit www.lafilmprize.com to learn more.