Back to selection
Five Questions with Newlyweeds Director Shaka King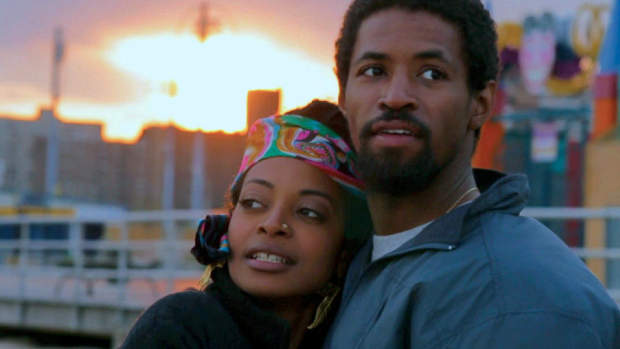 The stoner comedy niche is one the Sundance Film Festival too rarely fills, but as if to remedy this lack we now have Shaka King's debut feature Newlyweeds. Equal parts absurd and emotionally grounded, the film follows Lyle (Amari Cheatom) and Nina (Trae Harris), two young lovers with a shared passion for weed. But just as much as the drug provides a stabilizing force in their relationship, it also proves to be the thing holding them back. Newlyweeds premieres today in Sundance's NEXT section.
Filmmaker: Where did the idea for Newlyweeds come from? Forgive me for asking, but are you as big a marijuana advocate as Lyle?
King: There are so many influences it's tough to say. Certainly the relationships I've had in the past ten years. But then imagination played a part too. I've never been a repo man.
I'd say Lyle is more of an enthusiast than an advocate. And the same goes for me. I can't riff for hours on the various strains and their magical properties, but I dig it as a portal. It's been the ink in my pen many an afternoon.
Filmmaker: The fact that the current indie film climate has a bit of a bias towards drama over comedy is pretty widely accepted. Did you ever find this to be a challenge while putting together Newlyweeds?
King: Part of the beauty of making this film on the cheap was that we were free to create our own space in the industry. We were only beholden to ourselves. When we did consider our position in the marketplace, it was only favorably. From teenagers to baby boomers, who doesn't appreciate a good story? Or a good laugh? Or love? And when you take into account the kids who grew up listening to The Chronic are in their 40's…It's no wonder pot's being legalized.
Filmmaker: While this is definitely a stoner comedy, it's a far cry from the non-stop slapstick of a Half Baked or Super High Me. Why did you choose to balance the film's goofier moments with a more serious relationship drama?
King: That happened organically. When I'm most comfortable is when I'm laughing or making someone laugh – that's just a personality trait. So I think any film I make will have some comedic elements. But I also think everything is funny. Very serious things in particular are the funniest. In some ways the more serious something is, the funnier its yang has to be in order to be funny. Plus from a storytelling perspective, mixing tones keeps you ahead of your audience.
Filmmaker: How did you settle on Amari Cheatom and Trae Harris as Lyle and Nina? Did either actor bring anything to their role that you had not originally anticipated?
King: I'd seen Amari in Night Catches Us and could tell he was a phenomenal actor. But in our initial phone conversation, I discovered that he was also funny and had an old soul, like Lyle; so, therein laid a conduit to the character. As I got to know Amari, I learned that he was also very astute and sincere. He brought these qualities to Lyle, making him that much more compelling.
Trae was introduced to me through my friend Ketty Henri. Ketty was helping me cast extras and showed me a photo of Trae that linked to a blog featuring an interview about her personal style. She reminded me of Nina seven years in the future. At the time I didn't know Trae could act but she clearly possessed a psychedelic sensibility and confidence in, and ability to express, her thoughts and opinions. When you think about it, those are rare qualities. It surprised me to learn t at she'd studied acting at The New School and possessed the technique that comes with training. That made casting her a no brainer.
Filmmaker: Your film shares a lot of cast in common with HBO's The Wire. Was this intentional? What do you hope fans of that comparatively heavier show get out of Newlyweeds?
King: Gbenga Akinnagbe deserves all of the credit for our Wire connection and also bringing Amari onboard. He'd worked with him on a movie called Knucklehead the previous summer and was rightfully convinced that he should play Lyle. The Wire is in my opinion the greatest TV drama ever, due in large part to its ability to masterfully mix tones. It doesn't get nearly enough credit for being funny. The Bunk was funny. Clay Davis was funny. So I knew Isiah would make a great Philly. Hassan really impressed me with his comedy chops, even though his classic sandwich ordering scene at the end of Season 1 of The Wire was hilarious. I learned working with him and all of the actors in this movie that the laughs spring from the specificity and sincerity of the moment. And I guess that's what I hope the audience appreciates about this film. And I hope they connect to these characters journey in some way.