Back to selection
Five Questions with It Felt Like Love Director Eliza Hittman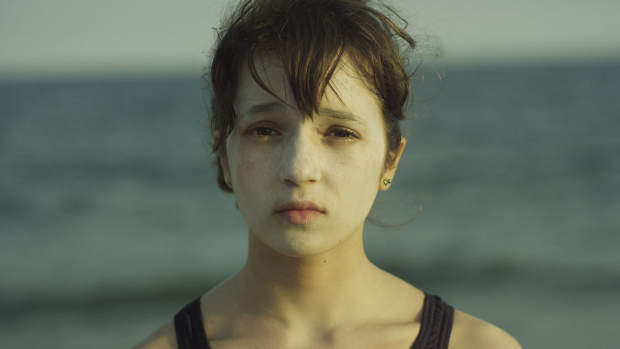 Coming of age tales are a longstanding mainstay of the Sundance Film Festival, but few films tackle the well-tread genre with the unsentimental eye of It Felt Like Love. The debut feature from filmmaker Eliza Hittman, It Felt Like Love stars first-time actress Gina Piersanti as fourteen-year old Lila, a Brooklyn native who spends her summer pursuing a love affair with an older teen. The film premieres today in the Sundance Film Festival's NEXT section.
Filmmaker: Your previous short, Forever's Gonna Start Tonight, deals with themes similar to It Felt Like Love. How did your experience making that film, and its subsequent success on the festival circuit, influence the way you approached this project?
Hittman: The experience of making and the response to Forever's Gonna Start Tonight was a real starting point, and I tried to conceptualize It Felt Like Love in a similar way, both aesthetically and thematically. Both films delve into the invincible yet vulnerable nature of young female characters and also seek to highlight neighborhoods in South Brooklyn. In both films, I drew from memories of my childhood and of people I grew up with. Shooting Forever's Gonna Start Tonight (which was filmed mostly in Sheepshead Bay) re-triggered my affection for the borough and sparked a lot of excitement and ideas about the kind of work I can make here and places I could explore and, as a native, maybe even offer some insight about.
Filmmaker: Most of your actors are first timers. What made you decide to go this route, and what was the casting process like?
Hittman: I like making casting discoveries. It's exciting. Working with young adults excuses you from feeling obligated to cast professional actors. I held several casting sessions with agency kids, but it was using a non-traditional approach that really paid off.  I  attended high school plays. I met with kids from my alma matter, Edward R. Murrow High School. I visited  a lot of Brooklyn dance classes to find teenage girls. And I hung out in remote parks in Brooklyn, watching guys play handball and documenting them on instagram. It's a little stalkerish, but I can get away with it as a women. I don't feel like I need to work with people with training or people who are pursuing acting, I think anyone can act if they have qualities that align with the characters.
Filmmaker: How did you meet and cast Gina Piersanti? Were there specific qualities that you were looking for in Lila that she embodied?
Hittman: There was no physical criteria for the role. I really just wanted the young actress in the main role to actually be young, with palpable vulnerability, and not someone over eighteen pretending to be a kid. The material scared away several girls early on that I was interested in, and our shoot date loomed. Gina's mom Jill Armus saw a casting notice posted online and contacted me directly. When I met Gina, I was really captivated by her cold read. After the audition, I brought her and her mom into the room and told them exactly what the film was about, then let them go home and read the script. They declined attending the callback. I was hurt and insulted!
Gina was following my casting tumblr, so I started writing entries that I hoped would grab her attention about my intentions with the project and how disappointed I was that kids were so hyper focused on projecting an idealized form of themselves, especially on tumblr. Gina is really smart and clued into those ideas and why the project could be relevant. GIna had lots of questions and concerns that I respected. I wouldn't have wanted to cast a kid without boundaries. It was definitely a process of getting to know them and gaining their trust.
Filmmaker: In your director's statement, you discuss wanting to take an unsentimental approach to the sexual awakening of your main character. How did you strive to achieve this artistically, and how do you think It Felt Like Love distinguishes itself from similar coming of age stories?
Hittman: There's no moral attached to the story. It's about a transformative borderline violent and painful moment in a girl's life that she instigates. A lot of the elements from teen movies are there, but I think and hope I subvert clichés and also the audiences' expectations. The film is shot really subjectively, creating a more poetic form of realism, where the world resists an objective perspective and instead hews to the main character's perception of the events. I resisted the conventions of verité. I like slow motion (maybe too much!) and gravitate to close-ups. It Felt Like Love also has very little dialogue and explicit story exposition, and instead uses expressive details, music and sound design to create an immersive viewing experience.
Filmmaker: The film is set in and around working class neighborhoods in Southern Brooklyn. What made you decide to set the film in this environment, and what do you think the setting adds to the film's overall impact
Hittman: It Felt Like Love was shot in working class neighborhoods in Brooklyn, like Gravesend and Gerritsen Beach; areas that are rarely pictured in the popular imagination of the city. Having grown up in South Brooklyn, I feel there is an unbalanced interest in the developing arts and legions of young creative transplants in North Brooklyn. There are many micro-budget narratives about people moving to the city and carving out a life. My film highlights the experiences of native Brooklynites, without reaching to the other polar extreme and showing a ghettoized image of the city. There's something unfamiliar and unrecognizable about where the film takes place, and that's what I was going for. There are parts of Brooklyn where you can get lost in nature, places I remember from my own childhood that have a certain resonance with kids.