Back to selection
Spurlock Sisters at Biennale College Cinema: Part Two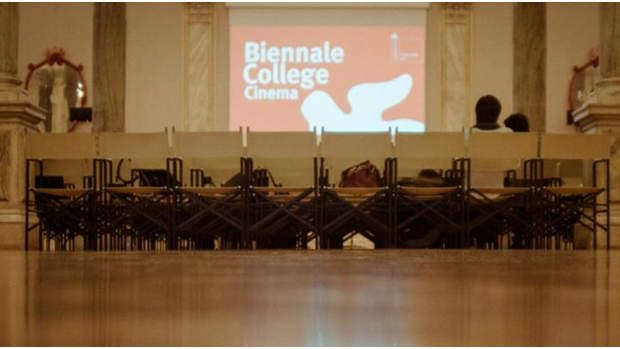 They say that creative works are never really finished, we just let them go at some point. I guess that's what deadlines are for. The new versions of step outline, budget and schedule for A Case of the Dismals were due a week after we arrived at San Servolo, at 2:00PM. So of course I finished at 1:55. I had also "finished" a couple of hours earlier when I thought the deadline was noon. With a sigh of relief, Mai and I clicked send and off our little package went to the Biennale. We then had about 15 minutes to savor the accomplishment before rushing off to begin our second week of intensive prep. The concentration this time around? The pitch. We had three days until we pitched Dismals to the folks at the Biennale, so we dutifully ingested our umpteenth espresso and headed to class.
We hit the ground running with a cold pitch of our project to our mentor group and the trainer. The great thing about working on a pitch is that you begin to see where the mechanics of your script are working and where they aren't. It forces you to distill your story and whatever it is you are trying to say with it.
I think I mentioned before that it would be interesting to compare my Biennale experience with Emerging Narratives and Emerging Visions at IFP Independent Film Week last fall, when I was there with another project, The Whispering Giant.  Probably the major difference is the length and the breadth of the training. While the Biennale is two weeks of story, budget, schedule, pitch and distribution intensives, EN and EV spent a day focusing on our pitch to industry folks for feedback. Emerging Narratives then follows with several days of industry meetings with producers who have expressed interest in your project. All three of these initiatives offer superb training and exposure for first and second-time filmmakers.
The morning of our official pitch to Alberto Barbera (Director of the Venice Film Festival) and the Biennale College, Mai and I woke up early to practice a couple more times before we headed to the cafeteria to eat breakfast and find out the running order of the teams. A Case of the Dismals would be dead last. I guess we're a hard act to follow!
By lunch break, we were pretty nervous. Ten teams had finished their pitches and were already celebrating over Spritzes and Prosecco. I didn't want to end up snoring in the aisles when they called our names, so Mai and I stuck to espresso while we had a nice chat with Amy Dotson.
As our moment approached, I watched the teams ahead of us with a mixture of admiration and anxiety.  These producer/director duos we had gotten to know over the past couple of weeks were impressive – they'd really managed to bring their presentations together in lucid and exciting ways. Had we come as far as they had?
Finally our names were called. One of my biggest problems to date had been talking too fast and I had been working hard on enunciating each and every word – even though it sounded to me like I was speaking under water. As we were handed our mikes, I took a deep breath and scanned the crowd for a smiling face. The rest is a blur. All I remember is looking out at one point and seeing our mentor motioning to me with his hands to slow down. My sister, who is a bit more level-headed when it comes to these things, says we did great.
The rest of the day was a boozy, joyful affair spent carousing with the other teams in a Venice pub before a delicious dinner back at the Biennale, and a bittersweet party back on San Servolo where we said our goodbyes. While jokes about Battle Royale and The Hunger Games had been tossed back and forth along with tongue-in-cheek murmurings of secret poisons to eliminate the competition, I had grown to truly admire these folks and knew that I would miss them when we returned to the States.
We would find out within 24 hours which three teams would be invited back to the island, but for now we just enjoyed one another's company.
Top photo by Tomer Bahat