Back to selection
Canon C100 Does 4:2:2 with the Ninja Video Recorder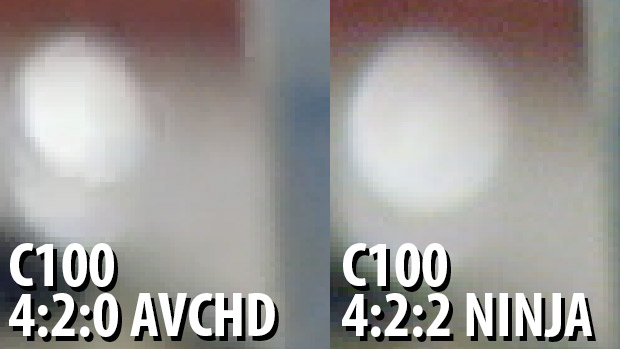 In yesterday's article "Canon C100 or C300: Which One to Get?" I wrote about the ability to attach an external recorder to the C100 and record 4:2:2 video, but added:
Is 4:2:2 out of the C100 exactly the same as 4:2:2 from the C300? That's a question I haven't yet seen a definitive answer to, though a lot of people are assuming it is, or it's very close.
Today, I'm at least a step closer to answering that question. Paul Antico of Anticipate Media, and host of the NeedCreative Podcast, sent me some sample frames taken from Atomos Ninja 2 footage he recorded with a C100. He only just received the Ninja, so his tests are very preliminary, but very exciting at the same time.
He reports that the Ninja detected the 23.98P, removed pulldown from the HDMI's 60i automatically, and recorded timecode correctly. It started and stopped recording automatically with the camera, but the Ninja sequences were a few frames shorter than what the C100 records internally. The frames were shot in Cinema CP at ISO 2500 using a 17-55 f/2.8.
Antico notes that the Ninja adds some weight and size to the C100, making it more like the height and weight of the C300 – with the top handle – though the Ninja also doubles as a nice field monitor.
Using the C-Log AVCHD footage from the camera, and the ProRes 422 footage from the Ninja, Antico graded the footage identically in Colorista. "The difference in quality is quite evident, especially in shadows, and especially with color resolution." He adds that the "recorder is a requirement if you want to use the C100 and have the same (or better) image as the C300" and offers the following thoughts on his initial tests:
The ProRes 422 is far more gradable than the internal AVCHD, being true 422 and high bitrate.
With the Ninja attached image quality from the C100 and C300 is identical.
The ProRes out of the Ninja might even benefit the C300 (it looks a bit better still) and it's an I-Frame codec so even easier on the computer. The internal 50Mbit 422 from the C300 doesn't hold up quite as well as the Ninja output.