Back to selection
Five Questions with Big Words Writer/Director Neil Drumming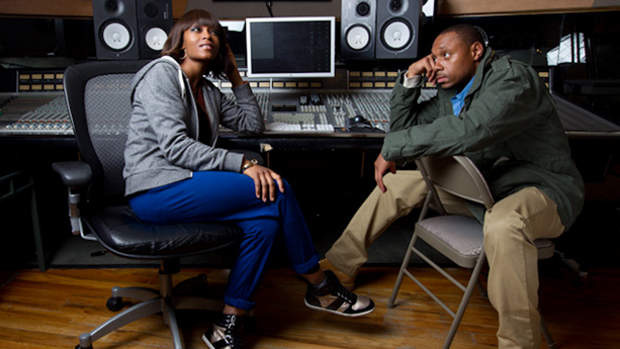 Big Words is the feature debut of writer/director Neil Drumming, former editor and music reviewer at Entertainment Weekly.The film follows the disparate storylines of James, John and Malik–three 30-something black men that used to constitute the hip-hop group D.L.P. ("Down Low Poets"). The triad has had little contact over the decade-plus since they split and each of them struggles with their sense of identity and regrets, struggling to look forward on the otherwise wildly hopeful night of Barack Obama's inaugural election in 2008.
Over the course of Big Words, we gradually learn piece-by-piece what drives James, John and Malik, what still haunts them and the reason behind their less-than-amicable split those years ago. The movie screens tonight at 7:00PM at BAM Rose Cinemas in Brooklyn. We got a chance to talk to Drumming prior to the release.
Filmmaker: What do the stories of John, James and Malik say about their culture then vs. now?
Drumming: John, James, and Malik all reflect — to varying degrees — a nostalgia for the time in which they came up that I know I share with a lot of people my age. John, for the most part, resists that nostalgia. James embraces it, although a deeper examination of that time versus his current life might cause him some pain. And Malik allows that nostalgia to stunt him.
Filmmaker: What was the importance of setting the movie on election day 2008?
Drumming: I wanted to tell the story of these very self-absorbed men who were sort of mired in the past and the minutia of their own lives. I thought, 'What better way to show how stuck they are than to set their story on a day when it seemed as if the whole country — if not the world — was feeling optimistic and hopeful for the future?'
Filmmaker: How did you feel about making/releasing Big Words looking back at Obama's historic first election vs. his 2nd term? Has it changed over the course of making the film?
Drumming: I think the more reserved, slightly more tepid fervor for Obama's second term election only helped reaffirm for me how thrilling that first one was. That initial energy is essential to our story, so, of course, I'm thrilled that it seems burnt into most people's minds.
Filmmaker: How do you think these characters, and by association the kinds of people and issues they represent, fare in 2012/13 vs. 2008?
Drumming: Big Words takes place during a specific time on a very historically significant day, but I always intended that the characters and story be universal and resonate with folks no matter when they see it. The issues that the characters face are not political. The movie is about growing up, dealing with regrets, reconciling oneself with ones choices. These are struggles that I think anyone can identify with regardless of the period in which they live. It's the same reason folks return to movies like The Big Chill and Diner over again. I was certainly aiming for that sort of universality.
Filmmaker: How important is the message of re-invigoration, hope and perseverance?
Drumming: Historically, those ideas have shown themselves to be pretty valuable. And if any of that is what you take from the film, that's awesome. Maybe it's naivete or some sort of twisted hubris, however, but I don't like to think of the film as having any particular message — hopeful, optimistic or otherwise. I just hope that people relate to the characters.