Back to selection
RED Sues Sony and Other News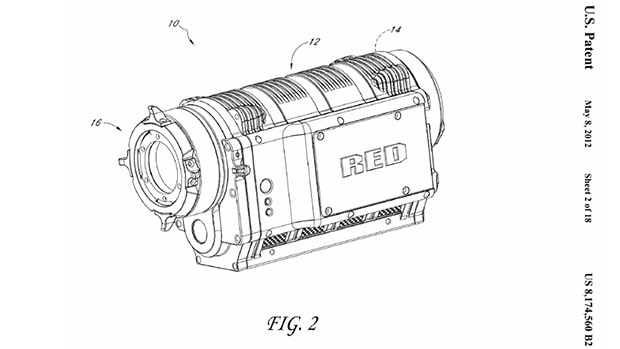 In case you are living in a cave and missed it, the big news of last week was that RED is suing Sony. RED claims that Sony's F65, F55 and F5 infringe on patents RED holds, specifically relating to REDCODE RAW. It appears that the issue may turn on the compression of a RAW video stream in the camera.
Jim Jannard posted on the REDuser Forum:
We are heavily invested in concepts, inventions, designs, development and manufacturing of RED cameras, REDRAY and the RED Projector. Each is unique and has motivated the industry to get better, for the benefit of all. We don't mind others joining the 4K revolution… quite the contrary, we embrace it. What we don't accept is others just borrowing our technology, intentionally or unintentionally. We admire invention and happily pay for and license great technology from other companies when it is useful to our program.
The claim includes these patents: Video camera (US patent 8174560) (Scribd) and Video camera (US patent 8358357) (Scribd).
Complaint: Red.com v. Sony Corporation of America et. al. (Scribd)
Don't expect a quick resolution to the issue. In January 2012, RED sued ARRI, alleging corporate espionage, and that case was only just settled. The case was dismissed with prejudice: meaning the case can't be retried and each party covers their own expenses.  Interestingly, the settlement was announced less than a week before the new suit, though it's important to note that the ARRI case was about trade secrets and practices, and not a patent infringement.
Studio Daily: RED Sues ARRI Over Trade Secrets, Alleges False Advertising
Cinescopophilia: RED Vs ARRI Inc Micheal Bravin Court Case Settled Dismissed With Prejudice
Canon Fringe Fix for Canon C300
This week also saw Canon release a new firmware version for the Canon C300: EOS C300/EOS C300PL, Firmware Version 1.0.8.1.00 (Canon).
This update improves the control for some EF lenses, adds corrections to Spanish and German language texts in the View Assistance function [View Assist.], and includes "Efforts to correct image color fringing when a subject is of high contrast have been made." The color fringing issue has been previously covered here: Fringe Issue in Older Canon C300's Solved?
Canon C50 at NAB
We're getting closer to NAB, so expect to see some rumors about camera announcements.
New this week is a rumor of a Canon C50, which would fall under the C100. CanonRumors themselves gave this a CR1, which they consider "plausible, but from a new source." Which raises the question, "What could you take out of the Canon C100, and still have a useable camera?" They could, perhaps, strip out the EVF and use a less expensive sensor, however I think that anything they end up with would be closer to a consumer camera than a pro one.
Of course, the rumor could be untrue. After all, only a couple of days before this one, there was a rumor that Canon was announcing a camera that would appear above the C500!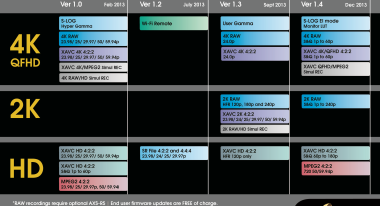 Sony announces Firmware
The Sony F5, F55 and AXS-R5 recorder aren't quite shipping – they are expected any day now – but Sony just announced the firmware timeline for these devices for the coming year. This covers four releases: Ver 1.0 with the shipping devices in February, Ver 1.2 in July, Ver 1.3 in Sept and Ver 1.4 in Dec 2013.
Highlights include:
Ver 1.2: SR File 4:2:2 and 4:4:4 for HD recording
Ver 1.3: User Gamma, 4K Raw and XAVC 4K 4:2:2 24p for 4K
Ver 1.4: S-Log EI mode, XAVC 4K/QFHD 4:2:2 1p to 6p for 4K
Firmware Timeline | Sony Community