Back to selection
Opportunities for Indies?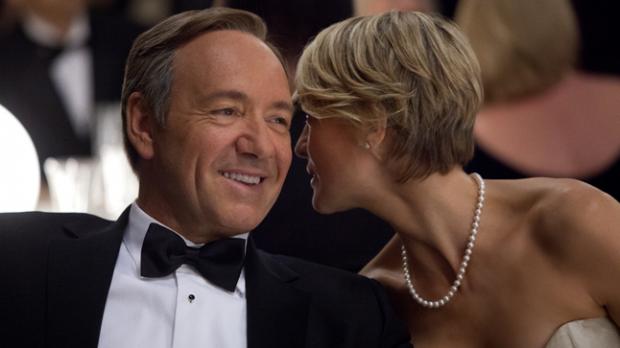 House of Cards
Traditional broadcast and cable television is in free fall. More and more viewers are turning to alternative viewing options offered through "broadband" services facilitated by the Internet.
Traditional TV programming, like editorial content in newspapers and magazines, is really an eyeball hook for the show's advertising. And traditional TV viewing is suffering its biggest loses among its most coveted demographic groups – Generation Y (ages 13 to 32) and Gen X (ages 33 to 46).
A recent report by GfK, a German research firm, paints a dismal picture of TV audience erosion. It found that among Gen Y folks, only a little over half (57%) watched a TV network or channel "live" in the crucial primetime of 8 to 9 pm Eastern Time; in 2008, 82 percent watched such programming. Gen X-ers reflect a similar, if less dramatic, pattern – two-thirds (64%) watch TV "live," down from 83 percent in 2008.
Sensing the long-term consequences of these demographic indicators, two of the major non-traditional "programming" sources, YouTube and Netflix, are moving aggressively into producing shows that directly challenge conventional TV. It must be noted that HBO's model as a premium pay service has weathered the conventional TV shakeup.
Netflix's has adopted a version of the HBO model with its new series, House of Cards, and ponied up an estimated $100 million for two 13-episode seasons. David Fincher services as executive producer; the series is being produced by Media Rights Capital (MRC), a film and TV production company – based on its recent success, MRC just raised $175 million from the private equity firm, ABRY Partners, with backing from AT&T, WPP Group and Goldman Sachs.
Research from Cowen & Company indicates that 10 percent of Netflix subscribers – about 2.7 million viewers – watched all or part of the series during the first 12 days it was streamed. In comparison, HBO's Girls series had 1.6 million viewers over its first three telecasts; however, it had 4 million-plus when repeat DVR-viewing was included.
Last year, Google's YouTube put up an estimated $100-plus million to create, in effect, its own Internet cable system. An estimated 160 production teams received $1 to $5 million to kickstart a series of web-based advertising-backed programming "channels." A recent Variety article, however, points out that some of the major traditional TV programmers – Fox and The CW (owned by CBS and Warner Bros.)  – are jumping onto the YouTube bandwagon to reach beyond conventional TV viewers.
Indie makers Rodrigo Garcia (Albert Nobbs) and Jon Avnet (Fried Green Tomatoes) received support from YouTube to develop WIGS, a channel aimed at female viewers, and recently got an unspecified investment from News Corp's Fox.
Similarly, The CW invested in Machinima, a production company, to produce an after-show version of its weekly primetime series The Cult. ("Recap" or after-show web programs, like AMC's Talking Dead for The Walking Dead and Lifetime's After the Runway for Project Runway, are being pushed to capture online viewers.)
More and more traditional TV viewers are switching to Internet distributed viewing or Over-The-Top (OTT) services like Netflix and YouTube. Between 2008-2011, more than 2.5 million cable viewers "cut" their cable and have jumped to OTT viewing.
Faced with both the erosion of key demographic viewing and cable "cutting," the cable industry is fighting back. TV program suppliers like Fox and The CW are making strategic investments in online "content" ventures, while the big "pipes" companies like Comcast and Cablevision are acquiring programming services or resorting to "data caps" to limit OTT viewing.
This period of programming shakeup offers some new opportunities for indie makers.
* * *
David Rosen is a writer and business-development consultant. He is author of the indie classic Off-Hollywood: The Making & Marketing of Independent Films (Grove), originally commissioned by the Sundance Institute and the Independent Feature Project. He can be reached at drosennyc@verizon.net. For more information, check out www.DavidRosenWrites.com and www.DavidRosenConsultants.com.