Back to selection
TFI Sandbox for Documentary Transmedia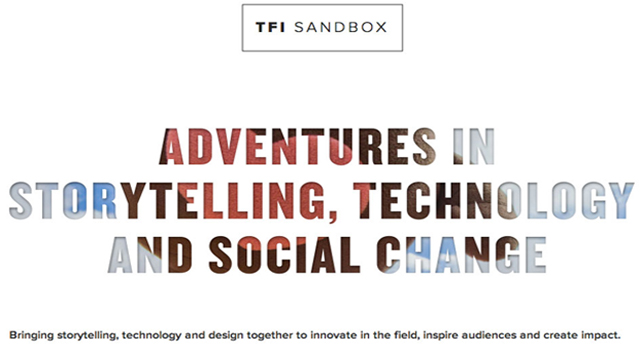 As transmedia has moved past its buzzword beginnings, resources and organizations have sprung up to support the creative community involved in multiplatform narratives. The latest of these comes from the Tribeca Film Institute, which last week launched an online hub for all things transmedia — particularly nonfiction — called TFI Sandbox. The name, of course, indicates a place where producers can come to play and develop techniques, strategies, and specific projects, and thus the website offers a plethora of training material as well as links, resources, and, perhaps most importantly, an open door for producers to get familiar with TFI and its digital media funding opportunities.
TFI Sandbox was developed under Ingrid Kopp, the TFI director of digital initiatives. It comes after two years of TFI's partnership with the Ford Foundation to run the TFI New Media Fund. Thus the site shares candid looks at past New Media Fund projects, including some like a cross-platform expansion of The Tillman Story that never reached fruition — the idea that we can learn from each other's mistakes and overambition is welcome. But the successes are there as well, both in terms of specific projects and general video-recorded thoughts and advice by accomplished professionals like Jeff Gomez and Lina Srivastava; hopefully many more such interviews will be added in the months to come. Several insightful print articles about TFI initiatives round out the video material.
The curated blogroll is excellent as well, giving clear insight into other creative resources and funding opportunities. I suspect there's no better place for transmedia novices to begin acquainting themselves with what's been done, who's involved, and what's going on in the world of transmedia right now. Everything from the NFB's Bear 71 to the MIT Open Documentary Lab are presented, and readers can easily scroll through the site from A to Z or jump around and dive deep where their interests take them; in fact, a transmedia website that can be read from A to Z is perhaps one of TFI Sandbox's best innovations: by this point many older transmedia sites, while continuing to be vital, have so much information that it may be hard for a beginner to know where to start or how to proceed. Not that TFI Sandbox is just for beginners, though. Experienced professionals will find something here too.
It's exciting that all types of transmedia properties, fiction and nonfiction are improving and expanding faster than most of us can keep track, yet it's hard to not notice that documentaries are utilizing multiple storytelling platforms to the best advantage and really expanding the possibilities of the art form in ways that everyone from John Grierson to Chris Marker would be proud of. From the advocacy campaign accompanying the important new film A Place at the Table to less assuming but equally impressive projects like the newly released second installment of Jessica Oreck's The Aatsinki Season and events like Adnaan Wasey's StoryCode presentation on POV's digital efforts on March 19, documentary transmedia is both ubiquitous and thrilling. With increased tools like TFI Sandbox we can be sure that creativity and communication will continue to advance, and that will hopefully prompt even more traditional funding entities to get involved with transmedia projects.
TFI Sandbox has the hashtag #TFISandbox.