Back to selection
Five Questions with Kelly + Victor Director Kieran Evans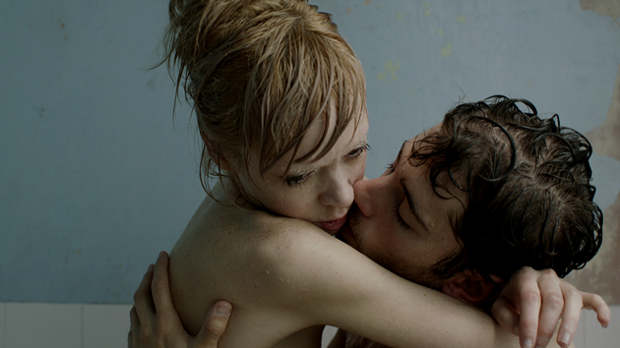 The primarily documentary director Keiran Evans was fortunate enough to know writer Niall Griffiths before he wrote Kelly + Victor, which Evans has adapted into a feature film. Evans' relationship and familiarity with Griffiths and his work facilitated him to adapt the cinematic novel into the screenplay of Kelly + Victor. The gritty drama about a young couple finding themselves in love in Liverpool makes its North American premiere tomorrow at SXSW, after a world premiere at the London Film Festival in October. While Kelly + Victor is Evans' first narrative film, he approached the movie's subjects as he would a documentary — as a compelling story of two people in a vibrant city that begs to be told.
Filmmaker: When and how were you introduced to Niall Griffiths book Kelly + Victor, which you adapted into your film?
Evans: I was aware of Niall and his work for some time before Kelly + Victor was published as I was a huge fan of his first two books Grits and Sheepshagger. Being Welsh he seemed to capture a visceral and compelling sense of the world I came from. It was the first time I'd read a contemporary writer who framed Wales in a way that I could relate to. I was then fortunate enough to make a series of short films for a BBC culture series and during that period, I was asked to submit ideas for future shorts. I proposed an idea to make something with Niall and so I got hold of his phone number. We met, we chatted and actually realized we had a bit in common — Irish/Welsh parentage and a love of Liverpool Football Club — so we became friends very quickly. We ditched the idea of making a short doc about Niall and started work on an idea for a narrative short called Wanderlust. So this was probably around 2003 and I'd just completed a long form film about London called Finisterre with my mate and fellow filmmaker Paul Kelly. I'd co-written the script and got the bug to do more writing, so I started looking for a feature project to develop. Around the same time, I met Janine Marmot, (Kelly +Victor's producer). She had seen some of my film work and was keen to develop something with me.
Days before I was heading off on a holiday, I received a review copy of Kelly + Victor in the post from Niall. If my memory serves me correctly, he'd left a cryptic note saying "This one's a bit different." I packed the book and headed to Portugal.
Hardly a holiday read, I have to admit, but the book totally gripped me. I read it three times in that week. I felt I knew Kelly + Victor immediately. The pages genuinely came alive in front of my eyes. I got excited by the filmic possibilities of it because the structure of the book was so imaginative and compelling. As soon as I got back home, I contacted Janine and told her about the book. She read it the following weekend and luckily she felt the same way about it and so began the journey down the long road of development and script development picking important supporters along the way and eventually securing the funding we needed to make it.
Filmmaker: How did you approach the more explicit subjects and scenes of the film with your actors?
Evans: To be honest, I deliberately made a point of not making it a big deal on set. Everyone knew about the raw intensity with which we had to approach these scenes and how they had to be done. We had allowed a number of days in the middle of the shoot to concentrate on just these scenes. It's important I think that you protect the actors from thinking too much about what's coming up. It's a job and you have to be professional in your approach, treating the actors with utmost respect for baring themselves in such an intimate and open way whilst maintaining a sense of discipline and structure to how we captured their performances. When the day arrived, I deliberately avoided rushing in to things. I felt it was important we had laughter and ease on set to make everyone relaxed. It's not just the actors who feel the tension.
Beforehand, I'd deliberately ensured that Julian and Antonia did not mix socially during the shoot as I felt it was important they brought a sense of curiosity and urgency to the scenes they were together. The last thing I wanted was for Julian and Antonia to be discussing how they might do the sex scenes huddled over a beer in the back room of a bar. They understood and respected that the element of excitement that Kelly and Victor experienced each time they met needed to be retained for the film. What was intriguing was how in the minutes before they did the scenes together how they readied and prepared themselves. There was very little eye contact. Julian tended to pace around. Antonia found a corner. But as soon as we turned over, they became these incredible passionate characters, falling in to each other, losing themselves in the scene. It was an incredible process to watch and film. The intensity in both their performances and the incredible physical effort they both put in to each scene was electric. It made the filming of the scenes a lot easier to shoot despite the confined space we had to work in.
In terms if shooting these scenes, we kept to the same principles we employed for the rest of the film by shooting long takes on a limited number of lenses. I definitely wanted to avoid breaking down the sex into just a series of short and over-stylized shots. That would have killed the energy and intensity we needed from them.
Filmmaker: What was your relationship with Liverpool like before making the film? And after?
Evans: Well being a lifelong fan of Liverpool Football Club means the city has always had a special place in my heart. I've been visiting the city since I was 10 years old to watch games at Anfield so I've watched the city grow and change over the years. I've always been fascinated by its architecture and history but I only fully appreciated this when I was scouting for locations with my wonderful location manager, Tom Harnick, who opened my eyes to some incredible parts of the city. But the buildings are only part of the story. The people are wonderful too. The generosity and help that so many gave to the project was incredible. I made so many great friends along the way and met some extraordinary characters that when it came to me leaving it was an incredible wrench. I have to admit there were tears in my eyes as the train pulled out of Lime Street Station. Liverpudlian folks are the salt of the earth and with Kelly + Victor I feel I now have a new and even better relationship with the city.
Filmmaker: Can you explain your process of creating the score and soundtrack that plays so prominently in the film and your relationship with it?
Evans: I'm a huge music fan and have worked with some incredible musicians and artists over the years so the music I wanted to use was always going to be an incredibly important part of the film.
The idea behind the soundtrack came out of an idea I had that the tracks that you hear throughout the film might actually be the music that Victor is seen to be compiling for Kelly at the start of it. With this approach it focused my mind on the type of songs he might select, the mood he might want to create, the cryptic messages he might want to leave through other people's lyrics, etc. So that was the starting point and so began many hours of compiling playlists and compilations.
For the eagle-eyed and musical trainspotters, the majority of soundtrack is comprised of music released by the rather wonderful label Domino Records, home of brilliant acts like Arctic Monkeys, Franz Ferdinand, Animal Collective, Bonnie 'Prince' Billy and many many others. I'd worked with Paul Lambden, who heads up their publishing arm and who I'd worked with on my previous film I made about alt folk hero Vashti Bunyan. Over a jokey conversation on his Domino Radio show, I mentioned I was working on Kelly + Victor and he offered to help. Live on air.
So I held him to it! Anyway, he came on board to oversee the rights and licensing for the music in the film and so I got access to some of their incredible library. Paul has a great ear for music and was a brilliant sounding board for what we should use in the film. We kept the process simple, swapping playlists and playing songs to each other, gradually thinning out the number of tracks to a point where we had the right type of music to frame the soundtrack. I've got to say that Nathan Nugent, the editor, also really helped a lot in this process. He has a great sense of how to use music in scenes and we also shared very similar tastes. He was definitely keen to create a certain mood for the scenes through music and we rifled through our compiled tracks, putting them up against picture, playing with timings, trying to gauge the right tone.
One thing I really worked a lot on with Steve Fanagan, the sound designer, was creating a series of musical signatures that we could use around the sex scenes. I wanted a haunting, slightly unsettling feel to the sound of these scenes and felt if we could find a looped sound or musical element it would fit the mood of these particular sections of the film. I was listening a lot to Neu and Krautrock compilations at the time and was really into tracks with almost a drone-like quality, so that was our starting point. I sifted through a bundle of CDs at my studio and found an EP by a band called Geese. I was really fond of a track they did called "Fog-Sea" and loved the sounds and treatments they had applied to the strings in the track and thought that these might just work with what i was after. I spoke to Vince and Emma from the band about the idea I had and they kindly gave me all the stems to the track. Steve and myself went through the 30 or so stem tracks and we discovered a gold mine of sounds that we knew we could play with. Steve took these stems and with a bit of tweaking and studio alchemy, remixed and re-arranged them into a number of new musical signatures which we then used in each of the sex scenes, tweaking the timings and pacing to build a number of these musical signatures. With a bit of tweaking, all these elements slotted in to place and sonically created exactly what I was looking for in the scene of their and loved a particular song they who gave me one of their tracks as well as the stems to it.
Filmmaker: What tools did you bring from your documentary filmmaking background to Kelly + Victor?
Evans: I shoot a lot my of my doc stuff myself as I like to tell stories visually as well as narratively.
So when it came to shooting Kelly + Victor I knew pretty much how I wanted it to look. Given the shooting schedule, we had to adopt a shooting approach that married time constraints with a look and feel that worked. I was incredibly lucky to have Piers McGrail as a d.p. as he shared an understanding of how I wanted to shoot the film and had a similar sense of the visual aesthetic we wanted to explore. Therefore we kept to a small range of lenses, mainly in the 28, 35 and 50mm area which allowed us to shoot handheld, wide and therefore longer takes. We also had Liverpool as a backdrop to the film which brought with it another dimension to the look of the film.
To be honest, I consider myself to be a filmmaker who likes telling stories. Making music films with the likes of artists like Karl Hyde (Underworld) and Vashti Bunyan gave me a sense of how to approach and coax stories out of people. You need to be a people person. These skills helped considerably in working with actors too. They're all performers in one way or another so I felt comfortable working with the actors based on my documentary experiences and I think those skills came in to good use when I was working on the Kelly + Victor set.