Back to selection
Five Questions with Snap Directors Youssef Delara and Victor Teran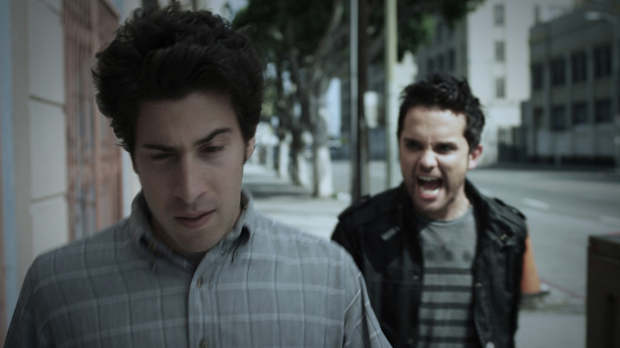 Quickly after premiering Filly Brown at Sundance in 2012, filmmakers Youssef Delara and Victor Teran moved into production on their newest feature, Snap. As close collaborators for many years on other films, Delara and Teran teamed up again to co-direct and produce Snap. Set in the explosive world of underground dubstep, the film explores the dangerous psyche of a young man as a social worker and her mentor try to uncover his secrets before his violent past erupts. Snap stars Jake Hoffman (Barney's Version), Nikki Reed (Thirteen, Twilight), Scott Bakula (American Beauty, TV's Quantum Leap), and Thomas Dekker (Kaboom), and makes its world premiere tomorrow at SXSW in the Visions category.
Filmmaker: Youssef, you co-directed Snap, as well as your last feature film, Filly Brown. Can you both speak about how working with another director changes the process?
Delara: Co-directing a film definitely has its challenges. Fortunately, we've been making films together for almost 10 years so we didn't have as steep a learning curve on this one. As far as the process, having to check with another person before setting a frame or giving a note to an actor in some ways goes against a director's deepest instincts but we spent a lot of time in prep getting on the same page so that when we were executing the vision we rarely disagreed and the workflow was fairly conventional once we got on set.
Filmmaker: What was the casting process like for Snap?
Delara and Teran: The first person we cast was Jake Hoffman as Jim. One of his managers was a producer on the project and suggested we check him out. We looked at Jake's work and thought that, in addition to acting chops, he had the right blend of weirdness and charisma. He read the script and loved it so we met him and within 30 seconds we knew he was our guy. It was obvious he understood the character and the movie in a very deep way and his natural mannerisms and speech were exactly what we'd envisioned for the character.
Next we got to work on casting the role of Wendy. It was Jake who suggested Nikki Reed, who we knew from the Twilight movies, of course, but also darker, more provocative fare like Thirteen and Mini's First Time. Those films make it more than obvious that behind Reed's beauty there is depth and pathos, which is what we needed. Nikki was quite busy at the time and we knew she was reading a lot of scripts so we weren't sure if she would be able to fit it in. Fortunately she fell in love with our script and the character of Wendy and we made the logistics work.
The third person we cast was Thomas Dekker as the character, Jake. We did some research and discovered Thomas who was on the series The Secret Circle at the time. He had also been the lead of Gregg Arraki's film Kaboom, which was a huge hit on the festival circuit. We knew he had the right look and we knew he had an edge but it takes a special sort of person to be attracted to a character as vile and venomous as Jake. As it turns out, though Thomas is one of the nicest actors we've ever worked with, he was that guy. He loves to explore the dark side and this role doesn't get much darker.
The last piece of the puzzle was the character of Kevin. These are often the hardest kinds of roles to cast because it's not the lead but it's still quite a big and important part. We really felt we needed an actor of stature to bring gravitas to the role. Veteran actors with serious resumes don't do too many small indies so the competition for them is fierce. Fortunately, we had a huge champion at ICM who was instrumental in getting Scott Bakula to read it. And once he did, he was hooked. As a person and an actor, Scott is one of the most genuine and likable people you will ever meet. This energy was exactly what we wanted for the character who is the film's moral center. And we were extremely fortunate to get to him at the exact moment when he had an opening in his schedule.
Filmmaker: Since your film is about dubstep, how do you think premiering at a festival with a music component will influence the film's reception?
Delara and Teran: We wouldn't characterize the film as being "about dubstep" exactly. We prefer to say that dubstep music is a very important character in the film, a kind of alter ego that gives us a sonic window into Jim's interior life. Given how big the music plays in the film, we do feel like the SXSW audience will be particularly receptive to the complete audiovisual mindf#@k experience we were going for.
Filmmaker: Filly Brown was about hip-hop. Why do you feel drawn to make films about music?
Delara and Teran: We're both huge fans of music, first of all, but there's also something we find deeply interesting about people who make music. So often world-class musicians in the real world are deeply complex people with inner demons. Very often they have trouble sharing their inner life with other people and end up releasing it through their music. People with contradictions, people who don't necessarily tell you what they're thinking all the time, those are the best kinds of characters in films.
Filmmaker: You shot Snap right after premiering Filly Brown. Was going straight into another production stressful to handle or were you energized from a successful Sundance debut?
Delara and Teran: Both things were true. Having a film at Sundance is an incredibly validating experience and has a way of boosting your confidence as a filmmaker. And it also gave us a boost in terms of agents picking up our calls and wanting to put their clients in the movie. On the other hand, the workload of taking a film from pre-production into production is already overwhelming. So adding the time demands of negotiating and closing our distribution deal meant there was almost no time for anything else. Our wives certainly deserve a big shout-out for that.