Back to selection
Using a Stair Climber for a Crane Shot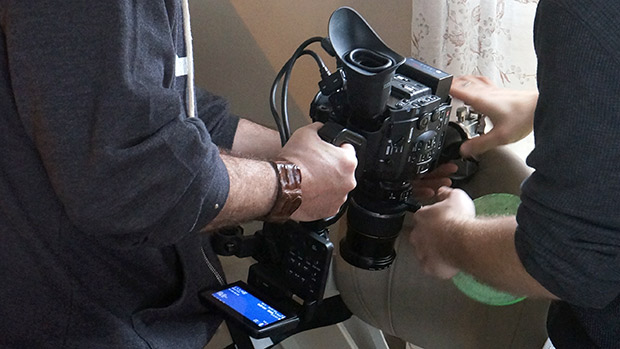 Sometimes a piece of everyday equipment can be used for an unusual purpose. While shooting a recent music video for the band Run 8 Rider, director Sean Meehan noticed a stair climber at the location and wondered if it couldn't be used to create some kind of crane shot. An additional twist is that the shot would consist of three sequences shot at different times in the shooting day and be spliced together.
Sean explains how the shot was made:
We walked in, I saw this stair climber and my first thought was "That'd be really cool to use for a jib-like move." And then as we were walking around the house I was trying to think of ways to get across the idea of the family dynamic changing in the house over the course of each decade. I thought it would be pretty cool if we could do something like a programmed motion control shot going down the stairs.

I figured that the stair climber probably only has one motor setting and if the same person sat in the chair each time it would move at almost the same speed. Obviously it was a bit of a risk when we got set to do it because we just put a clamp on the seat and then I was sitting there trying not to touch the camera while operating it.

We were lucky enough to have more than one camera on set. We rigged the shot up for the 1980s – which is the first thing that we shot – and then we left the camera there and it just sat there for a couple of hours while we shot everything else. When it came time to go back and shoot the next period the camera hadn't moved. All I had to do was sit back in the chair and operate the shot again. I did have someone on the stairs telling me if the chair was starting in the same location each time.

Luckily enough it ended up working out pretty great. It took a tiny bit of repositioning by our VFX guy afterwards, but it ended up working out really smoothly.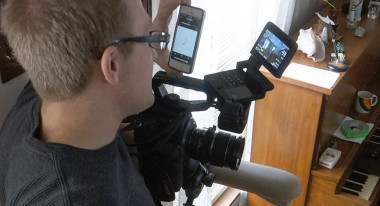 In the photo of Sean operating the camera (left), you'll see that he's also holding an iPhone that he was using to playback the song. This was so that he could match the action with the point in the song where he wanted the move to appear.
You can see the resulting sequence in the video below. The camera move happens at 3:09:
Sean Meehan Cross River Pictures