Back to selection
Tribeca Film Institute's Interactive Conference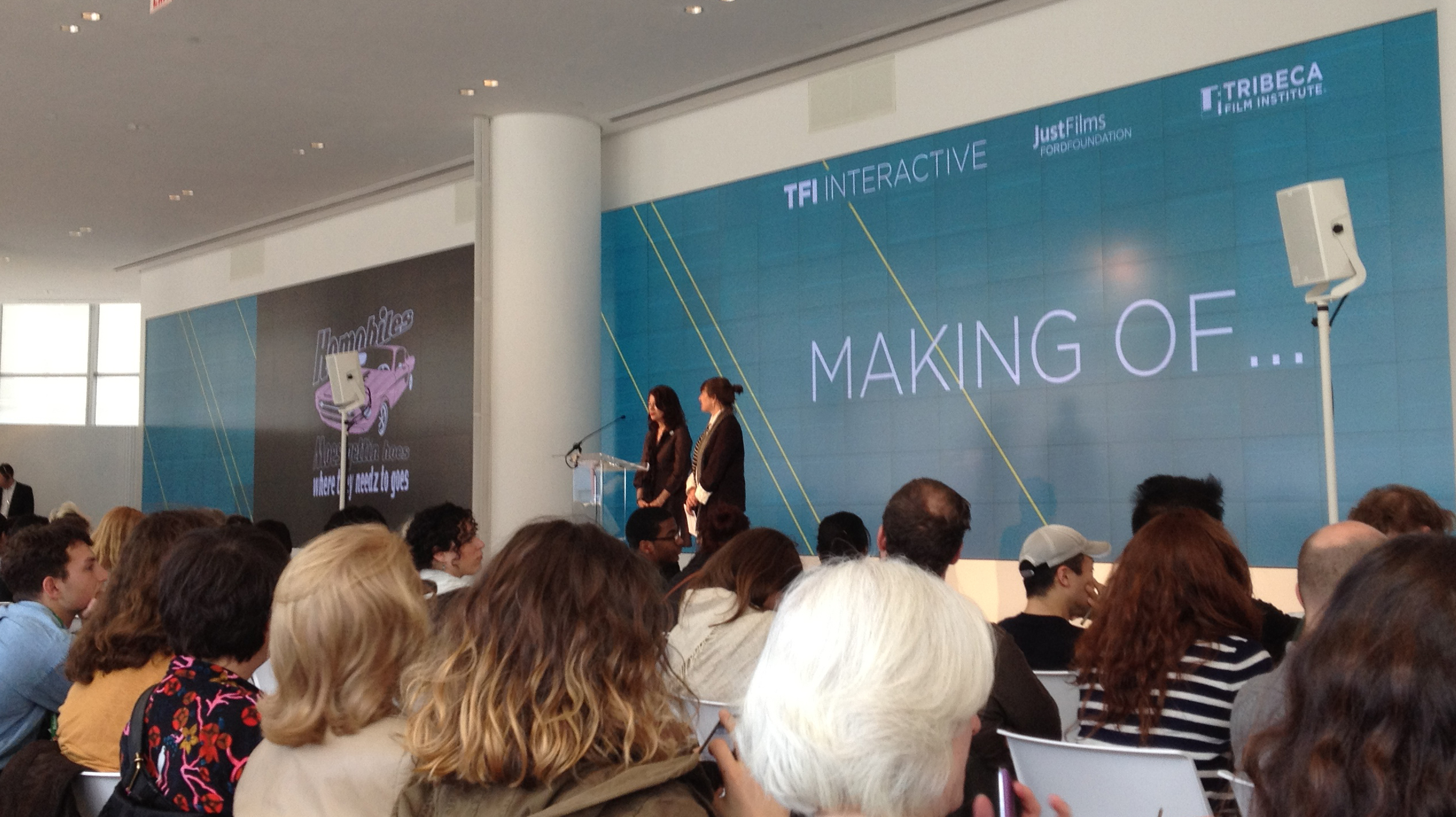 There's no good way to summarize the plethora of information presented last Saturday at TFI Interactive, a full-day conference held, for the second time, during the Tribeca Film Festival. Organized by the omnipresent Ingrid Kopp (who was recently interviewed by the MIT Open Documentary Lab), the day took place at the IAC Building in lower Manhattan, not far from most of the festival's screenings and the Storyscapes interactive exhibits that Kopp also curated.
Over 20 presentations covered dozens of individual projects, discussed entities like Kickstarter, the NFB, and IDFA DocLabs, and included panel discussions on creating adventure video games (think The Walking Dead) and the relationship between coding and filmmaking (and, hence, coders and filmmakers). As with any day of presentations as broad-ranging as these, some resonated with me more than others. But with what looked like around 200 people in attendance, there was certainly something there for everyone. Here are some highlights:
— Tiffany Shlain, best known as the founder of the Webby Awards, began with a rousing presentation about the potential of crowdsourced films and the success she's had with it through her organizations the Moxie Institute and LetItRipple.org. She showed a few short crowdsourced films about mankind's interconnectedness and indicates she's always seeking new contributions; check out her sites for information on all of those.
— Lance Weiler then got us up on our feet for a lightning-speed creative session to discuss transmedia for social action and his project Wish for the Future, which he's been rolling out with kids in Philadelphia.
— The panel on video game design touched on lots of informative points for the screenwriter interested in branching out into game writing. These increasingly popular games like Kentucky Route Zero integrate cinematic situations like dialogue and, often, low-stakes decisions into their narratives. Some take-aways: rather than "show don't tell" think in terms of "pull don't push" for drawing players along in the story, although how hard-pushing a story should be is different in each individual project; think of games as "interactive fiction" in which information often has to be withheld from players in ways that don't happen in most films; beware overwriting — there's a high cutting ratio at the script/development stage; those looking for simple game interfaces should look at things like Twine or, for text-based games, Inform 7.
— Loc Dao of NFB Interactive talked about several of their recent and upcoming projects, like Waterlife on the Great Lakes, Here at Home on mental illness and homelessness, Welcome to Pine Point,  and the upcoming The Last Hunt. The NFB's aware of society's shift to tablets and hence they are moving toward Flash-based projects with a broad range of styles and subjects.
— The documentary Clouds (recently successful on Kickstarter) by James George and Jonathan Minard uses code, a DSLR, a Kinect, and the open source RGBDToolkit to create computer-generated images of coders talking, of course, about code. It's also collaborative, and going down this rabbit hole looks particularly intriguing.
— Localore, an effort of AIR, helps sponsor local transmedia projects generally through public radio stations in markets across America. Those that presented on Saturday included the Austin Music Map, Dayton's Reinvention Stories, Boston's Planet Takeout, San Francisco's Hear Here, North Dakota's Black Gold Boom, Ed Zed Omega in Minneapolis, iSeeChange in Peonia, Chicago's Curious City, Sonic Trace from Los Angeles, and Making of… by the Kitchen Sisters in the Bay area.
— Hackathons and IDFA DocLab were both constant refrains, and Caspar Sonnen of the latter imparted a wealth of information in discussing his work in Amsterdam. For instance, the new doesn't always replace the old: it can often live alongside it, like the Internet, television, radio, movies, and books have done. Besides, interactive docs are kind of an amalgamation of Choose Your Own Adventure books, Man with a Movie Camera, vérité documentaries, and interactive Dadaist poetry. And we're comfortable with that. In fact, today it's easier to say what an interactive film is than to say what a newspaper is. A newspaper is something, but now that it's no longer black print on white paper who's to say what it is? We just know what it's not.
***
That definition could, of course, be applied to all of "transmedia," a term that Sonnen, for his part, dislikes. With everything from CGI algorithms to Play-Do on display, Interactive Day belied the breadth of what we mean when we talk about transmedia. But all the presenters touched on the fact that transmedia wants to reach people in new ways that other media like film can't. As one speaker pointed out, the "trans" part of the term might just as well refer to the connections made between artists and users (who are now often one and the same anyway) rather than just across platforms.