Back to selection
Canon Announces a New DSLR, the EOS 70D. Should We Care?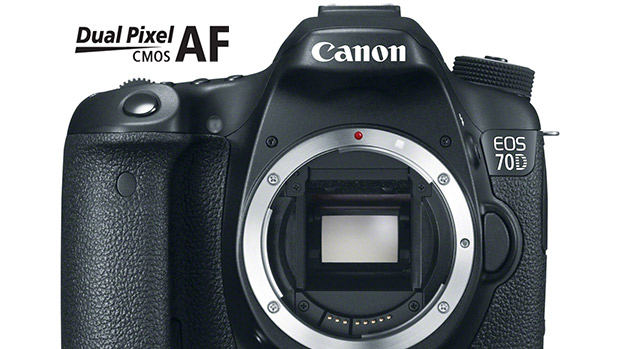 This week Canon announced a new mid-level DSLR, the EOS 70D. The latest in their series of black, semi-pro DSLRs, the 70D has a 20.2 megapixel sensor, a DIGIC 5+ image processor and built-in wi-fi support. Expected to ship in September with an estimated retail price of $1,199, you'd be forgiven if you assumed this latest DSLR will have little impact on the video production field. You might be wrong.
Canon remade the video industry with the 5D Mark II, but for the last two or three years their DSLR updates have offered virtually no improvement in video capability or image quality. If you already owned a Canon 7D or a Rebel T3i, there was little reason to consider buying a newer camera. Clearly most of the action has been happening in the EOS Cinema models; the C300 and the C100 are intended – and priced – for video professionals. They did also release this year the 4K capable EOS 1D C DSLR, but at $12,000 this camera is a very niche tool.
The new 70D does not offer RAW recording, 4K video, or even 1920 x 1080 @ 60 fps, but it does offer a new focus mode called Dual Pixel CMOS AF. What is it? According to Canon's literature:
Dual Pixel CMOS AF is an innovative new image-plane phase-detection AF technology that employs a CMOS sensor on which all of the effective pixels are able to perform both imaging and phase-detection AF simultaneously. Each individual pixel (the smallest structural unit capable of outputting an image signal) on the CMOS sensor incorporates two independent photodiodes (elements that transform light into electrical signals) which output signals that can be used for both imaging and the phase-detection AF.
We don't really understand it either, but perhaps more important is what it can do. If you watch the sample video Handmade, you'll see multiple clips where focus is changing from one part of the scene to another. The Behind-The-Scenes video shows how it's done; simply click on the touch screen on the part of the image you want to focus on, and the camera changes focus. And it does it quickly, with no focus hunting.
http://youtu.be/Tf0BBNr6Epk
http://youtu.be/G6LmMR6FwUE
How good is it? According to Canon:
Compared with the EOS Rebel SL1, which employs Hybrid CMOS AF II, the EOS 70D Digital SLR camera, which is the first camera to feature Dual Pixel CMOS AF, not only achieves AF speed that is approximately 30 percent faster but also delivers improved Movie Servo AF tracking for continuously smooth focusing during video shooting, even when filming quickly moving subjects.
They also claim that it provides "quick and accurate focus tracking of moving subjects in the central 80 percent of the imaging area," and works in low light and with small apertures.
There are, of course, several caveats. What looks good in a demo may not prove as useful in real life. Also, you have to touch the screen to indicate the focus point, which may pose problems depending upon how you are operating the camera. Canon says the system works with 103 EF lenses, but they also point out that some lenses may be better than others; those with Canon's Stepping Motor (STM) lenses, such as the new EF-S 18-55mm f/3.5-5.6 IS STM lens, will have "significantly reduced" motor noise.
It will be interesting to see how functional this new focusing system is. Auto-focus may not be for everyone, but it can be useful for news and documentary work. The next question is; if it's a success, will Canon bring this feature to their professional video cameras?