Back to selection
Five Reviewers on Screening Films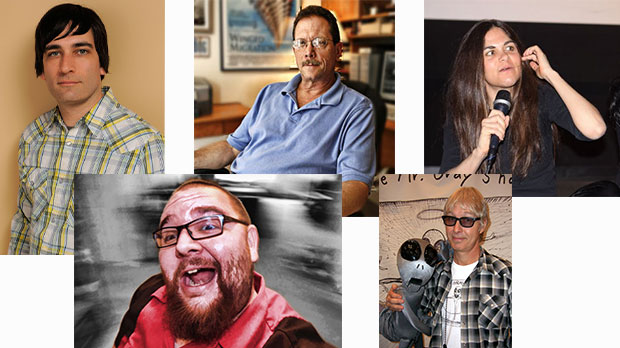 Top L to R: Michael Tully, Marshall Fine, Lauren Wissot; Bottom L to R: Mark Bell, Dusty Wright
With prices dropping and technology increasing and audiences expanding, the indie community is whacking out films at a hectic pace — but it's even more prolific at whacking out words on films. Websites and magazines broadcast a stream of articles on the work of emerging filmmakers. For years, info-packed pieces on distribution and funding have been ubiquitous. Tacky scribblers suck up to celebrities, arty ones profile auteurs, bloggers are all over the turf — latest craze, lists of the best and the worst on just about everything. Of course reviewers continue to fire away, sending their admiring embraces and vicious rejections.
This tribe of chalky-colored reviewers slithering in and out of black theaters, hunkering down at dark desks and dining room tables, pounding out descriptions and pronouncements that readers enthusiastically endorse and quickly dismiss, it's interesting we know little about these creatures. We know reviews matter, because films matter, because life matters. But we have no idea how they select films to screen — an obvious prerequisite for reviewing a film — how with the onslaught of  new releases they wrestle with a huge mass and decide upon a relatively few films. So I asked five film reviewers.
Filmmaker Magazine: What factors influence you to screen a film?
Lauren Wissot, Beyond the Green Door:
Buzz is important, as are recommendations from publicists who I trust and who know my taste. Honestly, relationships are crucial. If a writer colleague, a filmmaker, a fest director or programmer who I know personally recommends something it will most likely make my must-see list. Also, of course, if I'm a fan of a director's prior work I'm going to check out their latest. Catalog descriptions and email notices are less of a focus, though they can be helpful in guiding me towards subject matter that's of interest. I guess the only factors that I find unpersuasive are raves from critics in general – sorry, but I'm pretty indifferent to what Variety, THR, Indiewire, etc. think – and buzz from fests I don't put much faith in.
Michael Tully, Hammer to Nail:
I really don't think there's an easy answer to this question. The world is too complicated. Take, for example, Jeremy Saulnier's Blue Ruin, which just world premiered at Director's Fortnight. Being that it was one of the few American indies to have a first public screening there, it immediately made my to-watch list. Then there was the overwhelmingly positive reaction to it, which elevated it to must-see-as-soon-as-humanly-possible status. But before that, there was the undeniable fact that Jeremy shot my last movie, Septien, so even before he got into Director's Fortnight, this was a movie I was dying to see. In the case of someone I don't know, ala Ryan Coogler and Fruitvale Station, the reaction of trusted friends after the Sundance premiere assured me that I could not leave Park City without seeing it for myself.
There are too many factors at play to answer this question with any sense of definitive specificity. What I will say is that an overly generic festival catalog description, mixed with an uninspired film still, is not the way to get me excited about a movie I haven't previously heard about.
Marshall Fine, Hollywood and Fine:  
My criteria mostly has to do with whether or not something looks or feels like it will be released in New York so I can a) review it and b) possibly snag it for my film clubs. I don't have time to champion obscure films at festivals with no hope of American distribution, which doesn't mean I don't. It just means that's not my first order of business.
It's partly about my own criteria — and sometimes a lot to do with scheduling, timing, luck. It's a strange process, because I try to go into films knowing as little as possible. And yet I have to read enough to translate what the programmer is saying. I never read trades or blogs; there are very few colleagues whose "buzz" will point me toward a film and some that do just the opposite. Publicists? Some I know and trust, some I don't — but they're publicists, selling a product. I know which ones will tell me the truth about a film and which ones won't.
Obviously, certain actors, directors, writers — their names catch my interest (or the opposite). Catalog descriptions are written in code; when I'm reading catalog descriptions of a film by someone I've never heard of, I'm drawn to stories and subjects, rather than style or tone — I'm rarely interested in an "exploration of style" or a "personal journey," phrases that always makes me say "next."
Dusty Wright, Culture Catch:
I'm more inclined to attend screenings of movies that share new ideas or new stories that haven't been told. There are only so many stories to tell, but if the characters and their story arcs are compelling then that will help determine if it's "review worthy." Doesn't matter if it's a film festival entry or stand-alone, big budget vs. indie, drama vs. comedy, fiction vs. doc, et al.
Written descriptions help, intriguing cast helps, compelling directors help, smart writers help, legacy of a filmmaker helps, et al. But at the end of the day, [the biggest question is,] does the movie share a new perspective or character we've not seen?
Mark Bell, Film Threat:
I'm actually anti-buzz, and that's because I think most festival coverage falls into the 80/20 rule: 80% of the media on-hand covers 20% of the films. So if something has a lot of buzz, I know that most everyone is going to be looking at that film, and does it really need my eyes too? Probably not, I can focus on that other 80%. Take Sundance for example, they screen over a hundred films, but you mostly hear about the same 20 films. And that's fine, everyone has different goals for their coverage, but what about the rest of the films?  
As far as fest program guide descriptions go, I'm most trusting of documentary synopses. Not that there's anything wrong with narratives, but you can get some pretty vague descriptions. "A coming of age story…" could mean anything. Could be a heartwarming drama or a transgressive tragedy or who knows, so there's more of a risk in trusting a narrative program description.
All told, though, some of the best films I've ever seen have been ones where I didn't know what they were about, who made them or anything heading in; I was just at the theater and the film was starting and I'm at a festival to see films so let's do it. I think you have to be open to that.