Back to selection
Indiegogo: Ann Marie Bryan on The Shattered Mind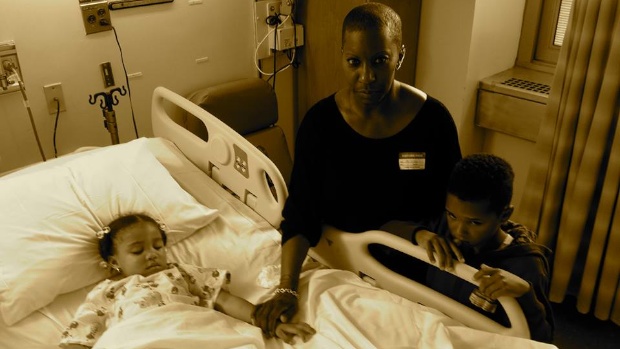 Ann Marie Bryan is the writer-producer-director of the upcoming film, The Shattered Mind, which is currently in postproduction. She's raising finishing funds for her film so she can submit to 2014 Sundance Film Festival. Filmmaker invited her to write a guest blog about her film and the campaign, and she submitted the following, in interview form. To learn more and/on contribute, visit the project's IndieGoGo page: Support The Shattered Mind on IndieGoGo.

Q: What is The Shattered Mind about?
A: The Shattered Mind, based in New York, is a psychodrama and surreal story about a hard-of-hearing teenager who juggles family, peer and culture conflicts while in search of her own sexual identity, freedom, and self-realization. Zhane Rain is an intense and carefree high school senior with three generations of hearing and deaf family members who unravels family secrets behind the traumatic brain injury that caused her deafness.
Q: What inspired you to make the film?
A: Like the character, Zhane Rain, I also endured a traumatic brain injury as a child. As a result of that injury, I also lost my hearing, so I know what it's like dealing with family secrets, or not having to know the cause of my hearing loss until very recently. While growing up, I felt like I was living my life with a big "?" over my head every time someone would ask me how I became deaf. I'd tell them that I had no idea. The film, which I wrote and plan to direct, is fictional, but I used some of my own real-life experiences while writing the script.
Q: What life experiences do you draw from in your work?
A: To better understand where I come from, one needs to understand that I live my life in three different cultural worlds. My personal world is a trinity of these worlds: deaf, Jamaican-born but living now in America, and hearing. I utilize American Sign Language (ASL) to communicate, and the barrier of sound is a life-long challenge for me. This further exacerbates my life-long challenge of living in a world of sound. Therefore, I have three strikes against me as, every day, I fearlessly face societal, linguistic and cross-cultural barriers.
I was brought up in a mainstream society, one that had a tremendous influence on my life as a person with a hearing loss. As a filmmaker, I want to produce films about this experience. I want to tell and expose stories to audiences who will pay to see my films. I want to make films for television and the silver screen about issues from a non-traditional point of view commonly shared by Deaf people.
Through my films, I address a variety of paradoxical issues such as race, family conflicts, biracial and/or bicultural dynamics, socially conscious issues such as the inconsistently-heated debate over cochlear implants, same-sex relationships, domestic violence, rape, police brutality and mistreatment against Deaf and Hard of Hearing people, AIDS in the deaf community, and interpersonal relationships between deaf and hearing people who face cross-cultural and communication barriers.
Everyday, we deal with oppression, ignorance and bigotry. I tell these stories in a passionate manner with a strong urge to spread messages of love, awareness, diverse communication, education, uplifting, and peace-sharing that have been neglected by today's ignorant and troubled world. These messages need more potency to be heard everywhere. As an artist who is deeply in touch with emotions, I respond well to human connection and the human condition; I want to tap into these emotions by making films that expose the human side of Deaf and Hard of Hearing people from all backgrounds, especially people of color.
Instead of turning to others for support, I established a film production company in 2006 to produce my own work as an avenue to address these three worlds, and other human experiences as well, in today's society. Today, I am a respected and well-versed leader and filmmaker in my own right who serves as a model to others.
Q: What do you like about the film industry?
A: I enjoy attending film festivals, meeting new people and learning new things. I try not to follow in the path of what Hollywood is doing, as I am a big fan of the independent film industry. I like hearing about new and emerging talents, and new films, too, because they deserve the attention and the buzz. This is what inspires me because people work hard to make it…they believe in their stories and they want it to be told in their own way.
Q: What don't you like about it?
A: I don't like that they're not open to new voices, new talents who are deaf and hard of hearing actors of color who are looking for opportunities. I also dislike the fact that the Hollywood industry is closed to original stories and is producing sequels more than they ever did.
Q: Who are some of your artistic influences?
A: My artistic influences include Stanley Kubrick, Stephen Spielberg, Meryl Streep, Pedro Almodovar, Queen Latifah, Jada Pinkett-Smith, Oprah Winfrey, and myself. Yes, indeed, myself included, as I am my own inspiration.
Q: What has been your biggest challenge as a filmmaker?
A: I continue to have two main challenges: The inability to hear sound when I am working on my films, and getting financing for those films.
Q: What do you think was the greatest independent film ever made and why?
A: I actually have a couple of favorites, but I have to say that In America was one of the greatest indie films ever made. The first time I watched it was with my best friend. There were a couple of scenes that were very touching and intense, and we cried like two school girls. I mean we sobbed our eyeballs out. I was like, "Throw me another handkerchief, will ya?" I love that movie. I love Djimon Hounsou's work. He's very "real," and his acting is very powerful. In fact, I thought that was the best work he's ever done. All of the other characters are spot-on as well with their emotions.
Q: What is your wildest work story?
A: That's an interesting question. I wrote my third screenplay about female eroticism and sexual exploration, but I actually don't think America is ready for it yet. It's about a character, Cleopatra, who is caught up in a triangle of love and lust between a man and a woman, and struggles to make sense of her dark past and shatter her mother's destructive family legend lifestyle. I don't plan to film it in America. Instead, I want to shoot this film on an island, and Brazil is my first choice.
While I was working on this project, I saw a lot of foreign films for inspiration. Some of the films that inspired me were Henry and June, Wild Orchid, Wide Sargasso Sea, Kama Sutra: A Tale of Love, The Lover, Y Tu Mamá También, Irreversible, Like Water for Chocolate, Basic Instinct, Jade, and countless more. This type of work is something outside of what I normally do. There is absolutely no deaf character development in the story, and it has nothing to do with deafness or deaf culture. Still, I hope to shoot this film within the next 5 years.
Q: Is the film industry basically liberal or conservative?
A: Absolutely! They may think that they seem liberal but they aren't. American cinema has developed thanks to conservatives who've ruled the movie-making industry. Too many movies that are being made are "too safe" because those who make them care more about making money and pride themselves on the principles of family values instead of presenting original works with great storytelling. They also seem to be discouraged or intimidated by the liberal indie films and filmmakers.
Photo: On location at the Metropolitan Hospital, NY with actors: Alyssa Cheatham as Young Zhane Rain, Debora "D'bora" Ware as Brianne Davis-Baldwin (mother) and Xavais Agee as Young Hassan Baldwin.