Back to selection
Afghan Doc Subject, TV Presenter Seeks Asylum, Talks Life Under the Taliban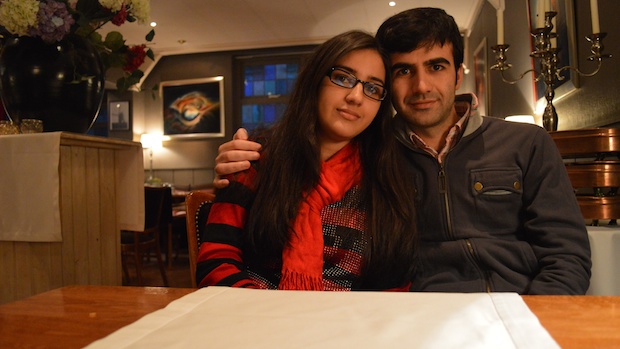 Marina Zaffari and A.J. Ahwar
In 2011, I spent three months in Afghanistan making the documentary The Network. The film is set behind the scenes at the first, largest and most successful television station in Kabul, Tolo TV. I thought it would be surprising, timely and somewhat subversive to make a positive film about Afghanistan in the face of the impending withdrawal of foreign troops.
One of the things I discovered while making The Network is it's difficult to make a positive film about Afghanistan. While the achievements of Tolo are extraordinary as is the massive, unprecedented social change media has brought to the country over the past 12 years, security has been steadily deteriorating for some time and the future looks uncertain at best. There is enormous speculation about what will happen in Afghanistan over the next few years. Civil War, the re-emergence of the Taliban, increasing instability are all popular opinions, but no one really knows what will happen.
Most people are aware that under the Taliban, who ruled the country from 1996 to 2001, women suffered enormously and were stripped of the basic rights we take for granted. Women were denied the right to education, to work or to leave the house unaccompanied by a male relative. For Afghan women old enough to remember the 1970s in their country, what has happened since then must be beyond difficult to reconcile. Afghanistan in the '70s was comparatively liberal, moderately religious, cosmopolitan and progressive. A middle class was emerging, women wore mini skirts and adventurous Westerners looking for the exotic would find their way there.
Since the invasion of foreign troops following 9/11, life for many women has definitely improved. Today, there are over 8 million children enrolled in schools — and 2.6 million of those students are girls. In 2001, the nation's classrooms seated only 900,000 boys and practically no girls. The literacy rate is currently 33% and is set to grow to 60% by 2025 and to 90% by 2040. But change takes time and for many non-educated women, particularly those living in rural provinces things haven't changed much, if at all. Girls entering their teens are married off to old men, rape and abuse go widely unpunished and women's prisons throughout the country are filled with women who have left their husbands as in Afghanistan, it is a crime to leave your husband, even if he physically abuses his wife.
At Tolo TV in Kabul things for women are much improved but still far from perfect. A section of my film focuses on women and the gains that have been made in the passed twelve years. Many women defy their families to work. At Tolo women make up approximately 20% of the 900 employees. Women work there as producers, directors, editors, actresses, managers and women appear on TV as presenters, hosts, journalists and actresses.
When you make documentaries, extraordinary people come into your life and share their stories. I am always incredibly grateful and aware that without them and their courage I am just someone with an idea and a big mouth. As a result I have an extended "family" of people spread across the globe that have appeared in films I have made over two decades, many of whom I stay in touch with and some I try to help if I can.
One of the extraordinary women in my film is Marina Zaffari. When I met Marina in 2011 she was working in Current Affairs at Tolo, reporting and hosting one of their shows. I was struck by how bright and articulate she was and how well she discussed women's rights and the plight of Afghan women. Since leaving Afghanistan, I stayed in touch mostly by email with people who appeared in the film. Throughout the edit and then with each festival premiere or milestone I send emails to everyone to let them know how the film is progressing and being received. I send reviews and articles about the film. I never heard back from Marina, thought it strange and when I asked her friends or colleagues about her I never received a response, until March 16, when I received this email from her:
Dear Eva,

I hope you are doing very well. I just heard about your film. I am so glad and congrats! I was receiving death threats from the Taliban in Afghanistan, which is why I left my country and my job… to be safe. I am living in a camp now in The Netherlands, and have requested refugee asylum. I got married since I saw you to a great man. His name is Ahmad Javeed Ahwar, he is a writer and a lawyer and we are here together now passing very hard days of our new life.
I was quite shocked to hear this as Marina is a proud and patriotic Afghan who had told me she wanted to stay in her country and fight for women's education and equality. I responded to see if there was anything I could do or send her and shortly after this email arrived:
Actually, I am not OK here in the Netherlands. The migration office rejected our asylum request and we are living with ambiguity about our future! Please let me know if it is possible to send me a copy or a part of The Network documentary. If my role in the film is supportive enough I can present it to the court and it may add some weight in our case!!!
I responded immediately and sent a link of the film to Marina along with a letter of support to the judge.
Marina wanted to share her story so I said I would help her get it published. Below are excerpts and edited text from a series of questions I recently asked her.
Marina was born in 1990, in Afghanistan. She is a university graduate and hails from an educated family. She spent much of her childhood in Pakistan as a refugee where she and her family fled during the Taliban's reign.
I dreamt of working in television and becoming a female icon on television in Afghanistan since childhood. Later, I managed to get job with the most famous TV station, Tolo TV and then Tolonews in Kabul. I worked with Tolo TV and Tolonews for four years. Now, I am officially an asylum seeker with my husband A.J. Ahwar in the Netherlands. Unfortunately, the IND (the Integration and Nationalization Department of The Netherlands) has rejected our asylum case.

We suffered a lot in Pakistan. Despite life being tough we were all aware that our lives were better than those living under the Taliban's cruelty in Afghanistan. I was taught by my parents that the Taliban are a cruel, inhumane, anti-women and nonnegotiable. My parents always used to say that life was like hell for people during the Taliban regime.

Citing illiteracy and lack of education as the main reason for wars and conflicts, Marina's mother opened a private school for Hazara [an ethnic minority from Afghanistan] migrants in Pakistan and taught them how to read and write.

After 9/11 and the launch of Operation Enduring Freedom by President Bush and his Administration, we revived our hope to return home. My mother used to follow the news of the Taliban's collapse. When my parents heard about the complete defeat of the Taliban, right that night they decided that we would go back to Afghanistan. I was only 11 years old when we came back to Kabul. At the beginning it was extremely difficult as there was nothing. The city was in ruins. But, slowly my father, a doctor, started working with a private clinic and my mother started teaching in a girl's school and life became more normal. Along with my sister, Rohina and my two brothers, Farhad and Wahab, I returned to school. Though my sister and I were kids at the time, from the first day in Kabul we had to wear headscarves. And our brothers were charged with guarding us against local radicals and fundamentalists. A short time later, I started anchoring a children's Special Program with the National TV station of Afghanistan in Kabul, which I continued for five years. I continued with my schooling and graduated from university in 2010 with a Bachelor Degree in English Literature.

My working life in Kabul was full of excitement but also came with many complications, risks and troubles. I was studying literature at University in Kabul when I received an offer to work for Tolo TV. The first few months, I worked back stage in production and learnt enough to become a host on a number of popular shows. I was the first Afghan woman in Kabul who became a TV presenter for a political program.
Like many working women in Kabul, Marina faced daily harassment and abuse in her working environment in Kabul.
I never spoke about my problems to the media; instead I focused on expressing the pain of Afghan women and advocating their rights in media platforms. I was an active member of the Women's Fifty Percent Participation Network, and the Afghan Women's Network in Kabul.

I worked at Tolo for four years. My working life there was a combination of achievement and difficulty culminating in serious threats. I received many wonderful words of support from individual journalists and politicians over the years. But there were many days I would receive calls from the audience insulting me as the presenter and there were days when I received physical threats and warnings. I was once attacked by a man wielding a knife in public.

My people can finally tolerate a female singer or comedienne, but not a female presenter on a political show. Female presenters work without personal security and are easily targeted. Overall, my time at Tolo TV and Tolonews were the platforms from where I learnt a lot, and I thank the Tolo management for paving the way for me to serve Afghanistan.

I met my husband in 2012 at a political meeting in Kabul. A.J. Ahwar is from Ghazni Province in southern Afghanistan. I found A.J. extremely sensitive about Afghanistan and knowledgeable about women's rights. He used to work with a young group called Young Leaders Forum, and he was writing for local newspaper and politically active. He volunteered as the spokesperson of the Election Campaign for Professor Ali Ahmad Jalali, an ex-Minister for Interior Affairs. He was also teaching Law at the Dunya University of Higher Education in Kabul. I invited him to appear as a guest on my morning show on February 13th. We got acquainted and slowly we fell in love. It is rare in Afghanistan for a young couple to get together based on common ideas and beliefs they share, instead of by arranged marriage. It was not easy to convince our families to support us, but we ultimately did. Despite some resistance we were married in the state court in Kabul. Because we both have public profiles we opted against a typical, large Afghan wedding, as we didn't want to attract the attention of our detractors.

My husband and I are truly open minded and critical towards religion, Afghanistan, traditions and daily issues. This earned us few true friends and many enemies in Afghanistan. Religious groups were orally and literally threatening me for being very outspoken about negative aspects of Afghan traditions and Islamic verses, especially the parts that are blind about women rights and support violent treatment of women and teenagers. Because of this, combined with the fact that my husband is a well-known anti-Taliban figure, we began receiving threats and death threats from the Taliban. I used to regularly criticize the Taliban on my morning show. For a number of months prior to leaving I noticed I was being followed by turban-wearing Talib-like individuals. I never trusted the Afghan Police and believed that if I discussed these issues with them or the media our family members' lives and ours could be endangered. I felt I had no choice but to leave Afghanistan and continue my struggle against those extremists elsewhere.

My husband and I are living in an Asylum Seekers Center in the Netherlands. After nearly eight months, the IND rejected our asylum request. We now have four months to appeal to the Court.

During our time here we were have been treated very well. The UAF granted us scholarships to study Dutch. But, learning Dutch does not guarantee we will receive asylum here. We presented numerous documents and letters of support proving we were under threat in Afghanistan and believing in justice we are trying our best to convince the respectful judges hearing our case that our presence here will not only secure our lives, but also bring many pluses to this country. We have no idea what will happen to us in the future. If we are granted permanent residence status here we will try our best to integrate into the society, learn the language, work and build a life here. In case of rejection, we have no other choice, but to approach international organizations in The Netherlands to support our asylum request and help us settle down elsewhere.

History is repeating itself. My mother, with a heavy heart, left our country in the '90s with her young children to keep us safe. I never thought I would again seek asylum in another country. I had no other choice.

One thing that is very hard for me to reconcile is that as a woman, I have worked for many years trying to advance my country and the plight of women there. I risked everything to do that for my country, which I believed in. In the face of death threats to myself and my family, I had no choice but to flee. No one chooses to be a refugee. It is not a life you choose. After all that I have lived and witnessed I am now being denied the right to become a refugee and start a life without threat. The judge here tells us Afghanistan is a safe country. I wish that were true, but for me and countless others, it is not.

I understand that it may take years for us to be granted asylum and ultimately residence status here or elsewhere. I fear over time stuck in this kind of limbo we may lose our confidence, motivation and self-belief and become lost in the refugee system. After returning to Kabul in 2001 with my family I started my life again from zero. Now again, I have to start many things from zero here. I feel there are many barriers for me to continue a normal life here. I do not know how much more I should or can struggle for the chance to live a peaceful existence. During the Taliban, Pakistan was an option for my family and countless others to escape to and wait out the war years. I don't have that option now so I am here.
In the letter I wrote to the judge supporting Marina and her husband's case I referenced my own family's personal history. My parents were born in 1937 in Poland, Jewish. My family did not fare well in the war. I had one surviving grandparent and a few distant cousins from two very large families. I am always a little hesitant to reveal that I am Jewish to my Afghan friends and only do so if there is a purpose. I referenced my family's history and their good fortune being resettled in Australia after the war to support their request for asylum. I wondered what Marina and her husband would think and if they would respond. A few days later I received this response from Marina's husband, whom I have not met.
When I was young boy, I was taught in school that Jewish and Christian people are the biggest enemies of Afghanistan. Now, I am 25 and have accomplished many things. For much of what I have achieved I have my many Jewish and Christian friends to thank who have recommended me for opportunities, given me jobs, respected, supported, and cheered me on more than my many of my Muslim friends. Thank you.
You can read more about Marina and her husband, A.J. Ahwar, on their website "The True Pen" where they express their views on political issues of Afghanistan in both English and Persian. The Network opens theatrically in New York on September 27, followed by Los Angeles (October 4) and San Francisco, D.C. and Chicago (all TBA). It will be released on VOD platforms October 8 via FilmBuff.