Back to selection
Rooftop Grants Past and Present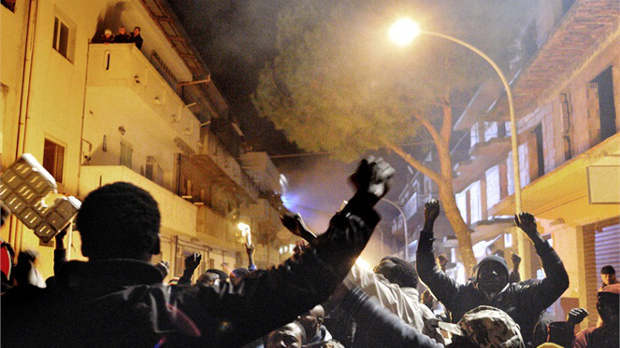 A Chjana
As the summer draws to a close, another year of Rooftop Films grants is upon us. The New York-based nonprofit, though perhaps best known for its alfresco screenings across the four major boroughs, also functions as a dedicated support system to independent filmmakers in various stages of the production process. Beyond the traditional cash grants, Rooftop offers assistance in the form of equipment, workshops and post-production services. Those who have previously screened at the festival are exclusively eligible for grants through the Rooftop Filmmakers' Fund, ensuring a continued, symbiotic partnership between exhibitor and artist.
As such, this year's recipients feature more than a few familiar faces. Keith Miller's Five Star, which delves into gangland rites of passage, will receive generators for its frequent night shoots, as part of the equipment grant. Sweet Cheeks, a fantastical tale from Todd Rohal of two brothers living among 24 adopted children, is to be gifted with 30 days' worth of grip and electric equipment from Eastern Effects. Zachary Treitz and Kate Lyn Sheil will put the finishing touches to their Civil War Kentucky-set debut feature Men Go To Battle thanks to the post-house Edgeworx Studios. AT&T's $10,000 feature film grant will be awarded to Jonas Carpignano's A Chjana, a continued exploration of his 2012 short, which plots the hardships of two Burkinabé friends as they emigrate from Africa to Europe.
Rooftop has an enjoyed an impressive and far-reaching track record with its grantees, even those as recent as the 2012 cycle. Shaka King's Newlyweeds, which received the Edgeworx grant, premiered at Sundance, where it was snatched up by Phase 4 Films for a September release. It subsequently made the hometown stops at BAMcinemaFest and Rooftop this June and July. Jeremy Saulnier screened the Radius-TWC acquired Blue Ruin, an equipment grant recipient, at Cannes' Directors' Fortnight. Next month marks its North American premiere in TIFF's Vanguard program.
At a recent Rooftop fundraiser, two of its most noted and nurtured alumni, Benh Zeitlin and David Lowery, spoke about the role the organization has played in the evolution of their careers. Zeitlin was particularly effusive, citing the domino effect of Rooftop's support in the creation of much of his work. "Beasts would have never been made," he said, if Rooftop didn't take a chance on his thesis film, Egg. In screening the short, he was eventually able to receive a grant for Glory at Sea, which laid the foundations (and an additional grant) for his Oscar-nominated Beasts of the Southern Wild. Rooftop even threw a fundraiser for Zeitlin after a car accident en route to screen Glory at Sea at SXSW left him drowning in medical bills. "Every other festival on the circuit is just as celebrity obsessed as Hollywood, except for Rooftop. They care about the filmmakers foremost," Zeitlin opined. "What he said," nodded Lowery. Like Zeitlin, Lowery shares a long-standing relationship with Rooftop, having screened two of his shorts, A Catalog of Anticipations and Pioneer, as well as two features, St. Nick and Friday's release, Ain't Them Bodies Saints, at the festival. Additionally, Saints, which Lowery likens to "an old American folk song — two thirds the way between what happened and what mythology built up around it," was awarded the Edgeworx grant.
Rooftop's commitment to cultivating career-long collaborations with filmmakers continually sets the organization apart from others of its ilk. It is through their refined taste and support that the Lowerys and Zeitlins continue to flourish, and that the next amateur short filmmaker may eventually be able to make the leap to the feature. A complete list of this year's grants can be found here, and submissions will reopen in October.
The list of this year's grantees in full below:
ROOFTOP FILMS / AT&T FEATURE FILM GRANT
Jonas Carpignano, A Chjana
Determined and courageous Burkinabé friends, Ayiva and Abas, must persevere through the difficult journey across Africa on their way to finding new opportunities in Europe. But with their family and new home, local hostility and intolerance all hanging in the balance, Ayiva and Abas must consider what price a 'better life' is really worth. Rooftop screened Carpignano's award-winning short film, A Chjana in 2012 and Bayou Black in 2011.
ROOFTOP FILMS / EASTERN EFFECTS EQUIPMENT GRANT
Todd Rohal, Sweet Cheeks
Sweet Cheeks is the story of two nine-year-old brothers, Tyson and Tyler Butterfield, growing up among the twenty-four adopted children that live together in a one-room house where they eat, sleep, and get raised up by their loving parents. The boys find a gift for their mother inside of an abandoned mailbox which leads them on a mission where they run afoul of a slick reverend with strange ideas about love, steal a car from a daredevil hobo, get chased by a 6-inch tall man in a balloon, and confront Jesus Christ in heaven above. Sweet Cheeks exists in the uncharted territory located somewhere between the Our Gang shorts of the 1930s, Paper Moon, Night of the Hunter, Duck Soup and Forbidden Zone. Rooftop screened Rohal's short films Knuckleface Jones and Hillbilly Robot in 2000 and 2001 and his feature-length films The Guatemalan Handshake in 2006 and The Catechism Cataclysm in 2012.
ROOFTOP FILMS / EDGEWORX POST-PRODUCTION GRANT
Zachary Treitz & Kate Lyn Sheil, Men Go To Battle
In the fall of 1861, most Americans predicted that the War Between the States would end by Christmas. Henry and Francis Mellon couldn't care less. The two are struggling to hold on to their crumbling estate while bracing for another winter in central Kentucky. Living together in the last remaining structure on their family's hemp farm, the two have become suffocatingly close. Francis' practical jokes become more and more antagonistic until the night he accidentally injures Henry in a fight. Henry disappears in the night, leaving Francis alone to discover the hardship and deprivation that the war has in store for him. Rooftop has screened numerous films starring Kate Lyn Sheil, and showed Treitz's short films The Mean Time (2008) and We're Leaving (2011).
ROOFTOP FILMS / DCTV EQUIPMENT & SERVICES GRANT
Sam Green, The Great Heart of Humanity
The Great Heart of Humanity is a new feature-length 'live documentary' by Academy Award-nominated filmmaker Sam Green. The film, which is inspired loosely by the Guinness Book of Records, will weave together portraits of record-holding people places and things to create a meditation on fate and the outer contours of the human experience. The film will be screened with live narration and live soundtrack performed by the chamber group yMusic. Rooftop Films screened Sam Green's film "Pie Fight '69" (co-directed with Christian Bruno) in 2000 and his live documentaries Fog and The Biggest Smallest in 2013.
Darius Clark Monroe, Evolution of a Criminal
Deep in the heart of Texas, what begins as an innocent tale of family, sacrifice, and financial hardship quickly escalates into a true-crime thriller. Fusing together compelling interviews, striking re-enactments, and home video, we are forced to ask ourselves how a 16 year old honor roll student evolved into a bank robber. Rooftop screened Monroe's short film Train in 2011.
Natalie Paul, Sweet Tea
It's a hot afternoon in gentrified Brooklyn, when Nicki, a tough native Brooklynite meets for the first time her boyfriend's "baby mother" Amy – who turns out to be a Southern blond belle. The two women, as opposite as they are, challenge each other and somehow come to see each other in ways only the other can. Sweet Tea explores the reality of complicated relationships and complicated people – and how they desperately try to hang on, move on, make things work or let things go. Rooftop Films screened Natalie Paul's first short film, Everything Absolutely (co-directed with Terence Nance) in 2013.
ROOFTOP FILMS EQUIPMENT GRANT
Keith Miller, Five Star
Five Star follows Primo and John as they face the challenges of urban manhood. For Primo, who turned Blood at age 12 (in the movie and in real life), this includes understanding what it means to be a father and an honest man. John has to decide if gang life is the path for him. Connecting them is John's father, who was Primo's mentor, and whose recent death by a supposedly stray bullet sets the story in motion. Based closely on real life elements, the distinction between the story in the movie and events in the 'real world' is intentionally blurred. Five Star is a follow up to Keith Miller's award winning feature Welcome to Pine Hill (Rooftop 2012), which was based off his short film Prince/William (Rooftop 2010).
ROOFTOP FILMS / ADRIENNE SHELLY FOUNDATION SHORT FILM GRANT FOR WOMEN
Heather Courtney, Untitled Texas Project
"Untitled Texas Project" will follow one Planned Parenthood clinic's struggle to survive in a state that has made massive cuts in family planning funding, and vilified Planned Parenthood in particular. In their efforts to get rid of abortion, Texas state legislators have also restricted access to contraception, women wellness exams, and pre-cancer screenings, resulting in 76 clinics either closing completely or cutting family planning services.  This short documentary explores the human side of policy decisions, as we follow a year-in-the life of one west Texas clinic and the fall-out for their patients. Rooftop screened Courtney's feature documentaries Letters from the Other Side (2006) and Where Soldiers Come From (2011).
ROOFTOP FILMMAKERS' FUND SHORT FILM GRANT
Riley Hooper, The World's Longest Yard Sale
Now in its 26th year, the world's longest yard sale runs from Michigan to Alabama the first weekend of every August. It's a massive exchange of not only goods, but also cultures, customs, ideas, and narratives. Riley Hooper's short documentary focuses on objects being sold and bought along the route of the sale to reveal personal stories about the people buying and selling them — universal stories of family histories, love, loss, nostalgia, and the human experience. Rooftop screened Hooper's film Flo in 2013.
Yung Jake, kickstarder
"ayo this Yung Jake. i'm about to drop the most interactive rap video ever. 4 reel. it's gonna be a video that automatically inserts my supporters; the people who have my back from day one (through day 30) of the time that KS is release will be forever embedded into the video, they jus have to pay a little. my day 1-30 niggas. yeah, so whatever img you want can be dragged onto the video wherever/whenever and publicly displayed for the world to see. like on my shirt or you can be in the background of the shot in my hood. prices range on how dope the area of insertion is. Rooftop Films screened my Datamosh video in 20013 that's how they found me. email kickstarder@gmail.com to inquire about pre-ordering img spots."
Mike Plante, Giuseppe Makes a Movie
In Ventura, CA, Giuseppe Andrews makes movies in his trailer park. A former child actor, Giuseppe is inspired by the crazy independent filmmakers of history: Cassavetes, Bunuel and Fassbinder… and now has 30 features of his own. With a handwritten script, a video camera, an acting ensemble of neighbors and homeless men and a few hundred bucks, we follow Giuseppe and crew as he sets out to make a feature film in just two days and shows that filmmaking is not for a small elite group but for everyone. Made by Adam Rifkin and by Mike Plante, whose Orbit(film): Earth short played at Rooftop in 2012.
Tom Schroeder & Lisa Paclet, Island
Isola del Giglio is the smallest island of the archipelago that includes Elba and Monte Cristo.  One of the three small villages on the island, Campese, serves as a summer vacation retreat for middle class Italian families.  Island will be a 12 minute animated film documenting the course of one day in Campese rendered in an impressionistic, sketchbook style. Rooftop screened Paclet's film Ursonate (2006) and three of Schroeder's films: Bike Ride (2002), Bike Race (2011) and Marcel, King of Tervuren (2013).