Back to selection
Critics Notebook: 2013 Urbanworld Film Festival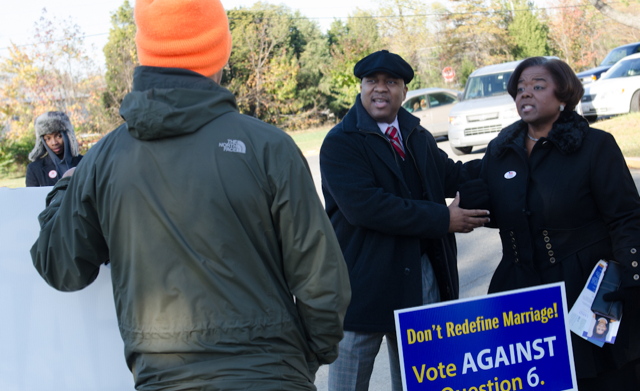 The New Black
Among the winners at last weekend's Urbanworld Film Festival, Yoruba Richen's The New Black, which took home the competition prize for best documentary, was the standout of the festival's largest slate in its 17-year history. A probing look in the mirror, it confronts homophobia in the black community and its most important institutions (the church) through the prism of Maryland's landmark passage of gay marriage during last year's election. Richen talks to black Marylanders from all walks of life and activists on both sides of the ballot issue, from Conservative clergyman to LGBT volunteers, coaxing incredible candor from most of them. Not surprisingly, The New Black reports things that anyone who actually spends much time around black communities would know, but still seem to be news to much of the moviegoing audience — there have always been gay people in the black church and they have had a variety of experiences with bigotry from within. Perhaps more salient given the wave of gay rights victories in recent years, however, straight and mildly religious black Americans generally dislike the comparisons between the struggles of their community for equal rights and that of the LGBT community, regardless of one's opinion about the morality of various forms of sexuality. One should not expect this to change anytime soon for reasons that are as obvious as they are complex.
Richen wisely focuses on these various ambivalences from a perspective that doesn't prejudice itself unduly, although the activists who oppose gay marriage specifically and we sense gay rights in general are given just enough rope to hang themselves and, perhaps unfairly, not given a coda following their electoral defeat at the film's conclusion. Accusations from LGBT activists lobbed at the black community following Proposition 8's 2008 passage persist as the documentary opens, but Richen wisely goes and actually talks to baptist preachers and young, hard-seeming, working-class black men on the streets and finds hearts that are more open than some would suggest while observing a persistent discomfort with homosexuality that has complicated roots. Richen wisely places this in context; surely the black church, the communities' most lasting and still remarkably significant institution, has some role here, but so do the masculinist attitudes that took rise in certain segments of the black community following the tumult of the 60s. These questions are not going away anytime soon, but The New Black, which was a hit at this year's LAFF before landing at Urbanworld, addresses them with deftly. One wonders however, will this film find its way to the very audience who perhaps most need to grapple with these questions?
Presented by the BET Networks (with an assist to HBO), Urbanworld has become New York's black film festival standard bearer. That this has been done almost by default goes without saying — I mean, when was the last time you were at a black film festival, New York cinephile? While the New York African Diaspora International Film Festival (Disapora and African seem to jump in and out of the official name depending on the year during its two decades) has been running longer and used to have posh Lincoln Center digs, it hosts fewer "significant" premieres and has seen its date on the calendar change with some frequency. BAMCinematek's now defunct Afro Punk! Film Festival was easily more eclectic and perhaps better programmed, but it faded away as the hosting institution's energies turned toward their increasingly more significant BAMcinemaFest. Urbanworld has become more or less the only game in town as far as niche black film festivals of note are concerned.
Is this healthy for black cinema in New York? No one seems to have a clear idea. Frankly, I'm not sure black filmmakers or their New York audiences care enough about the event, held every year in the rather anonymous AMC Loews multiplex just west of 8th Avenue on 34th Street in Manhattan, for it to have much of an effect helping black films reach their target audience. Would it be more advantageous from an "actually reaching out to rank and file black audiences" perspective to have the event uptown or in Central Brooklyn? Most of these films will find their way to limited theatrical releases and TV soon anyway. Unseen by this critic, the festival opened with veteran straight-to-video auteur David E. Talbert's Baggage Claim, a Fox Searchlight distributed rom-com starring Paula Patton and Taye Diggs, a film that just from its trailer and profile would seem to fit comfortably on BET's late night movie programming. The same could be said for Nelson George's origins of funk documentary Finding the Funk, narrated by Questlove, and Reggie Rock Bythewood's Gun Hill (not to be confused with Rashaad Ernesto Green's wonderful Gun Hill Road), a cop thriller starring Lorenz Tate and Middle of Nowhere's Emayatzy Corinealdi. Both of these films were presented as spotlight selections alongside a large slate of shorts and features in the narrative and doc competitions, by established and well connected black American cinema world practitioners, begging the question, is the festival simply a one by and for black industry insiders? I don't know if the organizers envision it as such, but it does its best to give off that vibe, with its focus being more on the star wattage occupying the red carpet than on a compelling vision for the overall program.
One underlying issue may be that the festival struggles to garner local premieres of the most significant African-American themed films to come out of the major American festivals. Among an unusually strong crop of black themed films to emerge from Park City and Austin earlier this year, Blue Caprice opened ND/NF, while Big Words, Mother of George and Newlyweeds all dropped at either BAMcinemaFEST or BAM's New Voices in Black Cinema festival. Fruitvale Station opted to skip New York festivals entirely in order to open commercially in the summer. Even with George Tillman Jr.'s well-received Anthony Mackie and Jeffrey Wright Sundancer The Inevitable Defeat of Mister and Pete anchoring Closing Night of this three-day affair, this would seem to speak volumes. Still strong work, such as The New Black, or Durier Ryan's terrific, 25th Hour-esque short 5 Years, could be found on the margins of the program. Let's hope in the future the festival expends more energy featuring those films and less providing a launching pad for black cinema that would seem to have gleaned more from Nancy Meyers than Charles Burnett.