Back to selection
Jeff Reichert and Farihah Zaman to Direct TFI/Rockefeller-Funded Sandy Doc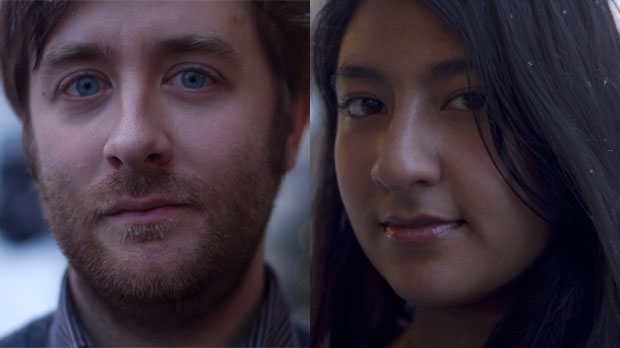 Jeff Reichert and Farihah Zaman
It's been less than a year since Hurricane Sandy blasted New York and the TriState area, but already it has had a number of representations in film and transmedia, from Sandy Storylines to the narrative Stand Clear of the Closing Doors and the upcoming Sandy relief concert 12-12-12.
Now to that list can be added a new title — and arguably the most definitive work about Sandy yet — This Time Next Year, directed by Remote Area Medical's Jeff Reichert and Farihah Zaman. (Full disclosure: Zaman is a regular Filmmaker contributor.) Uniquely, the project, which "tracks the resilience of Long Beach Island, New Jersey, residents during their slow rebuilding process following Hurricane Sandy," is being fully funded by the Tribeca Film Institute in partnership with The Rockefeller Foundation.
Ryan Harrington, director of documentary programming at TFI, said, "Through this new initiative with The Rockefeller Foundation, TFI is providing filmmakers with tools to help bridge the gap between the film viewing experience and the direct action needed to affect progress and change around the cause it serves to support – in this case the resources still needed to rebuild and recover a community. TFI has long nurtured the careers of hundreds of independent filmmakers through professional development and fiscal support and we are excited to extend our mission by helping bring this incredible story of resilience to life and to audiences."
"We are beyond honored to be working with TFI and Rockefeller on This Time Next Year," added Reichert and Zaman. "The community and people we've been filming are incredibly dear to us, and we're excited that through this partnership we now have the resources to not only finish the film, but ensure it has a far-reaching impact. We can't wait for viewers to meet all of the amazing LBI residents we've spent the last year with."
From the press release, here's more on the project and the support it will be receiving from TFI and Rockefeller:
This Time Next Year is a portrait of small New Jersey community, directed by a filmmaking team with lifelong ties to the area – co-director Jeff Reichert's family has lived there for decades and producer Dan O'Meara is an Island native. Eighteen miles long and only a few blocks wide, Long Beach Island is home to approximately 20,000 year-round residents. In October of 2012, Long Beach Island was devastated by Hurricane Sandy. Battered by a high storm surge, flooding and winds, the island was evacuated by order of Governor Chris Christie on October 28. Sandy left dozens of homes and businesses in ruins and, as a whole, Long Beach Island suffered an estimated billion dollars in damage. This Time Next Year begins just before Christmas 2012 and ends a year later. From the small triumphs of individual families able to finally return to their homes, to the larger political issues surrounding the slowly released state and federal aid monies, the character-driven film highlights the resilience of the Island's inhabitants during the rebuilding process, including the altruism of Island residents who worked tirelessly after the storm to help bail out their neighbors.

TFI and The Rockefeller Foundation's support for This Time Next Year began with initial funding support in August 2013 and will continue through 2014. In addition to financial support, TFI will provide mentoring and guidance throughout development, production and release – from ongoing shooting through December 2013, including the anniversary of Superstorm Sandy, to social and community action campaigns and strategic partnerships that will help communities prepare for a natural disaster and understand how climate change is affecting them.  This groundbreaking integrated campaign will include national theatrical and grassroots screenings, and provide free educational screenings through TFI's existing Tribeca Youth Screening Series (TYSS), which provides unique curriculums and interactive, participatory screenings to more than 6,000 New York City and New Jersey public school students and their teachers each year.