Back to selection
Peaches Does Herself, Naturally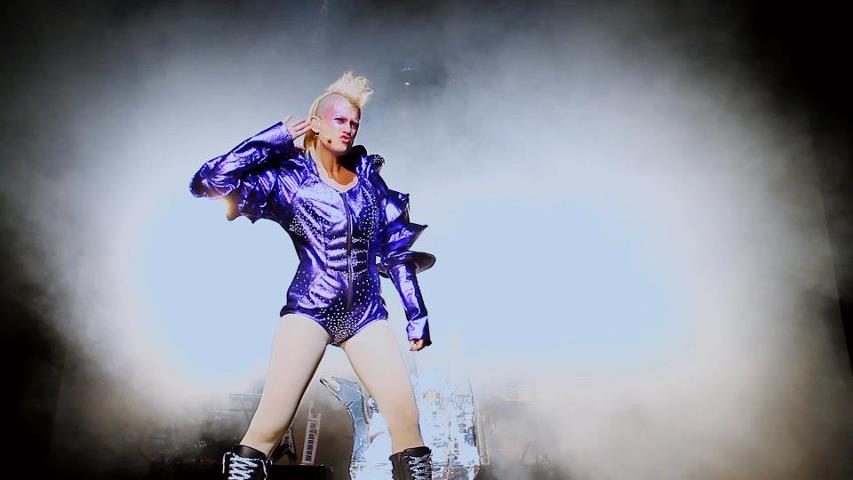 Peaches – government name Merill Nisker – solemnly swears that her career is built upon natural progressions. Yes, the move from one-third of a folk lounge act to electronica's most preeminent provocateur was not so much calculated as an aligning of experimentation and tastes. And so, when the Hebbel am Ufer theatre in Berlin approached Peaches about directing a show in 2010, the answer was not a "yes" or "no," but simply, "Jesus Christ Superstar." Following the success of the performance, in which Peaches single-handedly played all of the roles to the piano accompaniment of her longtime collaborator Gonzales, the HAU invited her back for yet another creation of her choosing. Starting from scratch, Peaches toyed with Berlin iconography – Bowie, Dietrich, Cabaret – before deciding to simply riff on her own story, and the misconceptions that surround her brand of burlesque and performance art. Placing her songs within a fully realized narrative structure, Peaches Does Herself also became an opportunity for the musician to probe the question of why jukebox musicals are so historically insipid. "They take someone like Freddie Mercury," Peaches scoffs, "a genius musician, and a stupid storyline that has nothing to do with him and, 'insert music here.'"
When it came to crafting Peaches Does Herself, however, Peaches stuck to a simplistic and classical story, allowing her songs to organically find their place in the show's rhythm. Through her music and Jeremy Wade's choreography, Peaches chronicles her mythical journey from wannabe to rockstar, with a dash of counsel from a 65-year old stripper and a transsexual love affair in between. "I'm using traditional elements – the ego, the fall, the foil, the love interest, the means of finding oneself – in my own context. From there, it was just a matter finding the right songs for the right moment, which was a little scary and overwhelming at first, but exciting."
Equally natural was assembling the show's cast. Sandy Kane, who plays the stripper-comedian, previously opened for Peaches on tour. "I often think about aging," Peaches concedes. "But really, I'm interested in the phrase 'midlife crisis,' and why it's a so-called crisis, and why can't we simply evolve? You get that time where you become yourself in your twenties and thirties, and it's great, and then it's over. Why is it a crisis? So I used Sandy to play off of that." Peaches met the actor who would play her love interest, Danni Daniels, at a show in London. "She came up to me and said I lost my virginity to your music in the back of a car in Florida when I was 14, and now I can shake my dick and my tits."  And that was that.
With a round of performances slated for October 2010, Peaches thought to film the show, "simply to document it." It wasn't until poring through the footage, after the fact, that she realized she had something special on her hands. "We thought, 'Hey, this actually doesn't look like a bad high school performance, and even if it does, in parts, it's funny.'" Six months later, Peaches Does Herself returned to the HAU, this time with a gameplan firmly in place. "I composed a few shot lists, and we'd come in and get all the close-ups done before the show, during rehearsals at 3 pm." Continuity was an occasional cause for concern. "You forget that people have been out living their lives for the past six months, and things don't always look the same, or your original dancers aren't available. Danni, for instance, was always getting new tattoos."
When asked about the challenges of creating a kinetic film set entirely on a static stage, Peaches felt the solution rested in sound design. "Cornelius [Rapp, sound editor] turned his apartment into a surround sound studio, and took out all the noise from the audience. There were people laughing and clapping, it sounded like a sitcom, and once he took it out, you could feel a pull into this world. It made such a huge difference." Though she isn't one for scheming, Peaches cops to fantasizing about bringing the finished product back to her native Toronto for TIFF. "I used to sneak into that festival all the time when I lived in Toronto, and I thought it'd be so cool to premiere it there. We sent it in, and they were hesitant because they don't normally do musicals, or rock operas, but eventually they came back to us and accepted it." Peaches has since spent the past year screening Peaches Does Herself all over the globe, including a stop at Locarno, where her silver screen debut, Ivory Tower, also played in 2010.
Though they can be similarly draining, Peaches notes that the touring of one's film to one's music is largely disparate. "What I love about making music is the immediacy of it, and connecting with your audience. The process of taking your film to all these festivals is even longer than the process of recording an album. There's a surreal relationship to time that this film has that music doesn't." That doesn't mean she isn't enjoying it. "When I showed the film in San Francisco, I walked in for the Q&A and the audience was on their feet dancing. That's what I hope happens with this, that we can do special screenings, and it will turn out like its own Rocky Horror Picture Show experience."
Chomping her gum, Peaches circles back to her evolution as a performer since the early 1990s. She laughs about her stint in drama school, which she rebuffed for its high-strung atmosphere, only to be promoting a film of a theatrical performance some 20 years later. One could argue, however, that it's all the more impressive. That she was able to fashion these varied mediums and interests into a document that feels, above all else, precisely Peaches. And naturally so, at that.
Peaches Does Herself is currently playing at Manhattan's Quad Cinema and will be available on demand.