Back to selection
Sharp Teams with RED and THX for "Art of Amazing 4K Film Competition"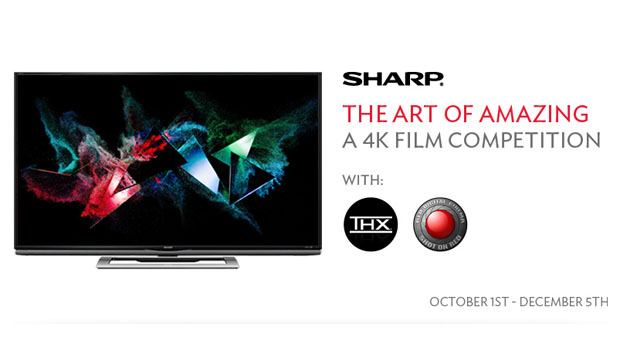 The following is a sponsored editorial post from Sharp.
Sharp recently put out its 70" class AQUOS® 4K Ultra HD LED television, which is the first ever TV to have THX 4K-certified image quality. To celebrate this pivotal breakthrough, the company has teamed with two other picture pioneers, RED and THX, for a 4K short film contest, the Art of Amazing 4K Film Competition.
To meet the submission criteria, short films need to be four minutes long or less. The films can be made especially for the contest, but entrants can also put forward preexisting work that is repurposed to meet these criteria, as long as it fits in with the brief of "energy, light, and scale." According to Sharp, films can be abstract, narrative, technical — the most important thing is that it must be amazing.
Sharp has recently extended the submission deadline until November 15; online voting will start on November 20. You need to submit your film by mail on either a USB 3.0 drive or a flash drive. And note that other 4K film formats will also be considered other than what is listed in the guidelines if filmmakers can't meet the submission requirements.
The four filmmakers who receive the most votes will get:
• A trip to Hollywood, CA and passes to the Shot on RED Film Festival (Dec 4th and 5th)
And the winner will receive:
• Sharp 70" Class AQUOS® 4K Ultra HD LED TV- $7,499.99 value
• Trip to CES 2014 from Jan 7th – 10th in Las Vegas, to have their film play live in the Sharp booth and a chance for
excellent exposure.
Finally, even if you don't win or make the final four, this is a great opportunity to get exposure for yourself and your work. Sharp will be promoting all of the submissions and their creators through social media and at CES 2014, an ideal platform for your creativity to shine on.