Back to selection
Polish Progress: American Indies in Wroclaw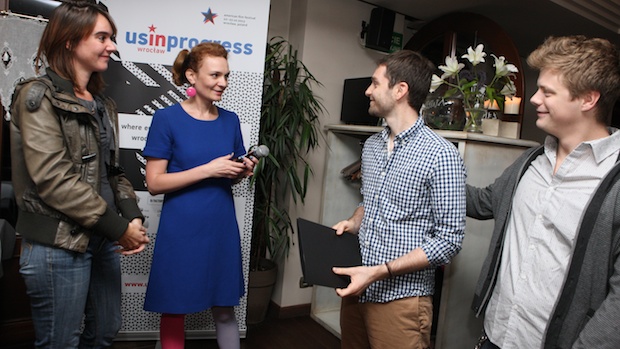 Sunbelt Express's Evan Buxbaum and Noah Lang with organizers Adeline Monzier and Ula Sniegowska
If any one moment encapsulated the fervor for U.S. independent cinema among the young cinephiles of Wroclaw (pronounced Vrot-swof, by the way), it arrived at around 11:00 PM on my final night of attendance at the 4th edition of the city's American Film Festival (22-27 Oct, 2013). I was strolling back to my hotel in the company of Killer Films honcho Christine Vachon and Tennessee-based producer Ashley Maynor when a lissome young Polish fellow with rosy cheeks, Kurt Cobain hair, and a T-shirt bearing the legend 'Hipsters Don't Wear Frames' suddenly appeared. With a shallowness of breath that suggested he'd been chasing for a while, he proceeded to regale Vachon with his love for her production Velvet Goldmine (which had screened earlier that day), and informed her of the film's vast cultural importance to a generation of young local viewers. While Vachon humbly accepted his compliments, it was impossible not to notice the numerous, looming advertisements of Kevin Spacey shilling for a Polish bank that surrounded us. Yet there was no doubt as to who the real star of the show was around these parts.
"We've been living our American Dream"
This type of passion is clearly what fuels Roman Gutek, the originator of the American Film Festival; since its bow in 2010, it remains, alongside Deauville and Moscow, one of the few festivals in Europe to be solely dedicated to American cinema. A fascinating character, Gutek started the Warsaw Film Festival in 1985 and owns one of the largest independent arthouse distribution companies in Poland (Gutek Film, founded 1994). In 2001, he started the arthouse-heavy New Horizons Film Festival in Wroclaw, from which sprung the New Horizons Association that now presides over both local festivals. According to Ula Sniegowska, AFF director of programming, Gutek claims that the original intention for the New Horizons Film Festival 13 years ago was to promote American independents. "He's a huge fan of people like Gus van Sant, Jim Jarmusch and Steven Soderbergh," she tells me, "and even though he's apparently never travelled to the US, he's like an ambassador." There's something undeniably whimsical about Gutek's dedication to crossing cultural boundaries, and this is made apparent in his plaintive program note: "[w]e've been living our American Dream. Our dream that the term 'American film' would mean more than high-budget blockbuster entertainment on multiplex screens, our dream for America to be closer to Europe, and not because of CNN news reports."
The AFF hub is the frankly extraordinary New Horizons cinema, a multi-storied arthouse multiplex, furnished with eight massive screens, swanky bars (where the order of the day is quiche and latte, rather than popcorn and Coke), and a store full of rare DVDs, books and posters manned by laid-back, mostly bespectacled staff. At a guess, I'd say that the average age of attendee at the festival was 22-25, and it was quite something to see full houses on a Friday night for films as modest in scale and light on big-name talent as Hannah Fidell's intense chamber piece A Teacher. This year's AFF program, which included 52 Polish premieres and three European premieres, drew together a blend of classic and contemporary U.S. cinema, opening with Jarmusch's Only Lovers Left Alive, and closing with Soderbergh's Behind The Candelabra My own personal highlights were to be found in the Shirley Clarke retrospective, in particular the gleaming Milestone Films restoration of her meta-avant-hipster-heroin-meltdown classic The Connection.
US in Progress
However, the AFF's most intriguing sidebar – and the one to which I dedicated the majority of my time – was US In Progress, in which six American independent works-in-progress were screened to groups of industry experts (including programmers from Rotterdam FF, Tribeca FF and Semaine de la Critique, and buyers including Match Factory, K5, The Works, and Urban Distribution). Following the screenings, the filmmakers received one-on-one industry feedback, and the program culminated with an awards ceremony in which two films won lucrative post service packages.
Sounds great, but how did the idea of US in Progress come about? After all, doesn't it seem a little curious to hold such an event so far from the filmmakers' home towns and comfort zones? Sniegowska takes up the story: "Three years ago, [French-born, NYC-based] Adeline Monzier, who used to run Europa distribution, came up with the idea of joining her two parts of life – European distribution and American filmmaking, after having learned about AFF. Three years ago it was still called "Gotham in Progress" but the name was too localised because we don't just focus on New York or the East Coast." And where do the majority of submissions come from? "Of 40 submissions that we get every year, I would say 12 are from Austin and the Texas area. There are five to six from Seattle and lots from New York and the East Coast, and some from the West Coast. New York and L.A. are the best represented."
With a steady rate of submissions, US in Progress has already begun to spread its wings to become a year-round endeavor. Since 2011, the Paris-based Champs-Élysées Festival has also run a U.S. in Progress event. "They cater for the first half of the year and we look at what has been produced since June," explains Sniegowska. "Their submissions end in April and that's when we open ours. We stop in September to give us a month of time to organize around particular filmmakers and producers." I ask what the key differences between the two halves of US in Progress are, and Sniegowska replies: "Paris is much more concentrated on distribution and agents. We are concentrating much more on Polish post-production studios that offer the awards. [Lance Edmand's] Bluebird got some DCP production from us. Daniel Patrick Carbone's Hide Your Smiling Faces [perhaps U.S. in Progress' biggest success story to date] was mostly post-produced in Poland."
That's all well and good on the business front – and surely a boon for the local economy – but how did the participants find the experience? New York-based director Onur Tukel, whose film Richard's Wedding screened at AFF in 2012, and whose new effort, the comic horror Summer Of Blood screened for the first time publicly at USiP, was candid: "At times it felt as if my ego was getting hit with a battering ram. Sitting with a dozen folks in a four-hour period, we were told what doesn't work, why it doesn't work, how it could maybe work next time around. It was miserable and beautiful and profoundly educational. In the end, after being pounded into dust, everyone is awarded a prize to help finish their movie. Your ego is on the ground, slightly broken, then a hand comes in and lifts it back up." Tukel then continued down the line of somewhat simpler pleasures: "You get to get drunk with all the industry folks and give them a hard time for being so hard on everyone! I feel very lucky to have participated in this."
Ashley Maynor – producer of Cameron Nelson's Some Beasts – takes a perspicacious view of the project's international intentions: "What many U.S. filmmakers may not realize is that the European festival and sales market works on a different timeline than the States. While most independent producers think of Sundance as the beginning of the festival cycle, for many sales agents and distributors overseas, seeing a film at Sundance is too late." Maynor also found the experience to be eye-opening from a cultural point of view: "The opportunity to screen Some Beasts here helped me see the film through a different lens and become aware of some of the assumptions the film makes – in terms of cultural subtexts, customs, etc. – that might be completely missed by an international audience." She was also struck by the local industry interest: "I was impressed with the Polish post-production facilities and their enthusiasm for partnering with U.S. filmmakers. I left the program enthusiastic and energized about the possibilities of American and Polish film collaborations."
Another producer, New Yorker Jessica Caldwell – here representing Stephen Elliott's autobiographical drama Happy Baby – also points to the benefits of a fresh perspective: "It was wonderful to hear feedback from a different perspective since it's a very American film. I also feel that I've made friendships with European distributors, sales agents and post houses that I will keep and utilize for future films."
Sniegowska concludes: "Many of the filmmakers don't realize how huge the European market is, especially for smaller, more auteur-style projects. I hope that in the coming years they [American filmmakers] will be looking forward to getting onto European screens and reaching audiences that they may not have originally intended their movies to see. There is passion and there is a real cinephilic need in people to show new talent, to show new ideas, even if it is against economical thinking." Whether US in Progress will continue its current upward trajectory is open to debate, but the groundwork is laid, the infrastructure is hugely impressive, and no-one can debate the project's good intentions.
The full list of winners
AFF
Audience award for Best Narrative Feature ($10,000) to Destin Daniel Cretton's Short Term 12.
Audience award for the Best Documentary Feature ($5,000) went to Emmett Malloy for Big Easy Express.
The Indie Star Award: Christine Vachon
US in Progress
Evan Wolf Buxbaum's Sun Belt Express, produced by Noah Lang and Iyabo Boyd, received DI image postproduction from Platige Image studio; foley from Aeroplan Studio; soundtrack from composer Maciej Zielinski of Soundflower Studio — all Warsaw-based companies — and final sound mix from Alvernia Studios in Krakow.
Mike Ott's Lake Los Angeles, produced by Athina Rachel Tsangari was offered DI image postproduction from DI Factory studio and foley from Aeroplan Studio, both Warsaw-based; DCP creation from DCINEX; subtitling from VSI Paris/Chinkel; and the promotional award from Europa Distribution International and CICAE.
Summer of Blood by director-producer Onur Tukel (producers: Clifford McCurdy, Melodie Sisk, Max Heller, Matt Grady) was offered sound design from Soundflower Studio.
Wild Canaries by Lawrence Michael Levine (producers: Sophia Takal, Kim Sherman and McCabe Walsh) was given an Acquisition Award by the Polish film channel Ale Kino+.
Happy Baby by Stephen Elliott (producer:Jessica Caldwell), was offered soundtrack composition by Aeroplan Studio.
Producer Ashley Maynor (Some Beasts by Cameron Nelson) received a free pass for the 2014 Producers' Network in Cannes.