Back to selection
Five Questions with Charlie Countryman Director Fredrik Bond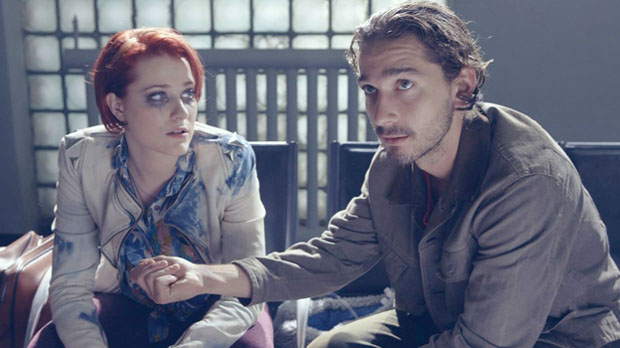 Charlie Countryman
A veteran director of commercials and music videos, Swedish-born Fredrik Bond makes his feature debut with Charlie Countryman, an extravagantly romantic tale of the titular young American (Shia Labeouf) who flees to Bucharest after the death of his mother (Melissa Leo). His neighbor on the flight to the Romanian capital dies on the journey, and Charlie is left to seek out his pretty young daughter, Gabi (Evan Rachel Wood), with whom he immediately falls in love. With a star-studded cast featuring Mads Mikkelsen (as Gabi's psycho gangster ex, Nigel), Til Schweiger, Aubrey Plaza, Vincent D'Onofrio and Rupert Grint (playing a wannabe porn star, Boris Pecker), Charlie Countryman combines dramatic and thriller elements with occasional flashes of the fantastical, its flaws all too forgivable because of its charmingly audacious ambition. It world premiered under the title The Necessary Death of Charlie Countryman at Sundance earlier this year, and is released theatrically by Millennium Entertainment today.
Filmmaker: When did you first read Matt Drake's screenplay, and what drew you to it? Did the success of his previous film, Project X, significantly help you get financing for and/or attract cast the film?
Bond: I read the script something like five years ago. And just loved it. I was immediately captivated by Matt Drake's semi-autobiographical explosive and unconventional love story. The wildness and the witty, unexpected journey that Charlie goes on reminded me why I loved movies like After Hours, Run Lola Run and True Romance. Also on a more personal level it reminded me a lot of my own travel around the world in my early twenties…where I met incredible personalities, fell in love and stumbled into unimaginable situations because of being young and curious…and very naïve :)
Maybe Project X helped us to some degree but it was really the script in itself which drew all the attention. A lot of actors and financiers had read the script and loved it and so it was just a matter of time before somebody was gonna green light it for us.
Filmmaker: Which films were your touchstones or reference points? Did you have any non-cinematic inspirations?
Bond: There was not one specific movie but a lot of movies I grew up loving like After Hours, Subway, Diva, Lovers on the Bridge, True Romance, Trainspotting, The Graduate and even Time of the Gypsies. They were all movies that we talked about in an initial stage. But quite soon when we were immersed in the world of our film itself… it took on a life of its own.
Moby was crazy about the script and started writing  music as we were still working on the script…so that was a huge influence. Also a lot of the street life in terms of people we met and places we went to eat became total influences. A lot of local musicians we came across in the process also had a great impact…foremost the guys playing at the memorial party in the movie became great friends and part of the whole thing.
Filmmaker: What was your biggest challenge as a first-time feature director? What surprised you most about the experience of making the film?
Bond: Everything was a challenge, I feel like. From script work to time and scheduling and shooting in Bucharest and being available to all my incredible actors.  But in a way, and hopefully without trying to sound cocky, it's kind of the same when you are doing commercials…each project is unique and has its own set of challenges. And you learn to adapt. And I was really surprised how me and my crew managed to adapt into situations that at first seem like an insane (but never impossible) mountain to climb…but once you're climbing you realize you can do it. On a purely creative note, I felt like the biggest challenge for me as a director of the movie was to find the right balance between the story's very eclectic and different elements of humor, violence and tender love story.  Something which I feel me and my actors and crew worked very very hard on together and I'm very very pleased with the outcome.
Filmmaker: What was the most significant thing you learned about yourself, as a filmmaker or as a person, during your time on Charlie Countryman?
Bond: I learned that with a positive attitude and a lot of energy you can make anything happen…and survive it (barely).
Filmmaker: Why was the title changed? Did you change the ending to the film also?
Bond: The title was changed for marketing purposes…to make it a little more mysterious and not give away too much, I suppose.
The very end didn't change that much but we did change the section leading up to the very end. The original was very dark…really good but VERY dark…so dark that I felt it took away from the love story. It's a twisted love story…but in the end it's a love story so I wanted to have an ending which had more hope and make people kiss each other at the end.