Back to selection
Brides and Bankruptcy: Making an Independent Feature in Cyprus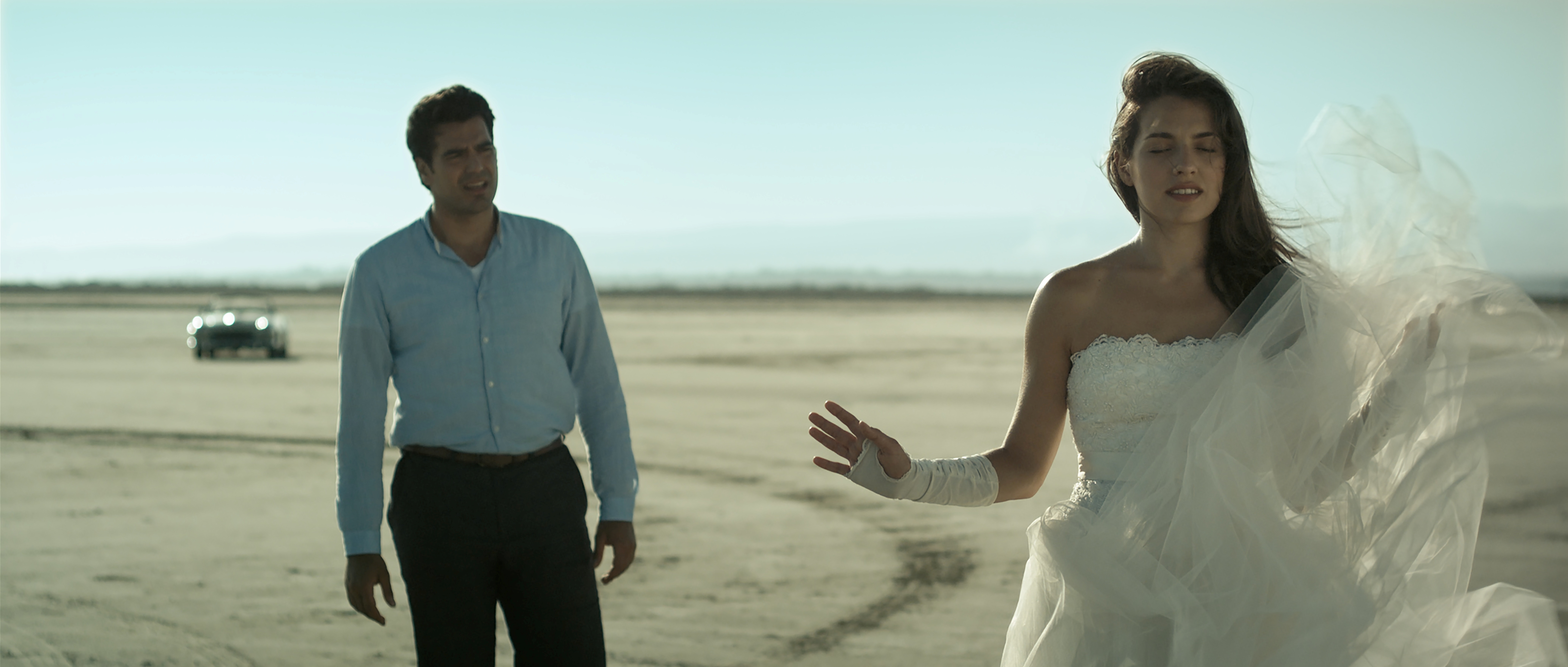 Committed
The following is a guest post by writer/director Stelana Kiliris, who previously wrote about the pre-production stages on her film Committed.
Picture it: a smooth beige 1958 Mercedes convertible parked in the dust; its plush red interior enveloped by layers and layers of white tulle attached to a bride, sitting next to a man in a dark blue suit. Look closer and you'll see the sun beating down and ice packs tucked in every crevice while a make-up artist furiously dabs at the couple's faces. The crew swirls around the car as they prepare for the final shot of the day while the sun threatens to set. There is absolute silence as we are literally in the middle of nowhere, our stark silhouette interrupting the vast horizon. We take position and…"Patichaaaaaa!"
A clunky watermelon truck with a loudspeaker trundles by selling its wares and announcing it loudly in the local Cypriot dialect, "Patichaaaaaa!" Welcome to filmmaking in Cyprus.
We couldn't have chosen a more apt title for our ambitious little project: Committed. This word not only named our film, but it defined our cast and crew. Everyone knows it's difficult to make an independent film, especially during a financial crisis; add to that a small country that is on the brink of bankruptcy and the word "committed" takes on meaning of the institutional kind.
Cyprus is a small but significant island in the Mediterranean. Because of its strategic position, nations have fought over it for centuries and to this day it remains divided by war. It is rife with stories and filmmakers who want to tell them. We have a keen, developing film industry that up until recently was funded by the government. With the arrival of the crisis about a year ago, these funds were slashed and filmmakers were left to fend for themselves.
This is how Committed was born. I designed a film that could be made on next to nothing without compromising the story. It became a two-hander that takes place over one day: a man picks up a runaway bride on the road and the journey begins. We were told that no one would fund a Cypriot movie during such a crisis; we were told that you never make a romantic comedy without a big star attached; we were told that it would work better as a short rather than a feature; we were basically told that we were wasting our time. This is where being "committed" comes into play. We did it anyway. Quite frankly, while I love big blockbuster and franchise movies, I miss simple feel-good stories that I can laugh over with my friends. It seems studios have forgotten that other audiences exist beyond teenage boys, so it's up to the indies to fill the gap. I also refused to believe that our local film industry was doomed because we had lost one source of funds.
We launched a crowd-funding campaign through Indiegogo and, while we didn't reach our goal, we managed to find an angel investor through the campaign. So the film was funded and we were ready to go.
By March 2013 I was in London auditioning actors when Cyprus suddenly made headlines worldwide: on the verge of bankruptcy, every local bank account had been seized and frozen. This is where a certain proportion of determination and delusion is required; having no idea what the next few months had in store for us, we forged ahead. But forging was not without its challenges.
We couldn't open a new account to bring our funds in and even if we could, we then would not be allowed to take them out without constant scrutiny. Working within an unstable microbudget also meant difficulty in securing cast and a classic car. But the financial climate simmered down by the time we went to shoot and all our elements came together. We had a road-trip movie with two actors, 12 crew members and a car that cost more than our entire production. We had to cover 25 locations in 17 days in the sweltering heat and we had no margin for error.
This meant that we had to be incredibly prepared. The d.p. Stephan Metzner, and I storyboarded the entire film and timed each shot in each location, and our leads, Melia Kreiling and Orestes Sophocleous, had vigorous rehearsals beforehand, so when it came to the shoot it was all about execution. We created the world's most detailed daily breakdown to take the place of assistant directors and continuity people. We made use of natural daylight as much as possible, thereby minimizing equipment, vehicles and set-up time. The idea was to work and to travel light and quickly…we were literally shooting and running.
But we did it, despite the heat, the watermelon trucks and a temperamental classic car. We finished the shoot within schedule and budget. Besides the satisfaction of making a film against all odds, is the immense thrill at knowing that this has inspired a new wave of guerilla indies on the island…and we can't wait to see what's next.
Committed is expected to be complete by the end of the year, after which it will begin its festival run.
See the trailer below: http://www.youtube.com/watch?v=4_yHiszzLpg