Back to selection
"PIN GODS" AT STF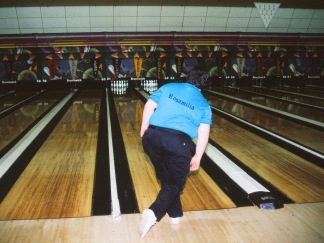 It may be hard to imagine, but there was a time when documentaries about off-brand sporting events and competitions were a rare thing. In this pre-Spellbound era, Pin Gods managed to make a small bowling-ball sized splash at the Toronto festival, only to fall through the cracks of the distribution system (a fact bemoaned last night by one of Pin Gods' biggest fans, Stranger Than Fiction programmer Thom Powers).
A film about what its director Larry Locke calls, "the small dream," Pin Gods is an endearingly humane look at four men, each one trying to make a life out of professional bowling with various degrees of success. It manages to ring high stakes emotional drama out of what is considered little more than a banal past time by most people.
The documentary community has a tendency to overlook the small movies like Pin Gods in favor of "important" films come award season (Anvil! The Story of Anvil's Academy snub being the most recent example). The result is that the general public continues to think of documentary as a rather blunt and humorless art form, and minor gems like Pin Gods fly under the radar.
Over the years, I've seen more message documentaries than I can count, but it's the small docs – those whose texture more closely resembles my own life – that have stuck with me. The men of Pin Gods may not be deities, but neither are they jokes. They are people not so different from us,  all those little documentary fans out there in the dark.
I spoke to Locke before the screening.
Filmmaker: At the time you made Pin Gods it was rather unusual for a feature doc because it was about a lighter subject. What gave you the idea?
Locke: At the time, there were lots of things happening that made it possible, mainly the release of camcorder documentary filmmaking. The reason there weren't these funky documentaries before that was because there wasn't any money. Then, all of the sudden there was this capability to make things on a twenty five hundred dollar camera that could go on the festival circuit…. You could sort of think about people who had smaller dreams, pursue something smaller that didn't have a natural market.
Filmmaker: So, I take it Pin Gods was a labor love project for you.
Locke: If you're a documentary filmmaker, unless you're one of three people, it's basically a hobby, a life-long hobby…. The audiences are not huge. They think they should see it on TV rather than in the theater. I'll give you an example. When this film showed at SXSW, it was a huge hit. It opened theatrically, and it had a big week and then a big fall off. I remember my manager telling me we burned through the documentary audience in a week. The beauty of documentary is the people do it because they want to do it. They don't have delusions. That's the cool thing about it.
Filmmaker: Were you interested in bowling because you were a bowler?
It was something I had an affection for because for a little bit of time as a kid, I had watched it on television. Then, I just turned on the television one day and found it, and I thought it was gone. I literally called up the PBA (the Professional Bowlers Association) in Akron, and I said I was interested in making a film.
Filmmaker: How extensive was the casting process?
It was a mixture. The idea was to have an iconic figure. Walter Ray Williams is still the best bowler in the world, and at the time, he was coming off a legendary year…For the others, I went to this thing called bowling school. All these sports have a school where they teach you how to behave on tour, so I got a chance to meet the freshman crop….We sort of looked over the crop, and then we interviewed them and showed the footage to our clients, and picked our characters. So, what happened was total chance. I assumed Sony and Tony were going to fail, because that's what most of them do.
Filmmaker: Did you find yourself rooting for your characters and did that create any problems?
I grew up like these characters, and I really got into their hopes and dreams…You couldn't help but be in the middle of it. During the story, you ride up and down, but you have to be careful. It can start to get to you because their losing can you hurt, too.
Filmmaker: One of the things I'm sort of fascinated by is how the heavy-duty video look of the film now has an almost nostalgic texture to it.
I always tell people that they heavy-duty video look will come back. People will soon be making interlaced movies that you used to get with ¾ and one inch. Now, I never work in 4 X 3, but it's sort of more fun…. There's something kind of boxed about the look that works well with a smaller story.
Filmmaker: Why make documentaries?
You just have to kind of be a person who wants to go on adventures. There's always a giant risk of total failure. There might be turns in the story you can't control that just ruins everything… That's the nature of documentary. There are more than ever now, but at the same time, if you want to do it, try it. You can always go back to some other kind of life. No point in being too negative about it up front.— Mary Anderson Casavant
A graduate of Amherst College, Mary Anderson Casavant was selected as the 2004 Academy of Television Arts and Sciences Documentary Intern. Since then, she's held almost every freelance job that exists in documentary television, including being the coordinating producer of the Emmy Award winning second season of This American Life. Her feature screenplay, Judgey, was one of ten screenplays selected from more than 3500 entries for the final round of the Final Draft Big Break contest. She lives and works in New York City.