Back to selection
Slamdance 2014 Lineup Announced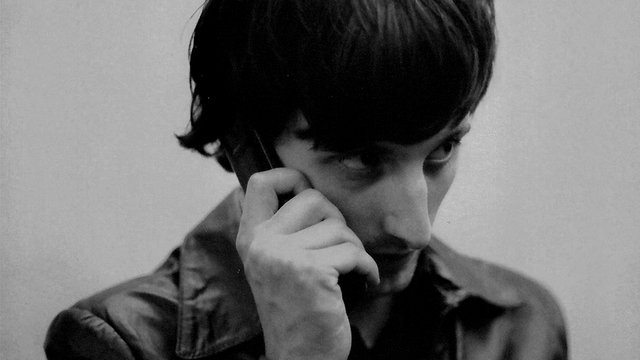 I Play with the Phrase Each Other
The main competition lineup for the 2014 Slamdance Film Festival was announced today for the event which runs, parallel to Sundance, in Park City between January 17 and 23. The two titles two particularly catch my eye in the Narrative section are Copenhagen by Mark Raso, and Jay Alvarez's I Play With The Phrase Each Other. Raso, a Student Academy Award winner in 2012, blogged for Filmmaker during the making of his low-budget feature debut (you can read those posts here), while Alvarez — also a first-time director — has ambitiously crafted a black-and-white film which is made up entirely of phone conversations. (You can see the trailer here.) On the doc side, a slate of almost exclusively North American-made films tackle subjects such as female MMA fighters, Huntington's disease, the Deepwater Horizon oil spill, religion in the American South and musical theatre.
Narrative Features Program
Copenhagen (Director/Screenwriter: Mark Raso; USA, Canada, Denmark)
A charming scoundrel visiting the city of his father's birth, William is drawn to his impromptu guide Effy — wise, spontaneous, and half his age.
Goldberg & Eisenberg (Director/Screenwriter: Oren Carmi; Israel)
A lonely computer programmer finds his life disrupted by a boorish thug who becomes dangerously obsessed in this darkly absurd drama.
I Play With The Phrase Each Other (Director & Screenwriter: Jay Alvarez; USA)
Young city dwellers with lyrical musings and a sliding sense of entitlement hold court in this film comprised entirely of cell phone conversations.
I Put A Hit On You (Directors/Screenwriters: Dane Clark, Linsey Stewart; Canada)
A broken-hearted woman (Sara Canning) teams up with her ex-boyfriend (Aaron Ashmore) to try and stop the hitman she accidentally hired to kill him.
My Blind Heart (Director/Screenwriter: Peter Brunner; Austria)
Suffering from an incurable disease, a young man rebels against his body and the expectations forced upon him in this black-and-white expressionist film.
The Republic of Rick (Director: Mario Kyprianou; Screenwriters: Mario Kyprianou, Becky Leigh; USA)
In this political satire, a self-proclaimed President of the Republic of Texas rallies to lead a paranoid militia for Texas's independence in the late 1990s.
Rezeta (Director/Screenwriter: Fernando Frias de la Parra; Mexico)
A jet-setting model leads a freewheeling and spontaneous life in Mexico City that starts to change when she falls in love with an unexpected young artist.
Rover (Director/Screenwriter: Tony Blahd; USA)
A dispirited cult awaits the sign to off themselves when their leader fakes a prophecy instructing them to make a movie and share their story with the world.
The Sublime and Beautiful (Director/Screenwriter: Blake Robbins; USA)
David (Blake Robbins) and Kelly (Laura Kirk) descend into a complicated hell of grief but they take very different paths to make things right after losing their children to a drunk driver.
Wizard's Way (Director/Screenwriter: Metal Man; UK)
A champion online fantasy video game player, his encouraging best friend, and two ambitious would-be filmmakers who decide to capture it all for posterity.
Documentary Features Program
Elliot (Directors/Screenwriters: Matthew Bauckman, Jaret Belliveau; Canada)
The bizarre story of Elliot Scott, his supportive partner Linda Lum, and their cast and crew of outrageous dreamers all striving to achieve success.
Glena (Director/Screenwriter: Allan Luebke; USA)
Glena Avila is a single mother in her 30s who is fighting to become a professional Mixed Martial Artist.
Huntington's Dance (Director: Chris Furbee; USA)
Told through 20 years of home movie footage, Huntington's Dance is a personal and devastatingly raw look at how hereditary disease can shatter a family and a future.
Kidnapped For Christ (Director: Kate S. Logan; Screenwriters: Yada Zamora, Kate S. Logan; USA, Dominican Republic)
The personal stories of American teenagers who are taken from their homes and sent to an Evangelical Christian reform school located in the Dominican Republic.
Little Hope Was Arson (Director: Theo Love; USA)
January 2010: In the buckle of the Bible Belt, 10 churches burn to the ground igniting the largest criminal investigation in East Texas history.
Skanks (Director: David McMahon; USA)
A community theatre in Birmingham, Alabama mounts a gender-bending new musical titled Skanks In A One Horse Town.
Sometimes I Dream I'm Flying (Director & Screenwriter: Aneta Popiel-Machnicka; Poland)
The poignant story of a young dancer preparing to perform at the Berlin Opera and the serious injury that threatens her lifelong dream.
Vanishing Pearls: The Oystermen of Pointe à la Hache (Director/Screenwriter: Nailah Jefferson; USA)
In Pointe à la Hache, Louisiana, the residents of this ruined fishing community continue dealing with the aftermath of the Deepwater Horizon oil spill, one of the worst man-made environmental disasters in U.S. history.