Back to selection
Five Questions with Breakfast With Curtis Director Laura Colella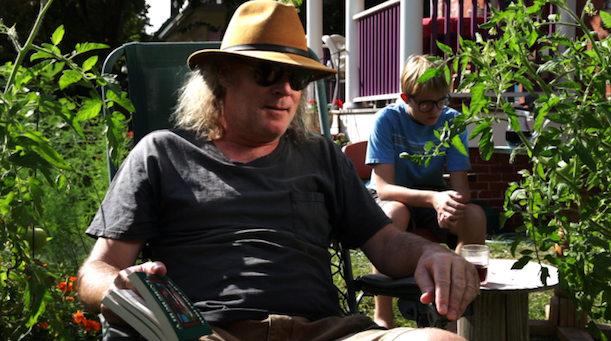 Breakfast with Curtis
The following interview first appeared on the Filmmaker website in June 2012 to coincide with the world premiere of Breakfast with Curtis at the Los Angeles Film Festival. Laura Colella's movie goes on theatrical release through BOND360/Abramorama from today.
25 New Faces alum Laura Colella's Breakfast with Curtis unfolds at its own pace, not unlike the leisurely chats it spends so much time documenting. Colella, who wrote, directed, and acted in the film, used her own home as a shooting location and cast her real-life neighbors and housemates in prominent roles. Centered around a bookseller named Syd (Theo Green) who enlists the help of his young neighbor (Jonah Parker, in the title role) to record a series of video diaries for his business, the story hinges on the subtle interplay between family and friends as they cautiously come closer together and resolve a divisive act that occurred five years earlier.
Filmmaker: I'm wondering about the casting process, particularly regarding Curtis. Were you worried about successfully building a film around a teenager?
Colella: The most unusual aspect of the film is that the main actors are the five residents of the three-family house I live in, and the family of four who live next door. It's a coming-of-age tale in a sense, but unlike most films of that genre, it doesn't focus mainly on the teen character, Curtis. It's more about the odd collection of adults around him, and how their antics spark a change in him. Jonah Parker,who plays Curtis, was perfectly poised at an adolescent tipping point when filming began. My only worry was when he joined the track team at school during filming, and his features suddenly became more chiseled and much less childlike.
Filmmaker: Conversation abounds in your film, and you seem to have aimed for a strong air of naturalism. Was any of the dialogue improvised?
Colella: There's one scene near the end when the bookseller character, Syd, tells a story in the back yard that was improvised. Everything else was tightly scripted. Some of the story ideas came from interviews with the actors, but since we've known each other for many years, I could easily call up their voices in my mind when writing. They're all very natural, which I think came from their being relaxed and trusting during our filming.
Filmmaker: On a related note, what was it like to film on locations from your own life, and what was the specific intention behind the decision to do so?
Colella: There were practical and creative elements to that decision. Before embarking on this, I had been trying in vain for a few years to get a larger-budgeted project off the ground. I decided to shift gears and dream up a no-budget feature that I could shoot as soon as possible. I started writing in June 2010, and we began filming that August. Although the details are fictional, the film pretty well captures the spirit of our lives, which I thought would make for a fun film. It was amazing to be able to film in and around my house, with a relatively relaxed shooting schedule and skeleton crew. It was so low budget that I didn't provide any craft services, and people would just go home if they needed a drink or snack.
Filmmaker: There are a few character arcs that almost amount to role reversals. How closely did the character dynamics mirror their real-life counterparts?
Colella: For me the film is completely fictional, and the reality behind it brings more texture and richness to the characters, relationships, and environments depicted. Otherwise, I don't think how the movie world compares to real-life events or circumstances enters into the audience's experience. Some early viewers who didn't know how I cast the film were shocked to learn that this collection of great characters was literally right in my back yard. The movie has its own reality that the viewer can get lost in.
Filmmaker: Do you spend much time thinking about how Breakfast with Curtis fits into a broader narrative, i.e. your influences and other, similar films, or do you tend to think of it more as a standalone entity?
Colella: My three features are very different from one another, but share a common exaltation of life's simple pleasures and adventures. I didn't think about this consciously when I was making Breakfast with Curtis, and fell into what I think is a common phenomenon among writers and filmmakers: thinking that the new project is completely different from anything you've ever done before, but then ultimately realizing that you're exploring the same terrain from a new angle.