Back to selection
Getting White Reindeer Off The Ground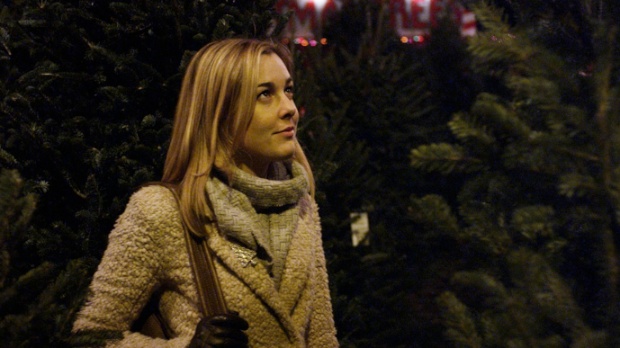 White Reindeer
Zach Clark's White Reindeer is not your average Christmas tale. Flush with WASPy cheer, real estate agent Suzanne Barrington (the note-perfect Anna Margaret Hollyman) eagerly anticipates the holiday until her meteorologist husband Jeff is whacked in their suburban home. What follows is an earnest and surprising unravelling as Suzanne rides a second wave of grief upon the discovery of Jeff's affair with a stripper. With a script both original and subversive, Clark and his producers Daryl Pittman and Melodie Sisk went out to finance White Reindeer as the debt crisis hit. Clark was kind enough to reflect upon the process to Filmmaker, and discuss how he found his solution in crowdsourcing.
Filmmaker: Once you had the final draft set, what was your first course of action towards getting the film made?
Zach Clark: Daryl and I bought a book about how to finance a movie and put together a little business plan. Daryl spoke with a few people about investing, but that was right around the time of one of those debt ceiling debates and rich people everywhere were nervous. Melodie came on board in the producing department and we decided to dive into the crowd funding world and do a Kickstarter. After that money was spent, Daryl, Melodie and myself funded the rest of the movie out-of-pocket.
Filmmaker: Do you target investors? Are you looking for people who may have shared interests and tastes, are they people you have pre-existing relationships with, or is it pure chance? When you have a script like White Reindeer that dabbles in swingers and strippers, how do you go about selling its more subversive elements? Is there anything that gets downplayed, or are you free of compromises in pitching?
Clark: I think you owe it to people to be honest about the material. But also, the more salacious elements aren't really the point of the movie, so I always try and be as sincere about my emotional investment in the story as possible. That's the approach I took with my Kickstarter video — complete and total sincerity.
Filmmaker: You ran a Kickstarter campaign that covered half of your production costs. How did you settle on what amount to ask for, and how do you feel you were able to successfully promote the campaign and raise the necessary funds?
Clark: Honestly, I had a friend who raised $20,000 on Kickstarter who had never made a movie before, and around that time, a slightly more established microbudget director did a Kickstarter for $40,000. I thought, well, I'm somewhere between those. I think having two previous movies (our last feature Vacation! was still touring festivals at the time) really helped. We sold DVDs to Modern Love is Automatic exclusively through the kickstarter. We offered props and costumes and even a stay in a location from Vacation! as rewards.
Filmmaker: Was there anything you learned from this financing process that you hope to remedy next go around?
Clark: Next time we hopefully won't need Kickstarter. We've got a new script about a young nun who visits her estranged family in the mountains of Asheville, NC. It's not much bigger in scale than White Reindeer, but we'd really like to pursue some more traditional methods of funding a movie. Which means name talent in the cast, etc, etc.