Back to selection
Director Tomas Leach on In No Great Hurry: 13 Lessons in Life with Saul Leiter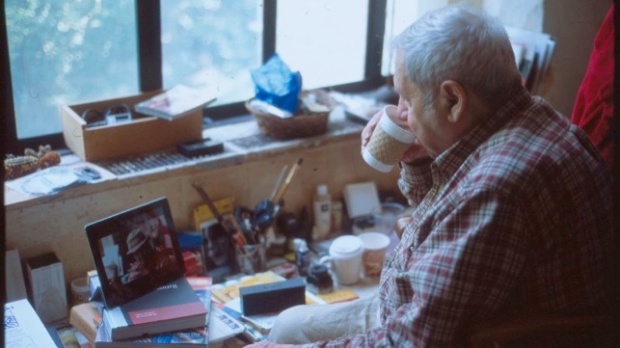 Tomas Leach's In No Great Hurry – 13 Lessons in Life with Saul Leiter was one of my few true discoveries of 2013. While covering the Thin Line Film Fest in Denton, Texas, I pretty much stumbled upon Leach's poignant portrait of the legendary NYC photographer in his final years — Leiter died this past November — without knowing much about the man who ushered in the use of color photography. Since that February fest Leach's film has gone on to screen DOC NYC and now premieres theatrically at the Film Society of Lincoln Center on January 3rd. Filmmaker spoke with the British director about the challenges and rewards of capturing a press-shy artist who, by his own admission, aspired "to be unimportant."
Filmmaker: Can you discuss the genesis of the film? You get incredible access to this very private man — he literally opens up his home to you — so I assume it was a process of getting to know one another, and building up that trust?
Leach: Well, the initial spark was my love for his work. I was flicking through Early Color, fell in love with the images, and wanted to know more. I persuaded him to meet me and slowly persuaded him to let me make a film with him. All this was over a year and a half. Then when we started I just made sure that everything was done at a pace that we were both happy with. We became fond of each other, and that allowed Saul to be more and more comfortable with me. It was definitely a film we made together.
Filmmaker: Interestingly, your subject died just as your film is taking off, with a DOC NYC premiere followed by this run at Lincoln Center. It reminded me of what happened with Neil Barsky's Koch, when the iconic former mayor passed away on the eve of the film's theatrical launch in NYC. Is it bittersweet that Leiter can't be around for the hoopla — or maybe fitting since he was so publicity-averse?
Leach: It's bittersweet for me personally; I would have loved to have done a Q&A with Saul. And I am sure audiences would have loved hearing him in person. But maybe it is fitting. Maybe the film's existence also gave him respite from constant interview requests. Either way, the timing is surreal but somehow poignant.
Filmmaker: What was the most difficult challenge in capturing a legendary octogenarian photographer on camera? Anything you wish you could have documented but couldn't?
Leach: There's nothing I really wish I could have documented. There are always things you miss, or that don't happen, but the film doesn't suffer because of it. There's lots I cut that I wish there was space for (like his painting, or some other anecdotes of his), but I didn't want the film to be exhaustive.
The challenges? Being one-on-one with someone for long stretches of time while shooting can be tough. And shooting alone (I was a one-man crew) is hard work. I was very conscious of not making the film visually a pastiche of his work, but at the same time I thought I should reference it, and judging that was delicate. But I would say the toughest challenge is doing justice to a complex but brilliant man.
Filmmaker: I know you've got a background in commercial work, as did Leiter, to pay the bills. Did this shared aspect of your careers at all influence your relationship or the filmmaking process itself?
Leach: We definitely had a shared viewpoint on doing commercial work. Neither of us are snobby about it, or beat ourselves up about it. I think it's a great way to make work, to try things out and to learn. Also, as Saul puts it beautifully, "It's O.K. to be able to pay your bills."
As for it influencing the process, I think that directing commercials makes you constantly aware of the efficiency of film language — how much can be said in such a short time. I didn't want this film to be overly long, and so the question of "is this the length it should be?" was constantly in my mind during the edit.
Filmmaker: Did Leiter have any say in shaping the film? Did you ever show him raw footage or editing cuts?
Leach: I showed him some rough footage as we went along to prove to him that this was actually a thing that would exist. And to amuse him a little. But he didn't want a say in shaping the film. He watched the finished cut and didn't ask me to change anything at all. He said, "I can't say anything bad about it, that's me." Watching him watch the film was wonderful. He would interject, or start chuckling at the screen version of himself, or agree with the words. "That's true!"