Back to selection
Win a Blu-Ray of I'm So Excited and a Poster Signed by Pedro Almodóvar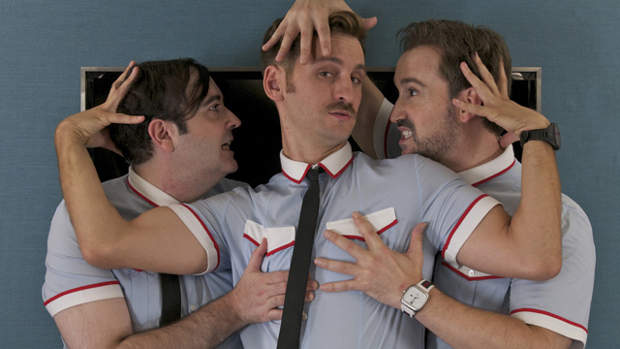 Pedro Almodóvar was in fine and very funny form last year with I'm So Excited, which comes out today on DVD and Blu-ray. Writing about I'm So Excited on the Filmmaker website, R. Kurt Osenlund wrote, "A dizzyingly sexual lark of a comedy, and Almodóvar's fizziest film to date, the movie goes down with the mood-lightening and belt-loosening ease of the mescaline-spiked Valencia cocktails its lead characters guzzle. As has been widely reported, I'm So Excited is a throwback to the sort of telenovela-tinged comedies the director hasn't made in years (think Airline Passengers on the Verge of a Nervous Breakdown), but it's also deliberately evocative of an era — an era marked by everything from that special drink to the titular Pointer Sisters tune, which, in the film's centerpiece scene, is performed in its entirety by a trio of flamboyant flight attendants."
Thanks to our friends at Sony, we have 10 Blu-rays of I'm So Excited to give away plus, for one lucky winner, a one-sheet of the film signed by Almodóvar.
To have a chance of winning, send your answer to the following question to nick AT filmmakermagazine DOT com:
Which film by Almodóvar was the first to be nominated for an Academy Award other than Best Foreign Language Film?
N.B. Contest is only open to residents of North America.