Back to selection
Plug and Play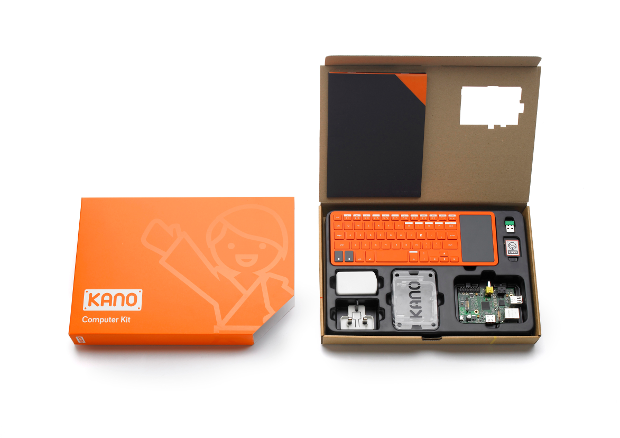 The Kano computer
We are in the middle of a hardware revolution. Inexpensive processors, memory and sensor technologies are now accessible to the masses. Long gone are the days of expensive fabrication and manufacturing processes. Maker culture and crowdfunding have ushered in a new cottage industry of manufacturing, one that enables entrepreneurs to go direct to consumers. As a result, innovation is pouring out of garages, basements, bedrooms and makerspaces around the world.
My favorite hardware innovation of the last year is a latecomer. Just last month, a startup named Kano launched a crowdfunding campaign for a $99 computer aimed at teaching kids of all ages how to code. Within a month, Kano raised close to $1.5 million with donations pouring in from more than 40 countries around the world.
While there have been numerous efforts to make computing accessible to youth, Kano's approach has been different. The initial spark for the project didn't come from an engineer or a programmer or even an educator. Instead the challenge came from a 7-year-old boy who asked two simple questions: Why can't computers be fun, like Legos, and why do I need someone to teach me how to build them? From that point forward Kano, a U.K.-based startup, embraced a "designing with" method. Over the course of a year, Kano ran R&D tests with more than 100 school children from around the world. The results of the development effort are impressive. Each Kano computer consists of a well-designed modular kit that includes a Raspberry Pi board, a DIY speaker, 8 gig SD card, an HDMI cable and keyboard. But Kano's real genius is shown by how easy it is to build the computer. Extensive testing helped the team get the assembly down to a process that takes a matter of minutes to complete, a plug-and-play approach designed with and for children ages 7 and up.
Another interesting aspect about the sudden rise of Kano is the level of storytelling surrounding the product and the company. Named after Kano Jigoro, the founder of judo and a lifelong schoolteacher, the Kano computer embraces a similar educational ethos. The company encourages users to step into a computing experience where children can immerse themselves in a new language. Each computer unlocks a world powered by the child's imagination and code.
While programming requires a level of discipline, the Kano team has worked hard to provide users a simple way to build their own games and software. The operating system is colorful and engaging, thanks to a cast of visually dynamic characters that guide users through their computing experience.
The reaction to the product in a short period of time has been impressive. People are lining up to help translate the user manuals into multiple languages, and organizations are targeting the Kano as a cost-effective solution to bridge the digital gap in various parts of the world. Co-founder Alex Klein says, "The future's coming, but we're not ready. A computer is now cheaper than a textbook. Two and a half billion of us have one in our pocket. Internet is almost everywhere. But for all the power, we don't understand our tools. We're fascinated but frustrated."
Demystifying technology, while at the same time making computers tactile, is what makes projects such as Kano special. However, only time will tell how pervasive Kano can be. But one thing is certain: it is only the beginning. More and more innovative, empowering products will come to market in 2014 as a new wave of hardware and software fuels expression, learning and the creation of new companies.
While disruptive, the rapid commoditization of technology levels the playing field. The opportunity to build products that can be sold directly to consumers is challenging traditional industries. In response, many large, nontech corporations have acquired smaller, disruptive tech companies in the last year. These large corporations are on a hunt for talent and IP. In order to stay relevant, these software-starved businesses are swallowing up what they hope will give them with a competitive edge.
Meanwhile, however, crowdfunding is fueling a wave of innovation unencumbered by traditional funding structures and pressures. In fact, crowdfunding sites like Indiegogo have become an interesting indicator of emerging trends. Not only do the campaigns provide an amazing glimpse into a creative process rich with storytelling, passion and, at times, a bit of drama, they also provide insight into what people find valuable.
In the process of writing this column, I found myself compelled to contribute to Kano's campaign. When I examined my decision, I concluded that I was drawn to the mission, design, ease of use, educational value and accessibility of the project. But the one thing that really stuck with me was the evolving story of the product itself. I loved how Kano was born from a question and designed with students. The project left me wondering how a $99 computer might provide a creative entrepreneurial spark for the children themselves. As I finish typing, I'm struck by the fact that what is an obvious observation is such an effective one. In the end, the reason I supported Kano is because their story captured my heart and my mind.