Back to selection
Hidden Horror: An Interview with Dr. AC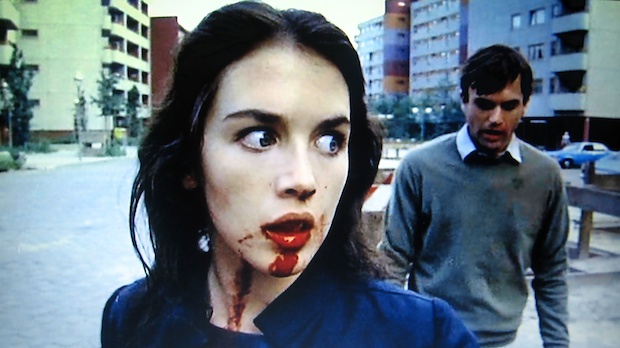 Possession
"An epic pot-luck movie party where everyone has brought a favorite dish and wants you to give it a try" is how Dr. AC (Aaron Christensen) describes his latest horror-movie anthology, Hidden Horror: A Celebration of 101 Underrated and Overlooked Fright Flicks. And, indeed, anyone looking to scratch past the Rosemary's Baby's and Paranormal Activity's to uncover more idiosyncratic, personal and sometimes more terrifying work will find their needs met by the book, which couples great film recommendations with astute commentary by passionate critics. Included are essays on a number of my personal favorites — The Changeling, Dark Water and Possession, among them — as well as one on the single horror film I draw that line at. (In a Glass Cage, if you must know.) Mostly, though, I was surprised to find quite a few discoveries here, titles either completely new to me or ones I remember hazily from the days of Film Threat Video Guide. As it undoubtedly will for you, Hidden Horror, which is available now at Amazon promises to kickstart a round of cult film discovery and perhaps a few sleepless nights.
Chicago-based AC is an actor/writer who runs the blog Horror 101 with Dr. AC. Below he answers a few questions about the latest anthology and then offers Filmmaker readers a treat: five select essays from the book that will appear throughout the week.
Filmmaker: Tell us a little bit about the genesis of the book proper.
AC: Back in 2006, I started working on the book that would eventually become HORROR 101: The A-List of Horror Films and Monster Movies. My plan was to create a list of films that would provide the "essentials" for beginning horror fans, from the early silent years through the Universal classics, on to Hammer and the big bug '50s, the major players from the '70s and '80s, and wrapping up the millennium with The Blair Witch Project and The Sixth Sense. Being that it was called HORROR 101, I decided to choose 101 films to represent these various stepping stones through the genre. But as I started writing the essays, I grew disappointed that I was only bringing my opinions and, more importantly, my voice to the conversation. Through online chats and hanging out at horror conventions, I knew that the horror community was as varied as the genre itself…and that was when the bell went off in my head that the project really worth doing was to get fright fans of every stripe to lend their voice. So, I reached out within my social circles and collected this amazing team of writers, young and old, male and female, from all over the world, each writing on one of the selections that I had picked. That was the magic ticket, to hear all these different viewpoints sharing a common love for these films, sharing childhood memories of how they first encountered them, how the movies had influenced the genre as a whole and them as individuals, and so on. Stuff that I wouldn't have been able to bring to the table. Well, long story short, HORROR 101 was published by Midnight Marquee in 2007 and it was a huge success both commercially and critically. Everyone seemed to respond to the "for the fans, by the fans" tone, and it opened a lot of doors for me as well as many of the contributors.
Fast forward to 2012. I'm now writing for HorrorHound magazine and attending film festivals where I'm bumping elbows with uber-cool cats like Dave Alexander [editor of Rue Morgue magazine] and Tony Timpone [former editor of Fangoria]. At the same time, my good friend Jon Kitley of Kitley's Krypt and I had been discussing the idea of starting up a small press focused on "Discovering the Horror," which is his website's motto. And that bell went off again: Why not do another multi-voiced project, this time focusing on the screen screams that don't get the attention and/or respect that they deserve? Again, I started reaching out to folks and was amazed at the level of talent that responded. Longtime heroes such as Tony and Dave and Mike Mayo (VideoHound's Horror Show) came on board as well as a bunch of great writers you've read in Fangoria and Rue Morgue and HorrorHound and Cinemafantastique and so on. Pretty much, I just asked everyone, "What's the one movie you'd like to give a spotlight to?" and the floodgates opened. I'm really proud of the variety of films represented; old, new, smart, silly, gory, psychological, with over a dozen different countries represented.
Filmmaker: Are these original essays? And did you curate the films included, or respond to the passions of your writers?
AC: All the pieces were written specifically for the book, and I'm thrilled with the results. Because of the personal nature of the essays, we get a little glimpse into each writer as well as the critical analysis one would expect. As with HORROR 101, the appeal is how different all the writers are, but how everyone is pulling in the same direction. We all love the genre as a whole. Now, there are some movies covered in HIDDEN HORROR that are not my personal favorites, but they are someone's personal favorite, and that's what makes them special. I don't want to just be talking about what I like – I could sit at home alone and do that. It's the magic moment when someone says "I want to cover A Night to Dismember or Horror at Party Beach," that gets me grinning. Okay, awesome, because I want to hear you make the case for that movie.
Filmmaker: Can you tell us a little more about community of contributors you have gathered here — what connected and attracted you to them?
A.C.: Most of the writers are people I know personally, but a few came via recommendations from other contributors. Everyone brings something different to the table: some are established journalists and authors, others are filmmakers, some have podcasts or blogs, and a few are just passionate fans that I've met at conventions. I love the democracy of the lineup; it feels like everyone has a voice, which is how it should be. Just because you write for a magazine doesn't make you a better horror fan (or, in some cases, even a better writer). Everyone has been incredibly enthusiastic and supportive throughout. I couldn't ask for a better band of lunatics to help run the asylum.
Read more each day this week.
The Signal
X: The Man with the X-Ray Eyes
Habit
The Reflecting Skin
The Penalty