Back to selection
Interview with E-TEAM Director Katy Chevigny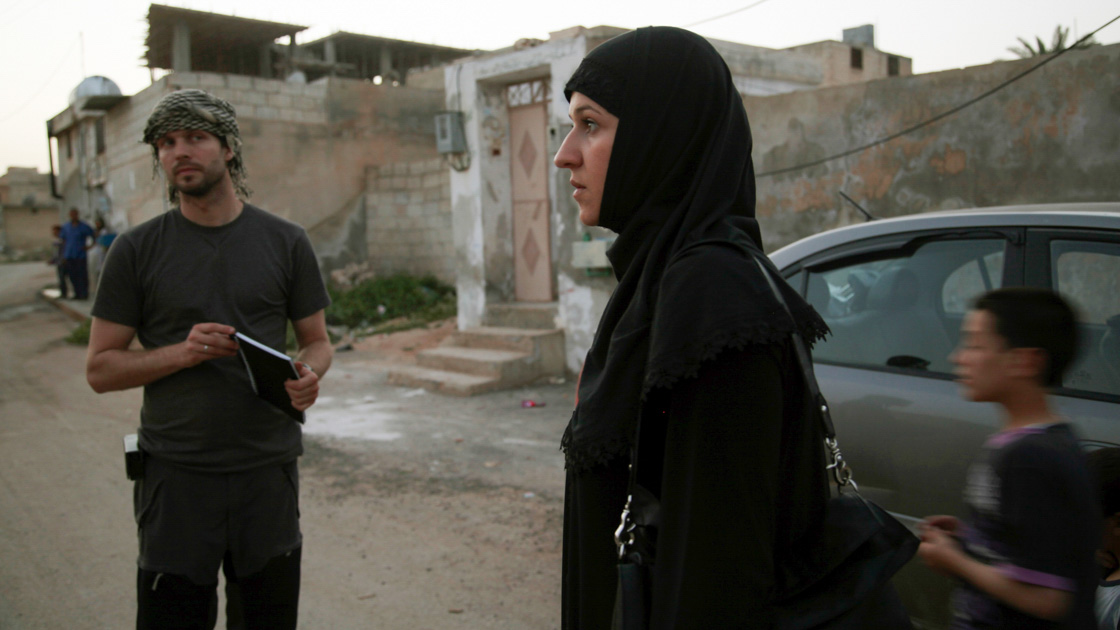 E-TEAM
Filmmaker: Why this movie?  Why did you decide to do it?
Chevigny: My co-director, Ross Kauffman, and I were intrigued by the fact that no one had ever been granted access to make an independent film about Human Rights Watch researchers in the field. We knew their work was fascinating and thought it was an interesting opportunity. And once we actually met the member of the E-Team in person, we knew there were some great characters there.
Filmmaker: How much of your crew was female?  Was hiring women a consideration for you?
Chevigny: My co-director, Ross Kauffman, is a man. Our producer, Marilyn Ness, is a woman. One of our key cinematographers, Rachel Beth Anderson, who shot some of the most dangerous scenes in Syria, is a woman. Hiring women was an important consideration for two reasons: 1) I like working with women and 2) one of our main characters is a woman, and so having women in the crew and in the field was a plus.
Filmmaker: How did you go about raising funding for it? I ask this because most female filmmakers says that being female makes it harder to raise funds, so thought your story could be inspiring — I know this topic can be touchy feely, so answer it in the way that you are most comfortable with.
Chevigny: We went about it in the usual ways for docs, mainly writing grant proposals. The fact that my co-director is an Academy Award-winner meant that we had a luckier time than usual. I do feel like it's harder to raise funds being female, but I don't have proof of that, it's more of a hunch.
Filmmaker: Do you think a male director might have handled the making of this film differently?  How did being a female filmmaker effect how this film got made do you think?
Chevigny: In this particular instance, my co-director is a man, so the film reflects both a male (his) and a female (my) perspective. The film follows four researchers, one of whom is a woman. When we started making the film, we didn't know which character would emerge as the main character, but it turns out the main character is the woman. I think the fact that a woman (me) was co-directing played some role in that. Certainly, the first time we met the four researchers, I immediately found the female researcher to be the most interesting. There are a couple of scenes in the movie about how being a woman affects her work, and they reflect a woman's sensibility, for sure. So even though this film is not a female-themed picture, there are certainly many elements of it that are woman-centered. It's not obvious at first glance, but once you watch the movie, you can see what I mean.
Filmmaker: In what ways do you think being a female filmmaker/actress has helped or impeded your trajectory in the film industry?
Chevigny: This is a hard question. Of course, there are some people are championing women directors in the business, so sometimes it helps. I think when you're younger, it's harder to be taken seriously as a woman than as a talented young man. I think as you prove yourself to be accomplished, it becomes less of an issue.
Filmmaker: Of the big blockbuster movies out there, which do you wish you had directed?
Chevigny: Lots of them! And lots of the great stuff on TV. Enough Said is great — oh wait, that's not a blockbuster, is it?
Filmmaker: What's next?
Chevigny: Ross and I are planning to collaborate on a few doc series ideas — some of them related to human rights and some of them totally different — more on the comedic side.
Filmmaker: Considering this will be released at Sundance: A) What do you hope to gain from being at the festival?  and B) Who would be your dream person to meet while there?
Chevigny: A) We have all rights available so we are helping to sell our film! And to help gain exposure for the film and our work to help us make our future films.
B) My dream person to meet would be Nicole Holofcener — I'm really into her right now. Kathryn Bigelow also. Debra Granik too. And David O. Russell.