Back to selection
Jonathan Harris on Becoming Unstuck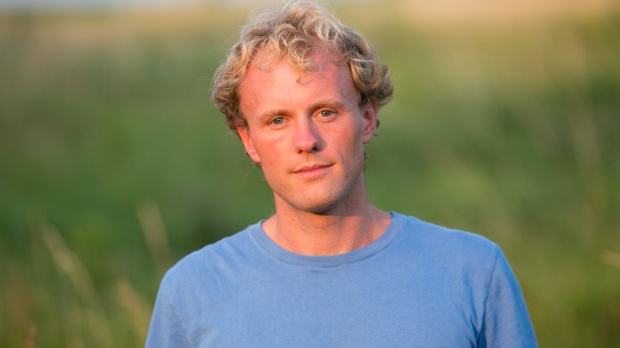 Jonathan Harris
Even though technology-focused artist Jonathan Harris has a project at Sundance New Frontier — I Love Your Work, a documentary about the makers of lesbian porn experienced in your own private viewing booth — he's been stuck. Creatively stuck, that is. And at Transom, he's penned (and illustrated) an essay, "Navigating Stuckness," that is both a meditation on creative block as well as, writes the site, "an autobiographical journey with teachable moments." He's broken down the stages of his creativity by years, tracking his life alongside projects like the data visualization work We Feel Fine, the storytelling platform Cowbird and the photo-a-day journal Today. Here's a passage referring to the latter project that captures this essay's hypnotic introspection.
When I turned 30, I left New York, bought a car, and drove across the country to Oregon, where I spent four months living in a little log cabin in the woods. I'd see another person about once every four days when I traveled to town to buy groceries. I started a simple ritual of taking a photo and writing a short story each day, and then posting them on the Internet each night. I continued this ritual for 440 days, and I called the project Today.

At first, Today was a wonderful addition to my life. I found myself becoming more aware of the world around me, more capable of connecting with others, and better at identifying beauty. I became obsessed with life's "teachable moments" — the little things each of us encounters that might have a teachable value to others. I got good at spotting these teachable moments and condensing them into little narrative nuggets, so that others could digest them. I began to understand that principles delivered out of context will never be remembered, and that telling people the story of how you came to hold a given principle is better — so it's like they lived through it themselves. I got obsessed with the potential of stories to communicate wisdom, but at the same time, I began to understand that really, you can't teach wisdom — it has to be won by experience. Stories can alert you to the existence of certain truths, but you never really embody those truths until you reach them on your own.

I traveled from Oregon, to Santa Fe, to Iceland, to Vermont, doing a series of art residencies, living like a hermit, and continuing my daily photo project. More and more people began to follow along, until an audience of several thousand strangers was observing the intimate details of my everyday life. This began to be a burden. The project took on a performative quality; I found myself intentionally hunting down interesting situations, just so I could write about them that evening. I found myself plundering the relationships in my life for material, often with damaging consequences. I began to feel like a spectator to my own life, unsure whether to document it or simply to live it.
Read Harris's entire essay at the link.