Back to selection
Interview with Love is Strange Screenwriter Mauricio Zacharias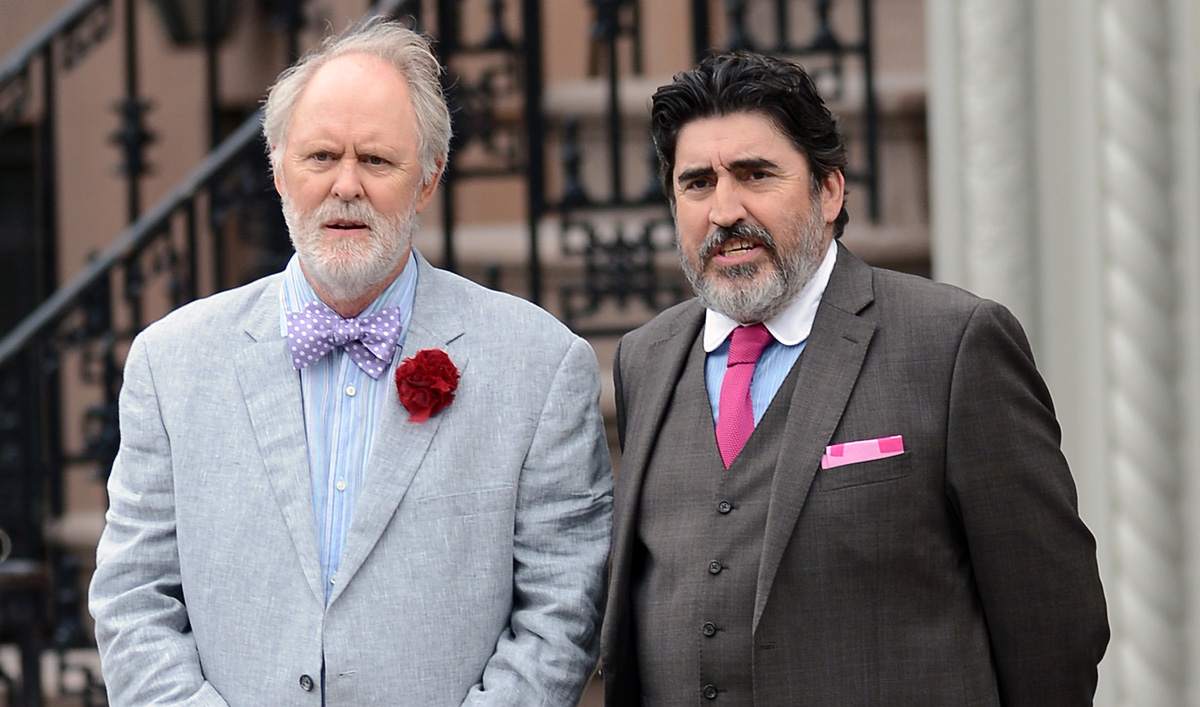 Love is Strange
Mauricio Zacharias is currently in Park City for the premiere of his latest film, Love is Strange, directed by Ira Sachs. The previous project the director and writer collaborated on, the erotic and turbulent love story Keep the Lights On, also premiered at Sundance back in 2012. Love is Strange tells the story of Ben (John Lithgow) and George (Alfred Molina), a couple who've been together for 39 years who finally tie the knot in New York City. As soon as George's employer, a Catholic school, hears the news of the gay marriage he is fired from his longtime job. Unable to afford the high rent of an apartment in the city, the couple is forced to live apart, relying on family and friends for a temporary stay. Filmmaker spoke with Zacharias about his new film and his creative partnership with Sachs.
Filmmaker: The last feature you collaborated on with Ira, Keep the Lights On, was a drama about another long-term relationship with very few scenes of happiness or joy between the main couple. Love is Strange has a much more light atmosphere, a more welcoming context and portrays a more logical love. Is this a response to the previous film in any way?
Zacharias: I don't think so. Love is Strange came about because we wanted to talk about mature love, and tell the story of one of those rare couples who have been together for decades, and are clearly happy in their relationship. Every time I'm around one of these couples, I feel the warmth and peace that comes with enduring love, which is rarely depicted on screen. That's how this project started. This image of two older men, in their 70's, who have had a whole life together, and who would simply do it all over again if they could go back in time.
Filmmaker: In contrast to Keep the Lights On, where homophobic discrimination, drugs and an extreme wave of violence were present, in Love is Strange, New York has changed. It is safer, there are less drug-related problems in the streets, same-sex marriage has finally become legal. What are the similarities between the two movies, if any?
Zacharias: In Keep The Lights On, New York is seen through the windows of apartments. The streets of the Chelsea and West Village are somber and melancholy — like Arthur Russell's cello that plays in the background. In Love is Strange, New York is more luminous, and expansive. A small community garden is where our main characters are introduced in the wedding ceremony ("an oasis in the middle of the city", as the officiant describes it). The Manhattan skyline is seen from the rooftop of a building in Park Slope, where a painter is looking for inspiration, trying to complete his work. This new New York is also gentrified: friends and family have to constantly move around and help each other when the rent becomes impossibly high.
Filmmaker: The film tells the story of a couple, Ben and George, that have been living together for a long time, who finally marry at the City Hall and are then forced to live apart due to financial problems. It's an external issue that moves the story forward. How did the story came up and how was the experience of writing something so different from the intimate and toxic world of your previous work?
Zacharias: 39! When the film opens, Ben and George have been living together for 39 years. Ira and I watched many films together. Many by Ozu, some old Eric Rohmer films, and the more contemporary Olivier Assayas. We got inspired to take our love story and open it to affect a whole family, across generations. And news stories about gay teachers being fired from Catholic schools for marrying their partners gave us the setup to get the engine of the plot moving. Toxic or amusing, expansive or intimate, the writing process doesn't change much for me. In the end, it's always about getting the ideas and themes that were discussed with the director, facing the blank page and making a good script out of it.
Filmmaker: Back in 2012 when your latest film was released, Ira said that it was sort of influenced by the past, is this new work a form of representation of the present?
Zacharias: I believe so. I've just turned 50, and feel very optimistic about life, about work and the movies. Ira is happily married today, and has a couple of children, twins, with his husband. I'm sure the lighter tone of the new film is a reflection of our times.
Filmmaker: Both Keep the Lights On and Love is Strange were written by you and Ira. How does the writing process work? And how long did it take?
Zacharias: Keep the Lights On was based on Ira's diaries (or compilation of notes, commentaries and emails) of his 10-year turbulent relationship. That was the raw material that I had to work with, after Ira and I had agreed on a vision for the film. In Love is Strange, Ira and I came up with ideas, characters and situations together, and then I went out on my own and gave them form, or structure. Together, Ira and I edited this first draft until we believed we had a good film in our hands. The whole process took about six months.
Filmmaker: Were there any other collaborators on both story and characters?
Zacharias: Of course, once you start casting and bringing a crew of artists to work on the film, the script becomes alive. Details of an actual location can be added, maybe new ideas or even an actor's trait can be incorporated. But, in working with Ira on both these films, the structure doesn't change.
Filmmaker: How did the actors add layers to it? What did they bring to the script?
Zacharias: Even though your character exists on the page, he only truly comes alive once an actor steps in his/her shoes. And when they start shooting, he or she will probably add unexpected layers to your lines. That's one of the most beautiful parts of the process. It's great to discover new things in you own work, through somebody else's talent. But the script doesn't necessarily needs to change. Ours don't, much.
Filmmaker: What is the best thing about writing for an independent film? Does the lack of a studio give you more freedom from convention?
Zacharias: If you're working for a studio as a writer, you usually have to respond to an array of different opinions on your script, and because there's so much money involved, the bottom line has to be commercial success. The problem is that nobody really knows how audiences will react to a film that's still on the paper… When you're writing an independent film, there's one voice you need to listen to, and that's the director's. It's one vision. Hopefully you'll agree with that vision — otherwise, don't take the job! — and that makes the whole process less painful.
Filmmaker: How do you expect the audience to respond?
Zacharias: I really don't know. You never know. But I hope they can be moved by our film.
Filmmaker: Love is Strange has some big names such as Alfred Molina, Marisa Tomei and John Lithgow. Does that make it less independent or do you see it as a plus, just an easier way to promote the film?
Zacharias: Love is Strange was made truly independently. Big names help promote the film, of course, but the great thing about them is that they're stars for a reason: they're really good at what they do, they command the attention, the camera loves them and they usually make your lines sound better!
Filmmaker: Was there any rewriting during the editing process? If so, why and how were you involved?
Zacharias: Yes, there's definitely rewriting during the editing process, but it's a different kind of rewrite. Some scenes, and the cuts between them, work very well on paper, but somehow when they play on screen something changes, and suddenly something needs to goes. It's a very interesting part of the process, but I don't usually participate. It's the editor's and Ira's job to fine tune the film at this stage.
Filmmaker: What comes next?
Zacharias: Ira and I are starting to work on a third film about love in New York. It will be our third in what we'd like to think of as a trilogy about love in the city — any city. We believe that our local characters will reveal universal truths and emotions.