Back to selection
Park City Critic's Notes #4: European Road Trips, Higher Learning, Black Iconoclasts and More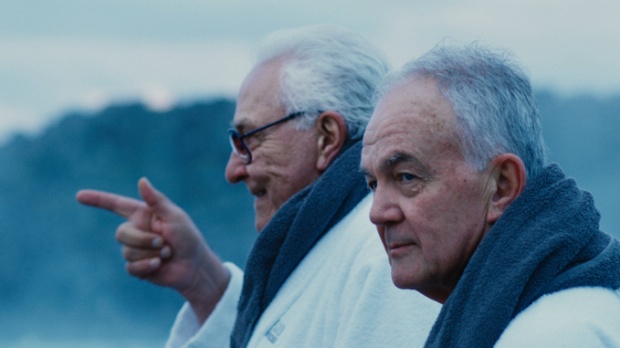 Land Ho!
It thins out, Park City, usually starting on Monday, but dramatically so by Tuesday. The big premiere parties have come and gone. The agents and sales reps and industry professionals are mostly headed to whatever coast they call home. So too is the sponsored corporate food; if you're looking for a free Morning Star veggie burger at what is usually a quaint restaurant called The Eating Establishment, you're out of luck by Day 7 of the Sundance Film Festival. As the sales continue to trickle down, terms almost never disclosed anymore, all that continues is the movies, of course, the ritual of coming in from the cold and sitting in the dark and pondering light and sound.
Patterns are everywhere. Just yesterday I spent the morning and late afternoon watching a pair of movies about men, middle-aged in one case, just plain old in the other, traveling through parts of Europe that couldn't be more different, coming to grips with the wages of time and the meaning of friendship, over fine food and more than a few gentle laughs. While Michael Winterbottom's The Trip to Italy, the sequel to 2012's The Trip, a film that was itself a shortened theatrical version of a popular British miniseries, came to the festival with a distributor (IFC Films) and at least one well known movie star (Steve Coogan), Aaron Katz and Martha Stephens' Land Ho!, the first film from female-centric production and financing outfit Gamechanger Films, arrived in Park City with neither. That didn't last for long, however; Katz and Stephens reached a deal with Sony Pictures Classics early on Wednesday morning. And if there's any fairness at all, the breakout star of this year's Sundance Film Festival, the veritable "It" Boy, ought to be Earl Lynn Nelson.
This AARP-eligible man with a gravely southern voice and pockmarked face is, along with This Is Martin Bonner star Paul Eenhoorn, at the center of one of the festival's most satisfying movies, Land Ho! It is the story of two divorcees, once married to a pair of sisters, who couldn't be more different. Nelson's Mitch is a loudmouthed Kentuckian with a penchant for hilarious if ill-timed advice and an utter, frequently verbalized fascination with the more salacious aspects of female anatomy. Eenhoorn's Colin is a mild-mannered Australian, a French horn player and bank manager recently separated from his wife. Colin visits his ex-brother-in-law in Kentucky and is surprised to find that Mitch has bought them both tickets to Iceland, where Mitch claims they'll "get their groove back." So begins a week-long jaunt, amidst the stunning modernist architecture of Reykjavik and the glorious Icelandic back country, during which Colin and Mitch don't necessarily find out anything particularly revelatory.
Driving through the country in a rented Hummer, they stumble into adventures at a nightclub and hot springs and mountainsides, griping about the difficulties of age and the social value of Facebook, all with a rapport that suggests they were never terribly close but clearly quite fascinated with each other. They encounter a fair share of younger women, including a relative of Mitch's and a black Canadian who in a more conventional movie would be Colin's salvation but here seems to provide a nice respite from the onrushing end of life these men are fighting against. (Comedy is often a conduit through which we beat back death's existential horror.) When they saddle up next to each other on top of the warmest spot in the hot spring while finishing a round of movie trivia, the film provides one of the most enjoyable emotional releases to be found in this year's Sundance selections.
Unlike most road movies, there is no epiphany awaiting the protagonists of this handsomely shot movie that contains both the gentle narrative verite of Katz's previous work (Quiet City, Cold Weather) and the dynamic, '70s-style zooms and meandering, delightfully lugubrious scene work found in Stephens' (Pilgrim Song, Passenger Pigeons). It turns out that both groups of collaborators, those on screen and behind the camera, are matches made in heaven; the pair of young directors, who met while students at North Carolina School for the Arts, get miraculous work out of these two perfectly cast men, and out of each other. They're destined to make more movies on their own, I suspect, but here's hoping we haven't seen the last of Katz and Stephens as a duo.
The Trip to Italy's Coogan and Rob Brydon, meanwhile, are back to playing versions of themselves, doing outlandishly entertaining impersonations of more famous movie actors, while eating remarkably delicious-looking food at impossibly gorgeous Italian restaurants. They travel the country in a mini-Cooper; it doesn't take long for The Italian Job references to start flying. So too do reflections on Byron and Shelley, Englishmen who made their mature work in the Italian countryside, and, indeed, Coogan and Brydon's partnership is the stuff of poetry. While the previous film, in which the men traveled through northern England on Brydon's assignment to write about the region's great restaurants, hinged on the difficulties of fidelity (Coogan did a fair share of cheating on his girlfriend in that one, while Brydon was portrayed as an unflappable family man), the newest hangs its tale on the necessities of family. Coogan misses his teenage child, whom he wishes he was closer with, while Brydon, up for the role of a mob accountant in a Michael Mann film, prepares to leave his family for several months — and perhaps not as begrudgingly as he'd like his wife to think.
It was a bit cruel to put myself through this movie, on little sleep and no food, given how hungry the brief montages of food preparation that pepper the conversations made me, but I soldiered through, even when the DCP started to flash white and the movie temporarily stopped, guffaws and huffs of dissatisfaction emanating from the crowd. Their anger, immediately tempered once the film was restored, was understandable. To watch Brydon do Pacino or Michael Caine over expensive risotto, to gander at Coogan's bread-in-mouth impersonation of Marlon Brando, is to watch two of the most brilliant comic actors of our time do all the work you never get to see them do on screen normally, the rough stuff of creation, the "fucking around until you find just the right pitch" moments. The subtle undercurrents of jealousy and middle-aged ennui they find in these fictionalized portrayals of themselves always feel just right, even if we know it's all bullshit. Winterbottom, who along with Steven Soderbergh, is one of modern cinema's great chameleons, and he stays out of their way for the most part, letting their mouths do all the work. After all, once you have these two sitting at a table, on a deck overlooking an impossibly beautiful mountain, what is left to do but point a camera and microphone and say, "go"?
***
I'm an adjunct professor at the same place where I was an undergraduate, SUNY Purchase. It's a state school founded in the era when big public university systems that provided comprehensive and remarkably affordable education were all the rage. That mid-century idealism has long faded away; I owe the college over $25,000, having deferred and forstalled my loans for going on eight years now. "Indentured servitude" isn't the right thing to call my employment at Purchase; I love the work, and the people there so much — in a different America, I'd do it for free. Yet as of right now, I make little enough to continue to qualify for public assistance and owe the University more in wages than I've made in the last year and a half; indentured servitude is the best thing I can think of. On the very morning I saw Ivory Tower, a rather damning doc by Page One: Inside the New York Times director Andrew Rossi about how the increasingly outrageous cost of a college education, spurred by the rise of administrative salaries, lack of government support and arms race for the best and brightest (and richest) among us, is killing the American Dream and heightening the divide between the haves and have nots, I received an email from Sallie Mae, the country's much maligned student-loan middleman. Apparently my loan terms have changed. I haven't been able to bring myself to open the email while I've been in Park City; there is enough depression to be found on screen, I've thought, that I'll delay my own private despair until later on.
Rossi's movie isn't covering especially new ground if you're someone who is out in the world, reading about how it's all falling apart. State governments are withdrawing funding from universities, and the Reaganist/Friedmanist ideology, that suggests education is a private good that ought to be paid for with private money, has seemingly won out, even amongst the so-called liberals who make up the majority of our university presidents. You know, the ones with high six and seven-figure salaries who are asking most of us to take on debt to encounter information one can increasingly glean on the internet for free if we're savvy enough. But that's just it; who's savvy enough? Very few of us. As the movie brilliantly details, the four-year residential learning experience was bequeathed on a few of us by the Church, then later on many more of us due to land grants and the benevolence of 19th-century industrialists, and was not to be a lasting or especially positive or terribly necessary thing for most of us. The broad majority of those that begin these schools, from community colleges to Harvard, don't finish, and for those that do but don't come from wealthy and well-to-do families, a great and treacherous debt awaits.
The movie, which follows students, administrators and professors at universities large and small and has talking-head moments with a far-flung cast, including California governor Jerry Brown and web 2.0 educational guru and Udacity founder Sebestian Thrun (his model is widely debunked here, by the way), leaves you mostly in despair. Costs will continue to rise, debt will continue to be incurred, needless buildings and football stadiums will continue to be built, the middle class, which college is ostensibly supposed to feed, will continue to crumble. Student debt has surpassed credit-card debt, totaling over $1 trillion. We've taken a right and made it a commodity. What silver lining that exists is just that, a lining.
Ivory Tower's most harrowing yet almost hopeful passages follow the resistance to newly instituted tuition at previously free Cooper Union, the Manhattan art school founded by Peter Cooper as a place where working-class students could get a world-class art education for nothing, all paid for by the money made from ownership of the land underneath the Chrysler Building. What an ingenious and fair idea, right? The movie suggests such insurrections as those taken by the CU students — ones that mirror in their egalitarianism, ambition and openness to new paradigms the work of the Occupy Movement — are more or less the only way for students to have their voices heard. Not like it'll work or anything; CU, after a months-long occupation of its president's office, will charge tuition anyway starting in 2018. "Nothing in life is free," says Mayor/Scumbag Michael Bloomberg at the school's commencement, right before the graduating students turn their backs in mass to the men who claim to have their best interests at heart.
The students at the center of Justin Simien's Dear White People, whatever their merits, don't share the anxieties the real life, pimply faced, debt-ridden or debt-free students in Rossi's film do. They're also all played by actors who are in their mid twenties at least, something I always find irredeemably bogus in films about young people. Family money and student debt are never mentioned in the film; everyone is too busy talking in strident, impossibly direct ways, about race. No dancing around the issue here. At the film's fictional Ivy, Winchester University, an all-out race war seems about to go down, Obama era or not. The characters, be they black bourgeoise girls with fake blue eyes or high yellow sistas' who run the black student union and make ham-fisted student shorts that send up the aesthetic of The Birth of a Nation, all seem to have an unshakable confidence in their ideological positions, whatever they may be. That immediately felt false to me, especially after having just seen the wave of inconclusiveness and economic consternation that Ivory Tower plainly presented to the press and industry at Sundance just hours before.
Yet Simien's provocative and often very funny film, drawn from a Twitter handle and inspired by the wave of real-life incidents involving white college fraternities throwing extraordinarily insensitive parties that send up the various aspects of modern American Negro existence, allows its characters to all have two sides instead of one; the way in which young people at this age are grasping for and quickly shrugging off identities, especially black ones, is well remembered here by Simien and well rendered by his cast. It's a remarkably propulsive thing, Dear White People, fair-minded and often quite true, even if it feels like everyone is reading lines written by Whit Stillman's black cousin. With style to burn and some remarkably postmodern hijinks in its pocket, Dear White People doesn't always work (that its ending opts for suspense rather than surprise is one mistake of many), but it demonstrates Simien's real talent. He has made a movie that suggests both School Daze and Higher Learning, two touchstones of the campus drama made by famed black directors, with traces of Ashby and Altman and the late, great (and sometimes not so great) Amiri Baraka around the edges.
I counted over 30 folks at the press and industry screening, all of them white, as mid-picture walkouts. Did they not like the letter addressed to them? Were they not prepared to understand it? What is there, after all, to understand? They clearly weren't trying to hear all that. Or maybe they were just hungry. But such a reception is telling. Few of us remember A Good Day to Be Black and Sexy or I'm Through With White Girls. Yet Simien's film makes a salient point: black people, and their cultural products, have to straddle a fine line to be acceptable to white people. To gain acceptance, especially within white institutions, they have to constantly explain themselves, prove they're not a threat, accept a wretched status quo, and not challenge existing hierarchies. Am I black enough for ya? Don't be too black. Whatever that means. If they don't follow the rules, they're doomed or exiled. And even if they do, they still have a one-in-three chance of going to jail. Which, given the burden of student debt, isn't the only form of bondage the elites have found to control us with.
***
Black iconoclasts aren't just making narrative films this year. In at least two instances, they're subjects too. Oscar-winner Alex Gibney's Fela Kuti profile Finding Fela, in the Documentary Premieres section, is a wonderful movie, of course. How could Gibney go wrong with that footage, that music, that life? Kuti, for those who don't know, was Nigeria's foremost musician and political dissident in the '70s and '80s. Scion of a prominent family, he embodied the countercultural values (free love, dope smoking, communal living) of the age he came about in, rejecting the bourgeois values of his family (both of his brother became doctors). Inspired by the Black Nationalists he encountered in his trips to America, he became a strident voice for pan-Africanism and against the repressive military junta that held the country in its grasp. His and drummer Tony Allen's propulsive form of Afrobeat, which he performed with the Africa 70 and the later Egypt 80, is simply some of the era's best music. Beaten countless times during raids on his home by an increasingly antagonistic Nigerian government, he was eventually jailed in the '80s, becoming, save Nelson Mandela, Africa's foremost voice for change.
He was also a prolific womanizer — polyamorous, insatiable and married to several women at the same time. His decline and death from AIDS was tragic; he refused to accept that he had the disease, that it would kill him. In this way, he embodies some of the best and worst of the continent, and yet in Gibney's accessible telling, he deserves his place as a hero. Hinged to the Will Smith/Jay Z-approved production of Fela! on Broadway, the movie juxtaposes talking heads, rehearsal footage from the Broadway show and archival footage of Kuti, who was also a nightclub owner and neighborhood don. Gibney has become a doc factory perhaps; he's remarkably prolific, often shooting as many as three movies at a time, and while he has his fans, his detractors are equally loud. You'd be surprised by how many people, when I mentioned that I liked his new film, immediately snickered. There is something impersonal about his work, perhaps, and he's certainly not reinventing the form from the ground up. But he's one of the most essential filmmakers we have going.
Everyone, or at least those that saw the 2010 animated short Doc Ellis and the LSD No No, have heard the urban legend that loud-mouthed, curlers-in-his-hair, "Every Nigger Is A Star" shirt-wearing ex-All-Star hurler Ellis threw a no-hitter while on LSD against the San Diego Padres on Friday June 12th, 1970. That he was the first embodiment within America's pastime of the "new freedoms" that citizens were taking as their birthright during that tumultuous time is less well known. Perhaps that will change with the emergence of No No: A Dockumentary, the unfortunately titled new film from director Jeffery Radice.
Ellis was a man who admitted to doing heroin, meth, cocaine, marijuana, LSD and "greenies" habitually while being an above-average major league baseball player on some of the best and most colorful teams of the era, such as the early '70s Pittsburgh Pirates and the mid-'70s New York Yankees. Beloved by his teammates, he was a true firestarter, the Muhammad Ali of baseball. When his playing days ended, his body worn out younger than it should have been by the drug mileage he had put on his chassis, he transformed into one of the most effective drug counselors the field has ever known.
There are tons of amazing stories about Ellis, but unfortunately Radice doesn't quite have the footage to flesh them out like one would hope; no clear recording exists of Ellis' magical no-hitter and, because he died in 2008, the interview footage they have of him is recycled from that which was used for the widely seen animated short. His incredible cast of teammates is interviewed extensively, although I was bummed to find that my Little League coach, Dave Parker (The Cobra!), who was an integral member to several of the Pirates' best teams from Ellis' era, wasn't among them. Incredible episodes in Ellis' life, such as his visiting time in Vietnam with Stargell and other players, or the beginnings of his feud with the Cincinnati Reds (he was maced by a security guard outside of their stadium), are skipped over, and the chronology of events jumps back and forth, causing the movie to stall out a bit. Regardless, Ellis' voice, syrupy and true, stays with you; the way he cries after reading a letter Jackie Robinson wrote him, urging him to continue to speak truths the world may not have yet been ready to hear from a ballplayer, is just haunting. Spending time in the presence of his company in this infectious if scattershot "dockumentary" is a treat and a wonder.