Back to selection
True/False Announces Full 2014 Slate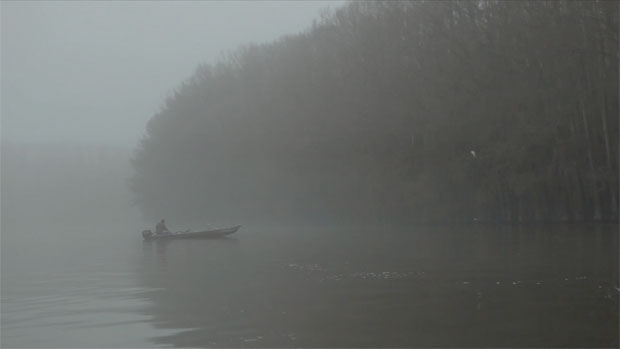 Uncertain
The True/False Film Fest today announced its full 2014 program, just days after grabbing headlines for its innovative Pay the Artists! program.The festival takes place in Columbia MO, between February 27 and March 2.
Among the 43 films unveiled are a number of world premieres, including Robert Greene's Actress, a portrait of Brandy Burre (best known for The Wire) which seems perfect for the fest's embrace of the blurring of lines between nonfiction and fiction, and Kitty Green's Ukraine is Not A Brothel, about the radical feminist nudist group Femen. Also playing for the first time are Amanda Wilder's film on unconventional schooling Approaching the Elephant; Ryan Murdoch's Bronx Obama, about NYC's famous presidential impersonator; Dora García's The Joycean Society, on the weekly Finnegan's Wake reading group and, playing as a work-in-progress, 2013 "25 New Faces" alums Anna Sandilands and Ewan McNicol's Uncertain, a goregous and lyrical doc about a town of outlaws in Texas. Sacro GRA, Gianfranco Rosi's film set around a motorway in Rome, and Life After Death, Joe Callender's Rwanda-set doc, also will receive world premiere screenings.
In addition to the world premieres, there's a healthy number of films that have played only Sundance so far, including the fest's Grand Jury Prize winner, Rich Hill, about the impoverished town near Columbia that was made by Columbia natives Tracy Droz Tragos and Andrew Droz Palermo. There are also close to a dozen more outstanding nonfiction films that make their first post-Park City outing in Columbia, plus Richard Linklater's Boyhood, again a film that plays with the divisions between fact and fiction. 
In addition, most of the documentaries worth a damn from the 2013 festival circuit that have yet to hit (wide) release are also screening here. It's a lineup where's barely a film that's not worthy of some comment; David Wilson and Paul Sturtz know how to program a festival.
You can dig into the full line-up below.
20,000 Days on Earth
Singer-songwriter Nick Cave's life is unpacked in this wildly creative re-imagining of the music doc.
Actress
An alluring, unpredictable Hudson Valley housewife decides to re-enter the acting business and deals with the consequences in this inventive chimera.
Approaching the Elephant
An enthralling, immersive look at the first year of a radical New Jersey school for young children.
Big Men
An investigation into the multi-layered world of oil exploration off the coast of Africa, from Texas board rooms to ski-masked saboteurs.
Boyhood
An epic coming-of-age narrative that deftly fuses fiction storytelling & documentary technique. From the great American director Richard Linklater.
Bronx Obama
What if you woke up on election day 2008 and realized that you looked exactly like the President of the United States?
Cairo Drive
Delightfully captures the spirit of Egypt by trailing its residents as they navigate the city's chaotic streets.
Captivated: The Trials of Pamela Smart
A small-town murder in New Hampshire summons up a self-perpetuating media circus and now inspires this grand, enthralling work of nonfiction.
Concerning Violence
Revolutionary writing from Frantz Fanon melds with extraordinary archival footage to reveal the legacy of Colonialism.
Demonstration
32 Spanish film students, led by 2012 True Vision honoree Victor Kossakovsky, craft a playful and poetic vision of protest.
Dusty Stacks of Mom
Jodie Mack's mother ran a poster-and-postcard warehouse in the age of Bowie and Floyd; its demise now inspires a rock opera, which Mack will perform live.
E-Team
When crimes against humanity flare up, members of the E-Team serve as the world's first responders.
Forest of the Dancing Spirits
An intimate and personal account of a rainforest society perched on the precipice of modernity.
The Green Prince
The unlikely, thrilling story of the son of a Hamas leader and his tenuous partnership with an Israeli intelligence agent.
Happy Valley
In 2011, a massive scandal rocked football-crazed Penn State. Can the town recover? A morally complex and emotionally powerful film from our 2014 True Vision honoree.
Jodorowsky's Dune
In the hippie era Alejandro Jodorowsky was a cinematic shaman on the rise, until he attempted to adapt the doomed, sci-fi epic Dune.
The Joycean Society
A small, erudite cult meets weekly to decode the most notoriously impenetrable text in modern literature: James Joyce's Finnegan's Wake.
Killing Time
Since 1982, the state of Texas has lethally injected 509 convicts on Death Row: this is the story of number 499.
Kingdom, If I Can (shorts)
Transcendence doesn't come easy, as shown in three international shorts: The Green Serpent, Mountain in Shadow and Sirs & Misters.
Kith & Kin (shorts)
Family ties are untangled in these six shorts, climaxed by the stunning I Think This is the Closest to How the Footage Looked.
Life After Death
A hilarious, sharp-eyed portrait of Kwasa, a charismatic twenty-something Rwandan native, and his "family" of American philanthropists.
Manakamana
The playfully stylized presentation of eleven different journeys to an ancient Hindu temple in Nepal.
Miraculous Tales
A tour of folk medicine, faith healing and other comforts for the afflicted, led by the Irish farmer/raconteur Mickey McGuigan.
My Kid Could Paint That
Marla is a child artist who has sold hundreds of thousands of dollars worth of paintings. But is she the real deal?
The Notorious Mr. Bout
With his video camera ever in hand, arms dealer Viktor Bout led a wild (and well-documented) high life.
The Overnighters
Not all who flooded the North Dakota oil fields found a gusher: some of them landed in a shelter run by Pastor Jay Reinke, whose turbulent story matches theirs.
Particle Fever
The world's most savvy scientists guide us through the largest experiment in history, the Large Hadron Collider, which seeks to unlock the secrets of life itself.
Private Violence
2014 True Life Fund recipient. This astonishing, powerful doc pulls back the curtain on domestic violence with gripping narratives guaranteed to challenge our apathy.
Rich Hill
A tender, gorgeously lensed portrait of three small-town Missouri teenagers contending with major life obstacles.
Sacro GRA
Surrounding Rome's tourist ghetto is a highway whose adjoining residents reveal the real story of modern Italy.
Secret Screening Amber
This buddy comedy par excellence finds two men at the end of their tethers.
Secret Screening Burgundy
A lone man challenges an institution, fueling debate that will undoubtedly spill off of the screen.
Secret Screening Cyan
This spellbinding film draws from the mythology and history of its war-torn setting to explore the contentious relationship between man and nature.
Secret Screening Orchid
Civilization has its discontents, including this man who gave up all he knew to follow his dreams.
Stand Clear of the Closing Doors
With Hurricane Sandy looming, an autistic teenager goes AWOL in the New York subways.
Stop Over (L'Escale)
Greece was supposed to be a getaway for a crew of undocumented Iranian men, but it ends up providing only a state of limbo.
A Thousand Suns (Mille Soleils)
Forty years after starring in one of his country's most famous films, a Senegalese cattle herder wanders Dakar and reflects on his legacy in this dreamy chimeric work. Plays with "Vegas."
Tim's Vermeer
Tim Jenison is a software geek who believes he's unlocked the 350-year-old secret of how Old Masters created extraordinary paintings.
Ukraine is Not a Brothel
Femen, Ukraine's topless feminist protesters create headlines wherever they go. But is there a darker truth behind the sharpie slogans?
Uncertain (work-in-progress)
Settle in to the sun-dappled Texas town of Uncertain where outlaws take refuge, wild boars maraud, and past lives can't be kept quiet.
The Unknown Known
Ten rounds of sparring between Errol Morris, our greatest living interviewer, and Donald Rumsfeld, a master of political obfuscation.
Vanishing Point (shorts)
In these three mysterious shorts, including "Morning Star," we go off like scent hounds on the trail of the disappeared.