Back to selection
How Filmmaker Magazine Helped Me Launch My First Feature, the SXSW-Bound The Heart Machine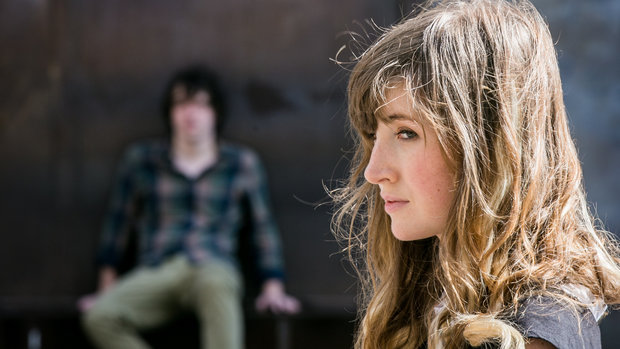 Kate Lyn Sheil in The Heart Machine
Zach Wigon has written a number of provocative, discursive and highly original film essays for Filmmaker over the last couple of years, and now he is making his first feature. In this guest essay, appearing alongside the SXSW-bound film's Kickstarter campaign, he describes how the interests explored in these pieces dovetailed into a seductive thriller for the NSA age, The Heart Machine. After reading, check out some of Zach's old pieces for us and consider contributing to his campaign. — SM
It all started with Filmmaker Magazine.
 
In the Fall of 2010, I received an email from a producer named Lucas Joaquin, whom I'd spoken with six months earlier, about helping out with a film Lucas was working on called Beasts Of The Southern Wild. While I wasn't able to go down to New Orleans, the film somehow ended up doing all right without my assistance. Anyway, Lucas remembered me when he read a few essays I'd written for Filmmaker's website, and based on his interest in those essays, he asked me if I'd be free to get coffee. We ended up deciding to work together on a film I was writing titled The Heart Machine. The Heart Machine concerns a long-distance relationship between a young man and woman who have never met in person before, and follows what happens when the man begins to suspect that his girlfriend has secretly been living in the same city as him the whole time.
Sort of a creative scratch-pad that enabled me to investigate the film's subject matter in advance of crafting a narrative, Filmmaker was an invaluable outlet for me, allowing me to get my ideas out in the world in a literary format before having to commit them to film (er, digital video). It's thanks to Scott Macaulay's great generosity that I was able to do this — Scott really afforded me the leeway to write essays on films in an unconventional manner, with rather specific preoccupations and angles. Rereading some of those essays, I'm struck by their idiosyncratic nature, and I'm not sure any other outlet would have been willing to take them on.
 
I've gone on to contribute a number of essays for Filmmaker, most recently a video essay that analyzed the visual language of Simon Killer, and my development as a first-time filmmaker has correlated with my growth as a writer for the site. With The Heart Machine, a mystery/drama which stars John Gallagher Jr. and Kate Lyn Sheil, and is set to have its world premiere in competition at SXSW next month, I wanted to make a film that investigated broader social questions while still telling an engaging story. The many essays I wrote for this site helped me flesh out the thematic material for the film.
 
There's something counterintuitive about how digital devices connect us. Simultaneously intimate and distancing, technologically-aided communication enables us to share our most intimate, vulnerable thoughts while still maintaining a strong degree of isolation. This idea is central to The Heart Machine, which hopefully succeeds in making audiences view digital technology with more suspicion and more reverence. There's a deep power to how technology enables us to display "more" of ourselves while preventing us from having to bear the risk that typically comes with seeking a romantic connection.
 
For all of its thematic preoccupations, The Heart Machine is ultimately a mystery about two people who are engaged in a relationship that's as unconventional as it is modern. It's a film that — if it succeeds — observes unusual behavior without judging it, in the hopes of creating a greater understanding about how young people avail themselves of the dating opportunities that lie before them. It's also a love story about a young man whose life is turned upside-down by a disturbing potential lie involving the woman he loves, as well as a character study of that woman herself. While it's not the first film to observe Internet dating, I think it explores the topic from a new angle — a darker, more sobering one than what we often find at the multiplex.
 
We're premiering the film at SXSW, but we haven't gotten past the final obstacle – we still have a bit more financing to raise. If you think the film sounds interesting, please check out our Kickstarter page, which has a short video (including clips from the film) and information that delves deeper into the story and the bios of the filmmakers. Even the smallest contribution can help enormously toward sending us to SXSW!