Back to selection
Five Questions with Elaine Stritch: Shoot Me Director Chiemi Karasawa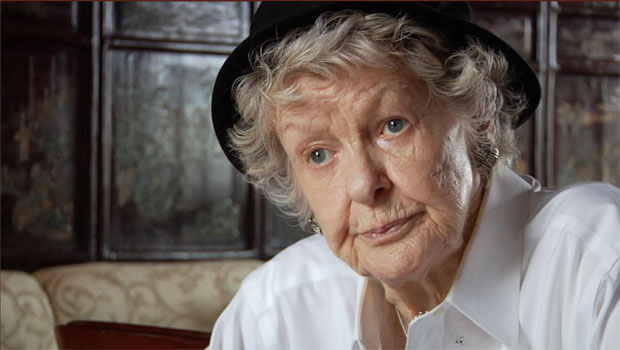 Elaine Stritch: Shoot Me
Chiemi Karasawa is fascinated by people. So after having worked in the film industry for almost 15 years as a script supervisor on dozens of narrative films, among them High Fidelity and Adaptation, Karasawa founded her production company Isotope Films in 2005, which she's devoted to creating intimate studies of interesting characters. Karasawa has since produced several documentaries, including the award-winning Billy the Kid – a coming-of-age film about a confused teenager, and the Oscar-nominated and Emmy-winning The Betrayal, a film shot over the course of 23 years about a family's will to survive after moving from Laos to New York.
With her first film as director, Elaine Stritch: Shoot Me, Karasawa gives us a funny, deft and revealing portrait of a Broadway legend, a woman who's been performing for the past six decades, and the health obstacles she faces at the age of 86 when all she wants to do is perform. Below Karasawa tells Filmmaker how she became a first-time director and about the close relationship a documentarian develops with their subject. Elaine Stritch: Shoot Me opens February 21 through IFC Films.
Filmmaker: How did the film come about? Was it Elaine's idea or yours? Was Elaine into the idea or did she need some convincing?
Karasawa: The film idea came about in my hair salon. I was having my hair cut at Vartali on 57th Street and noticed a familiar-looking woman in the mirror behind me, and asked my hairdresser, Piet, "Is that Elaine Stritch?" He told me she had been a longtime client and a few moments later, knowing my vocation as a documentary producer, he suggested, "You should be making a documentary about her." So after going home and doing the requisite online researching, YouTubing, Googling, etc., I became convinced he was right! And I was ashamed to know so little about Elaine and her background in the theatre and her history as a performer. I sat up for nights on end, watching Pennebaker's Company: The Original Cast Recording and At Liberty. Spent a lot of time in the video archives at NYPL. And became totally entranced and fascinated with Elaine. She struck me as a woman of utterly singular talent, style, sensibility, and also a survivor. I was hooked. We started to "run into" each other in the salon more frequently, thanks to Piet. The salon owner, my friend Houri Geudelekian, took me to see A Little Night Music, and it was backstage in Elaine's dressing room after the show that I popped the question about doing the documentary. She was lovely about it, but getting her to start filming was another story. It took about four months of back and forth — running into her in the hair salon, phone calls, before she finally acquiesced and let us start shooting. She wanted to be done with Night Music first, and I just wanted to get going!
Filmmaker: Though you've been in the business a long time as a producer and script supervisor and you have your own production company, this was your first time as a director. What drew you to direct this project?
Karasawa: I have always wanted to direct, but basically Elaine encouraged me to do it. She insisted that I do it. For this project, I thought I would find a fancy director with much more directing experience to come aboard, and that would help with securing the funds. But when I mentioned the idea to Elaine, we had already been shooting for about a month and she was surprised: "What?! You mean I have to meet another person? Oh, no no no no! Why don't you do it, honey? We're already getting along fine!" And thus, I did. I think it succeeded because we were able to keep it very intimate that way, in her comfort zone. And after having spent a lot of my career working and producing alongside many directors, I felt very comfortable in the director's seat. In a certain respect, it's much easier than producing, but also more pressure and scrutiny if you fail.
Filmmaker: In 2005 you founded Isotope Films. Through the company, you've produced documentaries about important events and documentaries that focus on one person, often celebrities. Which do you prefer? And how is filming them different?
Karasawa: I would argue that all my films are character-driven to a large extent, and those will always be my favorite kinds to make. Character, for me, is the way into any story — narrative or documentary. It's a point of connection for an audience, why we care. I'm fascinated by what motivates people, what challenges them, and how we rise to face obstacles or not — how experiences shape our lives and how we are all connected on some deep level. Each time you begin to film someone, it's a new experience. They are driving what you do, and each person's energy and what animates them are completely different. You have to adapt, learn how best to capture them both physically and stylistically.
Filmmaker: What was it like working with Elaine? There's quite an amusing part of the film when we see her get upset at the director (or cameraman) because you didn't closely film her doing something she wanted shown. Did Elaine try to direct the film a lot? And if so, how did you deal with that?
Karasawa: Elaine was a filmmaker's dream — once you get past the initial challenges. Initially, I was terrified. She can be very abrasive, impatient and unpredictable if you don't know her and it can be alarming. Once you get used to it, you understand what sets her off, and that it's fleeting and it's her anxiety about things being right. The good thing is, if she is not comfortable, she will let you know it straight away. Initially, it seemed she "performed" a lot, but eventually she got comfortable. Once she felt at ease with me and my cameraman, she welcomed us whenever we wanted to be around, and often called to make suggestions about filming more. We always enjoyed being with her. She's such an independent woman, that I think it was a novelty to have us around — to witness things that were going on in her life at 87. That dynamic can be very powerful. I would always share whatever was going on in my life, as would my cameraman. She is very interested in people, what they're up to, and she can't stand for folks to feel distant, she likes to engage to feel comfortable. Then she'll forget about the camera and you're off to the races.
To be fair, that scene with the Bay's English Muffins was the only day of almost 80 shoot days that I wasn't able to be there, and it was early into photography of the film. Elaine did not typically "direct" the cameraman, although she might have a lot of questions. That afternoon, she called to let me know she and Rob would be rehearsing, and I was in Toronto opening a film at a festival. I asked her if I could send a cameraman over to shoot some fly-on-the-wall vérité material…and I should have known better. She didn't know the cameraman, no one was minding him, and if Elaine suspects you don't know what you're doing, she will tell you what you should be doing! Anyone in her shoes would have been self-conscious at that time — it's very difficult to mind your own business if you aren't perfectly comfortable with the people in the room. Lucky for me, she became comfortable with all my cameramen pretty quickly. There were three numbers on speed dial at all times (Shane Sigler, Josh Weinstein, Rod Lamborn) so I could be ready with a cameraman anytime she let me know we could shoot. The majority of the time, we were surprised and delighted by at the access she was giving us. She has no sense of vanity, she is more concerned that you are actually getting enough material to make a good film. It was a joy to be around her, hang out with her,  at the Carlyle, on Madison Avenue, at Three Guys deli. That intimacy made a lot possible. No lighting, no boom person, just me and a cameraman. She has since become a very important person in my life, a very dear friend.
Filmmaker: What motivates you to make these kind of films?
Karasawa: I have an innate curiosity about and fascination with people. What drives them, what is the story behind the story, how do we get to be who we are? This particular film was also near and dear to my heart as my own parents are 80 and 90 years old. My mother has advanced dementia, my father is getting up there, and being with Elaine, watching her navigate her life alone at this critical stage, made me realize how challenging and upsetting the loss of independence can be. Elaine is so honest, innately entertaining, and she has the means to be poignant and funny at the same time. Courageous and vulnerable. For me, she was able to bring a voice to a universal time in life that we often do not think about or see evidence of in the media. I like to bring eyes to these people, those moments, start a thought or conversation. For me, it's all about connection and acceptance.