Back to selection
The Women of SXSW: We'll Never Have Paris Producer Katie Mustard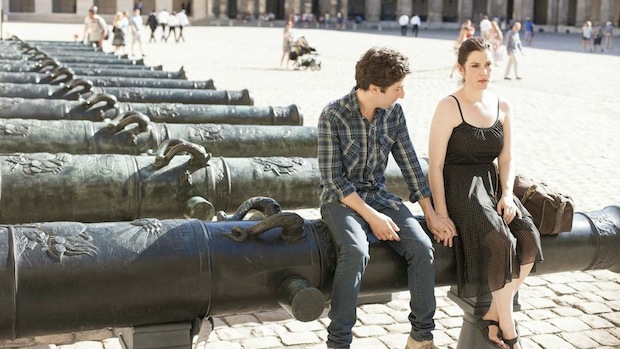 We'll Never Have Paris.
Following "The Women of Sundance" article in our print and online additions, Danielle Lurie continues her coverage of female filmmakers with a series of pieces highlighting women directors at SXSW. In this email interview, she talks with Katie Mustard, a producer of Jocelyn Towne and Simon Helberg's Narrative Spotlight feature, We'll Never Have Paris.
Filmmaker: Why this movie?  Why did you decide to do it?  
Mustard: The story and the people is the short answer. 
For me, these are two best things you can look for when deciding on a project. We'll Never Have Paris is a hilarious, clumsy and at once human account of screwing up on a transcontinental level in a noble effort to win back "the one." I was drawn first to the material, which I felt was commercially viable while presenting a fresh comedic voice that I think critics will love. To seal the deal, I loved Simon and Jocelyn instantly — they are simply good people who are passionate about telling smart & entertaining stories.
Filmmaker: How did you go about raising funding for it? 
Mustard: Funding for this movie came together in a traditional way with a handful of independent equity financiers. The deals were spearheaded by UTA & Rob Barnum.
Filmmaker: What is an anecdote from the making of this film that should be legendary?  
Mustard: There were so many legendary moments on this production. We shot the movie in the middle of New York City's greatest heat wave this past August. As we cheated many of the Paris interiors in NYC, we were often filming in cramped, pre-war, historic apartments without AC and without proper holding areas.
The production office, wardrobe, video village and hair and make up were constantly spilling out on to the street corner with box fans strung together in an attempt to blow the hot air around. Our patient actors were constantly dripping in sweat! At one point, we literally had to stop filming because our lead actress almost fainted, and the DP's sweat was dripping so heavily into the camera, we thought it may cause an electrical problem. It was classic NYC indie filmmaking in the summer!
Filmmaker: How much of your crew was female? Was hiring women a consideration for you?  
Mustard: We had an exceptionally high number of females on this crew. In addition to the director, lead actors and myself – our d.p., production Ddesigner, script supervisor, costume designer, editor, casting directors, UPM, production coordinator, hair/MU department heads, prop master and more were all Female. I am not sure on the exact amount but would guess we had a 30 to 40% female crew, which was incredible. It is never a specific choice but it is nice when it works out like this.
Filmmaker: Do you think if this had been directed by just a male director it would have been very different?
Mustard: Simon and Jocelyn make an incredible team, and we were fortunate to have the best of both worlds when it came to the male and female perspective. Basically, Simon proposed off the wall ideas and Jocelyn was the voice of reason. Just kidding. Well, sort of. 
Filmmaker: In what ways do you think being a female filmmaker has helped or impeded your trajectory in the film industry?
Mustard: Overall, I do not feel being a female producer has impeded my trajectory in the film industry as a producer is a common route for the majority of women in film today. However, having said that, I have felt a prejudice as a female line producer, which is a job that is a very tricky balance in keeping a stern eye towards the budget and a friendly smile towards the crew. Especially early in my career, I encountered fairly overt discrimination from certain male crew members who were older and "wiser" and would not take seriously the authority of a young female boss. If I was stern in a decision, some men disregarded this assertion of authority as spiteful or a "shrewd female personality." This was very tough to recognize and deal with, but luckily filmmaking is in constant motion. It is easy to keep moving forward when there are so many amazing and wonderful people with whom to collaborate
Filmmaker: How can we get more women making movies?
Mustard: Whether you are a production coordinator or a director, everyone needs to be aware of other women in their field — encouraging and elevating female friends as much as possible.
Filmmaker: Of the big blockbuster movies out there, which do you wish you had directed?
Mustard: 12 Years a Slave. 
Filmmaker: What's next?
Mustard: I anticipate 2014 being a big year for me as both a producer and line producer. I have six films in post production that will all be hitting the market place in the first quarter. In addition, I am actively involved in three films set to shoot next year. I'm excited to continue to grow my existing relationships with some of my favorite filmmakers as well as looking forward to new collaborations.
Filmmaker: What do you hope to gain from being at SXSW? Who would be your dream person to meet while there?
Mustard: The highlight for me at all festivals is spending time with other filmmakers.  I always feel inspired by my peers and get excited about all the great stories yet to be told.