Back to selection
Robert Herrera on the App and Distribution of the Basketball Documentary The Gray Seasons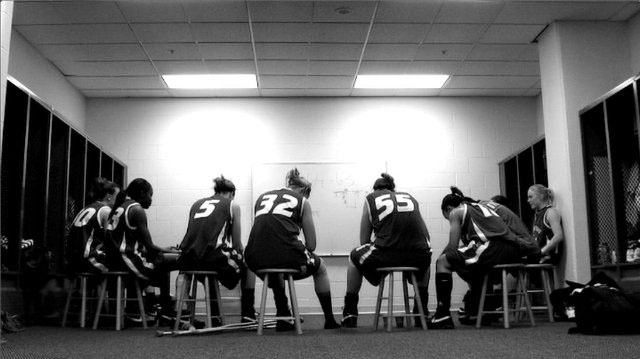 It's been two full decades since Hoop Dreams, but any basketball documentary is still bound to be compared to that iconic film. Still, technological changes over those 20 years beg the question of how Steve James and Kartemquin Film would handle distributing the film today. When director Robert Herrera was faced with the same challenge for his new film The Gray Seasons, about the women's basketball team at St. Louis University, he struck upon a series of festival screenings, simultaneous cable PPV and VOD (via Vimeo on Demand) availability, and finally a DVD release and iOS app that encapsulates much of the film's ethos. The app, which is free, is designed to steer those who have not purchased the film to places where they can, and to extend the experience of the film for those who have already seen or bought it.
Herrera, a seasoned commercial videographer, answered questions via email about his first foray into feature documentary production, including what went well with The Gray Seasons' release and what he would change could he do it again.
Filmmaker: Can you start by telling me a bit about the film itself?
Herrera: The Gray Seasons is a documentary about the Saint Louis University Division 1 Women's basketball team as first-time head coach, Shimmy Gray-Miller, and her new recruits attempt to turn a historically lackluster program into competitive conference contender. After some initial success, injuries and other challenges begin taking their toll, and the coach and her recruits struggle to maintain their drive and grit as the long seasons unfold. Filmed over four years, spanning the careers of her first recruits, The Gray Seasons offers a frank look at the serious emotional costs paid by both coach and players, but the film also shows the remarkable grace that its stressed subjects display when under pressure.
The film was born out of a desire to make a film about something I felt I had never seen before. At the beginning, more than one doc film was moving forward at once, including one about the same university's men's basketball team. Due to life and circumstances in that first year, this story was the survivor, but not just because of circumstances —  also because it was our first choice. The production consisted of myself and friends — mostly artists — still photographers, visual artists, musicians, writers and even philosophers. Myself and the philosopher (my producer Andrea Wall) were true sports and basketball fans. The other artists remained devoted because of the human story and aesthetic approach to the film, which we hoped was unique. We followed Coach Gray-Miller and her first recruits vigilantly for 4 years — win or lose — mostly lose. We felt that those four years closed a chapter in their story, and it was time for not only the players, but us to move on. We ended production and cut the black and white film that exists today.
Filmmaker: How did you prepare for distribution early on in the process? Anything you wish you'd done better?
Herrera: Distribution was very foreign to me. We were a small group of creatives with no connections to the film industry. If there was one thing I would have done better, it was to have a distribution plan at all. I think The Gray Seasons is a better film than its distribution reach has let on. We relied on the festival life "to do it's job" in a sense. Response to the film was always positive, and we were always described as a surprisingly provocative film. But we fell short of those major doc festivals and couldn't ever get anyone to follow through with distribution deals — for whatever reason. We eventually got someone in L.A. to sign us up and connect us with a handful of VOD and PPV providers in the U.S. and Canada — which was very exciting.
While ultimately being very frustrating, it was a lesson that we would not have learned otherwise. It is a film we are proud of, and when you are proud of something, you want the world to see it. Future projects will have a different distribution process all together. It seems like each film has its own unique path it needs to take to be seen, and that is something you need to discover and develop as you are finishing postproduction.
Filmmaker: So with that base how has the release gone so far–what other platforms have you already released on?
Herrera: The Gray Seasons has been available VOD or PPV with hundreds of cable providers in the U.S., Canada, and Caribbean — including Dish, Comcast, Charter, Verizon, AT&T U-verse. Many of those runs have come to an end and now we've made The Gray Seasons available on Vimeo On Demand and are selling DVDs. We are continually learning more and more about distribution. New options and avenues for distribution pop up everyday. It is overwhelming to decide which route to take, especially without the experience. We have no problem taking risks, and with plans to make more and more films, there is always something to gain, even if it's a tough lesson.
Filmmaker: But there's the app as well. Where did the idea for that come from and what did you ultimately decide to include?
Herrera: The app spawned from our desire to get the film out there in whatever fashion possible. The idea was presented to me by Candy Lab, a growing tech company in St. Louis. The more we talked about it, the more it sounded like a fun option. Apps serve many functions, and in the case of The Gray Seasons it became a way to provide content to people. The main example is the original soundtrack by artist and musician John C. Kelley, which streams on the website. People always comment and talk about how much they love the music and how they visit the website to just stream the music. The app provides you the entire soundtrack to stream on the go. It provides the trailer and direct links to watch the film on demand or to order the DVD. It provides content much in the same way the website and Facebook pages do — but it is a way for you to control the aesthetic and the content, and to engage with people if you so choose. The types of features that you can develop in a mobile app are shockingly vast. Apps lend themselves well to the creative minded, because it is in your control — how you choose to engage with the people that download it. What's funny is that I don't feel that The Gray Seasons is even the most ideal type of film to have an app. The Gray Seasons is a reflection of who we are as artists. We are a pretty quiet and private group and just want to provide content. I feel that a film or doc with a huge humanitarian or social message that wants to engage and influence its audience is a no brainer for an app like this. To have the ability to provide content and engage directly with an audience through a process and aesthetic that you control — what more could many filmmakers ask for? Plus it's nice to just pull out my phone and show people the film app when it becomes a conversation.
Filmmaker: What was the process like working with Candy Lab when they started developing the app?
Herrera: Candy Lab is a fast-growing tech company in St. Louis. They are always looking for opportunities to use their skills and know-how — which reaches far beyond just app development. They are also doing large projects with augmented reality. They want to see how far they can take these technologies in any direction. So because of that nothing is off limits. If you can think it up, they want to figure out how to do it. That is what is fascinating about all this technology. It's always growing and developing. So working with a company like Candy Lab is a blast. You play with ideas to see what's possible. They are a very open-minded team.
Filmmaker: Can you talk about where most your revenue is coming from at this point? What kind of projections do you have for the app's sales (or other platforms)?
Herrera: Revenue is still coming in from the tail-end of cable provider on-demand deals. I suppose new deals are still an opportunity if they present themselves. That leaves revenue coming from Vimeo On Demand and DVDs — which is also a direct result of the app. The mobile app is not for sale. You can download the app for free. It will provide you with content about the film, the entire streaming soundtrack, and ways to rent, digitally download, or purchase the DVD. I have no earthly idea what projections are for this documentary. I am and want to be a filmmaker, meaning I just want to make films. If there is one lesson learned from our experience with The Gray Seasons, it's get someone on board to develop distribution plans — because that person is not me. If you leave it up to me, I'd just give my film out for free. Which actually isn't out of the question in the future. But as technology grows, be sure to "test the waters" with everything you can. Interesting things develop everyday.
Filmmaker: Any word about other projects you're working on?
Herrera: We are currently in post-production with our first micro-budget dramatic narrative. Shooting that film was such a great experience that we have two more in development to be shot over the next year and a half. We are also working on a documentary about the modern day parade's place in contemporary art. With our process of working, it's impossible to predict how these projects will end up. But we move forward, I'm sure more apps will be in our future, and I hope other filmmakers do the same and really fine tune and stretch the limits of their functionality and use for their films and creative endeavors. I don't know why the abstraction of apps or app art isn't a thing yet.