Back to selection
In the Soup Director Alexandre Rockwell on Kickstarter, Creative Fundraising and the Return of Personal Filmmaking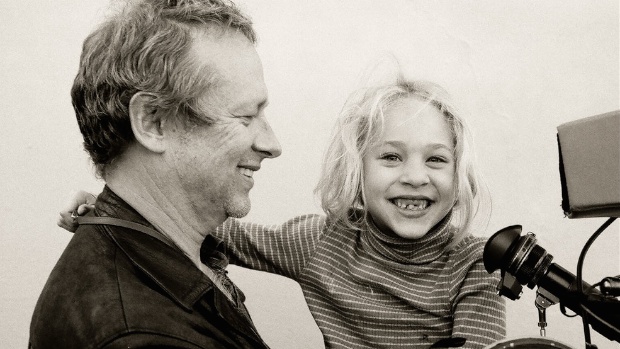 Alexandre Rockwell and daughter Lana
This guest post by Alexandre Rockwell is published as his Kickstarter campaign to support finishing costs of his latest feature, Little Feet, launches. You can learn more and donate here at the link.
"An old dog learning new tricks." That's what a pal of mine said to me the other day, and I could not disagree more.
I never have seen myself as an old dog and "new tricks" are what I have had to constantly seek out to keep making handmade films over the years. Continuously reinventing oneself and jumping into the fire over and over is either insanity or the closest thing to the fountain of youth on this earth. Anyway my buddy, the writer-director Sam Fuller, was at eighty the youngest soul I have ever known.
I started making independent films in the late '80s and '90s in a time when few people were really into it. Or at least it was not the cultural traffic jam that it has become. My film In the Soup won the Grand Jury Prize in 1992. That was the same year Allison Anders and Quentin Tarantino were there with Gas Food and Lodging and Reservoir Dogs, respectively, and that set me on a path that led me to where I am today.
Those were great times to be what we now refer to as an "American independent filmmaker." People like Maya Deren, Robert Frank and John Cassavetes had built that cathedral, and I was content to just lay my brick in it. Things have since changed, and the term independent filmmake, is as generic as the term "rock star."
However, to stay truly independent has become harder–to get the financing for a film, is a lot like bringing the broom of the Wicked Witch of the West to the Wizard, who is usually some old white man, who like the Wizard of Oz, is a fraud of some kind.
The love of filmmaking drew me into some pretty tight corners when the production company wasn't interested in the same things. I was interested in a personal cinema. That was not as easy a sell as the more genre-based films that rose out of the Miramax-ing of the movement. I found myself out of sorts and wondering if I could keep the illusion alive just long enough to cross over into a main steam with a hit like Paul Thomas Anderson or Wes Anderson had done. It's a high stakes game where it's all in or lose. Years can go by puckering up and "kissing frogs" instead of making films.
It was a deal with the devil most of us just had to accept to keep the hope alive. This is a terrible place for an artist to live. As soon as you look the other way, too often your own opinions can become softened by the sweet smell of compromise. William Hickey, the acting teacher at HB studios in New York City, always said to me, "The devil never appears with horns and a tail. He shows up in swanky restaurants, smoking the finest cigars".
My latest film Little Feet was a reaction to all that. A way to return to making a film with the simple things I loved most about the magic of motion pictures. Personally, it presented itself to me as a life savior, a reminder of the reason why I picked up a 16mm Bolex when I was still a kid in the first place.
I am fascinated by this medium and constantly mystified by its beauty. As the French poet Villon wrote about poetry, I am struck by the "joy of a man who creates his own Gods."
I was broke, but somehow scrounged and scrapped together the money to get some film and borrow a camera and with a few brave souls set out to make a film whose only reason for being was to celebrate the journey itself.
I wrote Little Feet with my then eight-year-old daughter Lana. She and her four-year-old brother Nico star in it. I cut it myself and dubbed most of it in Lana's closet with a $100 microphone. I met the fantastic director of photography Walter Lech in a park, playing with his daughter and asked him to shoot the film on the spot. The sound man was a waiter in a café I used to write in and had never held a mic in his life (hence the closet dubbing sessions). The rest of the crew came to the film out of love for the project itself. We stumbled through the shoot with bloody knees and dirty faces. We were "putting on a show" with all the enthusiasm and joy of a Spanky and Our Gang production.
Little Feet has done so far what it set out to do. It has been well-received at Toronto, Rome and the Mar del Plata film festivals, as well as by other festival audiences around the world. It's a return for me to the filmmaking fountain of youth.
I am now learning the fine art of crowdfunding to put the finishing touches on the film, such as a final mix, music and formatting, and while it's a new set of tools, the goal is the same. Places like Kickstarter and IndieGoGo are a possibility for a rebirth of truly independent filmmaking. It's the chance to open up the doors for new filmmakers and established filmmakers alike to continue to reinvent the medium and challenge the status quo with personal films that speak directly to the audiences far from the clutches of old men in suits dictating the outcome, which has become the norm in the independent film world of late.
But nothing against old men in suits, because I am rapidly, in appearances, if you remove the suit, becoming one of them…