Back to selection
"Groundbreaking Work Often Sits at the Boundaries of Technology": Sound Designer Johnnie Burn on Under The Skin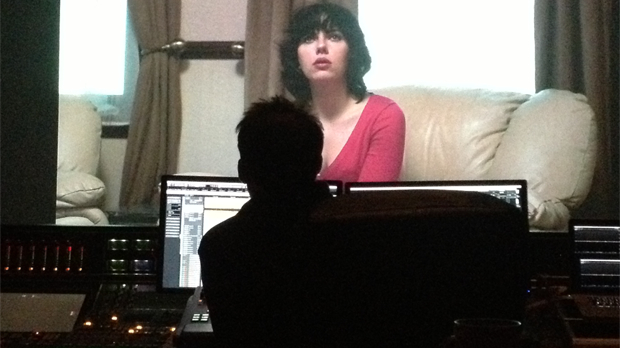 It's unlikely many films released this year will lean as heavily on sound design for their overall impact as Jonathan Glazer's Under The Skin, a loose adaptation of Michel Faber's 2000 novel of the same name. The director's long-awaited follow-up to 2004's Birth is a warped, haunting melange of sci-fi and cinema vérité which reinvents Hollywood siren Scarlett Johansson as a blank-eyed, cold-hearted alien with a cut-glass English accent. The alien shores up in the Scottish highlands and embarks on an implacable quest which involves cruising around in a white van, looking for hapless local men to "seduce."
Under The Skin is a bracing mixture of the rough (much of the movie was shot on location with hidden cameras filming unwitting members of the public) and the smooth (there are startlingly stylized flights of fancy), threaded together by a tremendously eerie soundscape. Recorded sound dovetails thrillingly, and often imperceptibly, with composer Mica Levi's unorthodox, Ligeti-inspired score, to create a consistently unsettling and—yes, alien—atmosphere.
I sat down with the film's sound designer Johnnie Burn to discuss a host of subjects, including the specifics of his crucial work on the film, his long-term working relationship with Glazer, and his personal route into the industry. I began by asking the founder and owner of the highly-regarded Wave Studios in Central London how he first got interested in sound design.
Burn: Star Wars was my first realization of sound in film. I was seven or eight, and then as a teenager I was always the kid playing around with two different record players. I was interested in hip hop in the '80s and I made bits of music myself. I actually went on to do a business degree when I left school. I was a semester-and-a-half in, and I realised that it wasn't for me at all. I left and I followed the sound thing, beginning as a runner.
Filmmaker: What was the technology like when you started?
Burn: It was just at the beginning of the digital age. In my first six months I was cutting tape physically with a razor blade—how it was done in The Conversation (1974)—so it was great to get that experience. (Walter Murch, by the way, is a huge influence.) But the entire rest of my career has been digital. We used to work on a piece of machinery called the Synclavier, which was a big, £250k sampling thing—Michael Jackson used it for his music. We had a keyboard and if you needed to do footsteps you'd pull up the footsteps patch and walk down the keyboard with your fingers. My sound design career has been via the route of apprentice, teaboy, and learning from people who are very skilled at doing that; and then being very lucky to work with some fantastic creative people. I've been a conduit for their vision.
Filmmaker: Tell me about your own company, Wave Studios.
Burn: My business partner Warren Hamilton and I started Wave Studios in 1999. It existed on one floor with a predominantly commercials client base, and then after three years we got another floor, and another floor, and then opened an office in Amsterdam. We have plans for New York and Los Angeles coming very soon. The company turned 15 years old in February, and we employ 40 people. The bulk of the work is commercials, and those directors who book us do short films and film; that's our 'in' to the world of film. We've never particularly gone to seek that market, but we have clients there. We're known for doing the bulk of good sound in this industry. In around 2003, I started working on Birth with Jonathan Glazer, and that took me out of my studio and my clients for a good nine months or so.
Filmmaker: How did you meet Jonathan Glazer in the first place?
Burn: We met at the place I used to work at in London. It was called The Tape Gallery. He came in as a client with a couple of advertising writers—Tom Carty and [Under The Skin co-screenwriter] Walter Campbell—who have both been key to my career in terms of learning and understanding how to use sound and film. They introduced me to Glazer by hiring him to do some of the commercials I was working on. In 1998 I did his Guinness surfer ad that was pretty well known, but I'd done plenty of work with him before that.
Filmmaker: Has the rapid development of digital technology made things easier for you as a sound designer? Is there now more competition in the field?
Burn: It depends what market you're in. In advertising there's way more scope for people to fiddle with ideas, to perfect and to hone. In many ways what it's done has brought down the cost of presenting sound design as a service, which has subsequently brought down the rate that you can charge. It's certainly made it easier to do good stuff. It tends to be that groundbreaking work often sits at the boundaries of technology. For us [sound designers], that's a key thing, being able to realise what opportunities current software developments allow you, and to grab that by the horns.
Filmmaker: Birth, in 2004, was your first major feature working as a sound designer. How was it?
Burn: Pretty grim! It was a big studio picture and I was very inexperienced. When Jon [Glazer] was cutting the film in London, he said "come round, look at some rushes with me and we'll develop some ideas." Two weeks later I'd moved all my kit into the spare cutting room next door and was helping Jonathan design the sound as he cut. Nine months later I was off the picture. I learned a hell of a lot, though, and really enjoyed the time I was on it.
Filmmaker: Under The Skin is a project that has long been gestating. Can you map your involvement in its production?
Burn: A good few years ago Jon [Glazer] mentioned the script to me and we workshopped some microphone ideas on a commercial shoot in Toronto in 2008. I went on a tech recce in September before the shoot in 2011. I hired the location sound man, to find someone who would take up the challenge of trying to record the hell out of everything that was on the set. The big challenge was this: we knew Scarlett was going to be talking to members of the public and their sound and their answers were going to have to be heard because they never going to be good at doing ADR [Automated Dialogue Replacement]. Jon was never going to want to replace anyone's voice, because the Glasgow accents are very idiosyncratic. So a key part of how we shot a scene was "how do we capture the sound correctly, and not waste the footage?" I was involved pretty early on.
Throughout production I went to the set and assisted on the tricky stuff. I was also in there from the beginning on the editing process. I went in on a weekly basis to give the editor, Paul Watts, a few sounds that I'd thought about or to tidy up bits of dialogue for him. As soon as the film had wrapped I took all of the sound out of the AVID, did a big clean-up of the noise and gave it back to him so that he could cut with dialogue he could use, and discard the stuff he couldn't. As the edit process went on, after about five months, Jon's attentions started to turn toward me and sound. That was around May 2012. After that there was another 11 months. The main picture edit was Jan 2012 to June 2012. Then from June 2012 to May 2013 there was further picture cuts and sound. Then a mix period, re-edits, and a pick-up shoot. It was not a smooth, linear process!
Filmmaker: The film presents reality through the alien's eyes, so how did you go about creating that "reality"?
Burn: We knew we had to record an awful lot of reality in the sound, because Jon [Glazer] was clear that in order to convey the alien we had to present the world as honestly as possible. Initially I thought that meant just record everything and try and make it later. But when the first picture cut was done and we went through a traditional film process of track laying sound onto the film, and doing foley in the traditional way, it turned out to be completely inappropriate. It sounded a like a [regular] film which was really wrong. I then took the sound team up to Glasgow and we spent two weeks recording everything we could find, just people's conversations. We had an umbrella with a microphone hidden in it! It was a bit James Bond.
We built a library from about 2500 hours of sound and Jonathan and I spent a month listening to every single thing and cataloguing it into a library that was specific from Glasgow. We knew we could rely on it. When we spent a further few months sitting in a dark room, actually piecing the sound of the film together, we knew we had a pot of gold to make it from. All the scenes came from ideas of how to make this as real as possible. The interesting thing about this approach was we were finding was that exactly the sort of stuff you'd normally remove from a film was making it in: a bump here, a clip there.
Filmmaker: Under The Skin opens with an incredible "birth of an alien" montage, which is very 2001: A Space Odyssey, and has all these sounds and noises overlapping. You can hear Johansson saying all these random words.
Burn: The vocal thing was day one of the shoot. Scarlett was driving around Scotland in a van and practicing her voice exercises, and that turned out to be quite useful in the end. The rest of it is Mica Levi's music, which is extraordinary, and feels like nasty tendrils coming into you. It's enormously powerful.
Filmmaker: Can you talk a bit about dovetailing your work with Mica Levi's score?
Burn: Our relationship was great. Jon was keen for there to be seamless integration in the whole of the film's soundscape. I've known the music producer and supervisor Peter Raeburn for many years. Mica was new to me but the three of us spoke often about ideas, with Jon very much in the middle. In one particular sequence at the end, where the sound of wind commences the musical piece, we used a really tight EQ frequency to pick out the pitches of the music that was going to come. So the wind and the sound was sympathetic to the score and we used techniques like that throughout to make it all flow.
Filmmaker: Under The Skin, like Birth before it, makes a real virtue of silence. It's very powerful in that respect, and reminds me of a quote from Talk Talk's Mark Hollis, when discussing his band's album Laughing Stock: "The silence is above everything, and I would rather hear one note than I would two, and I would rather hear silence than I would one note." You have to create that silence, though.
Burn: Silence is so important because I can never create a sound better than the one you can imagine in your own head. The more subtle you can do it, the more powerfully you speak to the subconscious. The less bombastic, the more right-brain everything is, the more you'll tickle an intelligent audience. The whole thing with sound design for me is to redact everything, and silence is the epitome of that. In a film like Birth or particularly Under The Skin, which has little dialogue going on in it, the choices that you make are a really key part of the narrative as well as supporting the world and creating a reality.
Filmmaker: [Interviewer's note: This question discusses a key plot point] There's an extraordinary scene in the film when we discover what actually happens to the poor men once they've been lured into the alien's inky pit of doom. The sound design in this scene struck me as particularly horrific.
Burn: It's grim, isn't it! It's the counter-intuitiveness of what you're seeing. Daniel Landin, the D.P., said, "You know what would be really good for this? The sound of dry leaves!" He had a good inkling. Initially we had, of course, gone down the classic route of having underwater, bass-y kind of sounds. But that didn't sound "alien," that sounded just like what we know. So the main ingredient was having a tray at an angle with rice on it, and if you touched it it moved a bit, it had that sliding sound, and also dry leaves. That was the only sound in the film where we used the classic film route of sound: foley. I also take my hat off to Jon for his vision. A lot of the time he was restraining me from going "big" — as in, "Wa-hey! Let's throw some more sound design in!" He'd say, "Listen mate, turn it down, and remove anything that isn't absolutely key." That scene really works because there's so little of it. You're uncertain and unsettled.
Filmmaker: On the film, you're credited as sound designer, sound re-recording mixer, supervising sound editor.
Burn: Although it can look a bit messy, I took three credits because I had to cover all the bases of what I did and it was a lengthy process. But the main credit for me was sound designer: that was the overall look at how the sound was recorded and applied across the whole film.
A lot of films would have tracks laid and mixed, but it's not the way Jon likes to work—it's more of a legacy from commercials. The room we built to work in a was soundproofed, Dolby 5.1 environment and we sat in it for a long time. Because we knew that the subtleties were important, we mixed it as we went, because we didn't want an idea that was subtle to founder just because we hadn't tried it properly.
Filmmaker: What technology did you use on the film?
Burn: The MacBook Pro that I use runs 1,000 tracks of sound. It sat on the big film mixing desk at Technicolor Studios and had a lead going into the speakers. We used that and a piece of software called Nuendo which is much like ProTools, but to my mind a lot more creatively intuitive, and it has more potential. It's not that new, but to use a Star Wars analogy, it's the rebel! It's the underdog. When it first came out I used it on Birth; that's how long it's been around.
Filmmaker: Is Under The Skin the most challenging thing you've worked on?
Burn: Absolutely. It's by far the most rewarding and challenging thing I've done. From the tech recce to doing the final mix, that was almost two years. Just hanging out with Jonathan Glazer in a room for all that time was a masterclass in itself! There was a small group of people—Jonathan, the editor, VFX, the post supervisor, myself, the music supervisor—and for all of us to work together so closely for such a length of time to try and create something we were proud of was a really rewarding experience. There was a lot of long days and hard work, but the satisfaction was worth it. I'm also really grateful to my core sound team of editors Ed Downham, Simon Carroll, Steve Browell and re-recording mixer Steve Single.
Filmmaker: Were you involved in other work at the time at Wave?
Burn: No. We went on a family holiday afterwards and my daughter, who's four, said to me, "Daddy, when I was three, I missed you. I think you were working!" My business partner was very kind and understanding.
Filmmaker: What advice would you give to a young sound designer thinking about getting into the business at the moment?
Burn: I still think that traditional "running" is relevant. Most of our staff here are postgraduates in related fields, because it's a good way to get in. One has to maintain the attitude that you still have a lot to learn when you enter your place of work. The learning you have from college will take you through the later part of your career much more quickly but unless you go and make tea, no one else in the company going to have that respect for you because they've all done it! Definitely just get trying ideas. Get out there and take a piece of film that you like and admire, and try to do it yourself. Put it into a bit of software and have a go at thinking about not just doing the recordings but specifically how sound is used to steer a narrative.
Under The Skin is released by A24 on April 4

Click here to download Burn's .PDF timeline detailing and illustrating his work on the production.