Back to selection
Cannes 2014: 5 Questions for Le Meraviglie Director Alice Rohrwacher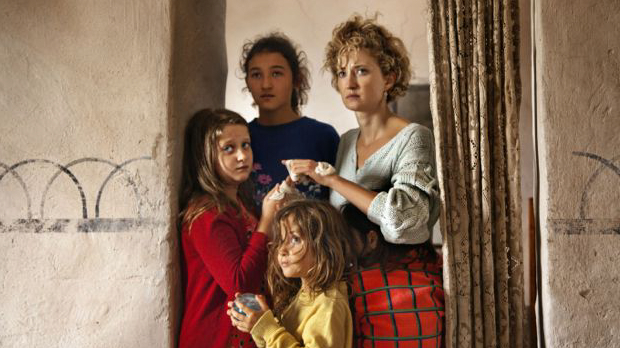 Le Meraviglie
Following up on her 2011 debut Corpo Celeste, which premiered in the Directors' Fortnight section, Alice Rohrwacher returns to Cannes with Le Meraviglie (The Wonders), this time as part of the main slate competition. It's an intimate fairytale full of surreal characters and scenery, marvelously shot in Italy's central-northern landscapes.
Eldest daughter Gelsomina is the head of the family. While taking care of her three sisters, she struggles to keep the bee farm running with her stubborn German father, who opposes anything modern. The family has run out of money when the government imposes new regulations that could shut the honey business down completely.
One day a beautiful fairy appears (an incredible cameo from Monica Bellucci in full "Etruscan" garb). She comes to promote a TV competition that intends to award one farming family a bag of cash and a cruise. Despite her father's protests, Gelsomina enters her family into the competition, trying desperately to open them up to the outside world. In true Italian tradition, the beauty is in the process, not in the rewards.
Rohrwacher wrote and shot the story in her native town, paying homage to disappearing farming traditions, parallel to the Etruscan culture that disappeared centuries before. She effortlessly captures the mysteries of childhood memories and growing up through the film's four daughters, allowing viewers to have a singular closeness to its characters. We spoke to Rohrwacher at Cannes about putting images to the page, the wonders of European co-production, and the difficulty of shooting with bees.
Filmmaker: What's your writing process like?
Rohrwacher: I always start writing from the images that I have of the story, from the impressions I have in my head. I've only done two movies, so I can only speak about these experiences. But the first material thing that exists is a big collage of images, and afterwards I start to map out the character dynamics.
I do one map for each character, and I map out the characters' relationships, what happens between each character. It's on a transparent paper, so after I can hold them up and see if the relationships are working. Sometimes you can really see if it's not working or not. If it looks strange, I do the map again and again until the relationships make sense.
Filmmaker: Was it important for you to make a personal film, something you knew a lot about?
Rohrwacher: I think nothing is personal and everything is personal. I do this work because I want to discover something, and I don't want to discover things just about me, but about people. But it's through my eyes, so it's personal, and this movie of course is more personal because it's my region and about the animal that I really know, the bees.
I think I just do what I can do. I'm trying to just do what I like. It's my rhythm. Maybe I'm not so fast in my life and you can see that in the film.
Filmmaker: How closely did you work with your producers in the creative process?
Rohrwacher: Mostly I worked with the Italian producer, Carlo Cresto-Dina, because we have a very close friendship. It was very important to always speak with him in everything I did. But, of course, also the Swiss and German producers were important because after filming in your own country you can then go out and show it to the others, and you can change things when they bring in a new perspective. It's a beautiful possibility to have a co-production between the different cultures that we have in Europe.
Filmmaker: How difficult was it to film the bees?
Rohrwacher: It was difficult to convince people that a bee sting is something very healthy. Actually, when a bee stings you, you will have a beautiful old age, because the poison of the bees can help you when you get old. But no one wanted to believe this. This was very difficult to make the actors believe that we were doing it for them! The bee stings you saw in the film were not real. But during the filming, we all got stung a lot. It's not easy to film with bees.
Filmmaker: What was the most challenging thing about making this film?
Rohrwacher: I loved every part of making this movie. It was like blowing into the fire to keep it alive, and the fire is going up and down, and so there was not one moment that was more difficult than another. You're not into the process to get to a result. The result is the process, so you enjoy the process. This is a very important thing for me, and I think also for my culture, that the process is the life and it's very important to protect it. But I think it's very beautiful to work with the people that you love, friends and family. This is the most important thing.