Back to selection
Cannes 2014: Diary of a Party Crasher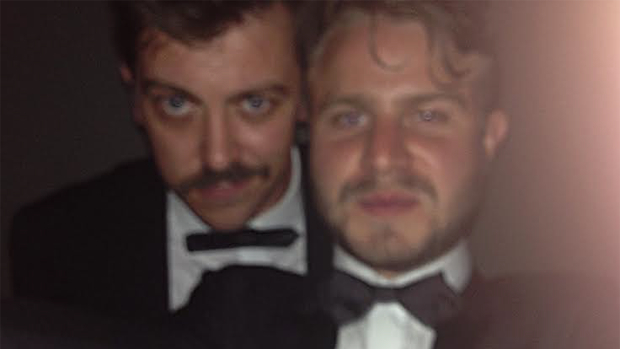 Aaron Hillis (l) and Brady Corbet
(Aaron Hillis' first two festival dispatches can be read here.)
The past 11 days are mighty hazy. Double that number and you'll not only know how many features I've seen at Cannes, but the quantity of cocktail mixers, dance-a-thons, karaoke get-togethers, and other costly promotional soirées littering the Croisette that I came into like a wrecking ball. Only two of them actually invited me, but I don't get shut out of parties at Cannes. Sometimes cinema can wait.
"You're burning the candle at both ends," chided one of my Cannes flatmates just now, an industrious journalist who sees more films per day than me, gets twice as much sleep, and clearly has less fun than I do. My eyes have more baggage than I brought to Cannes, my feet have blisters on their blisters, and my liver — like French air traffic controllers and cabbies this week —is on strike. "They're going to pour you into the plane, and you'll die before you make it home to JFK."
She could be right, and if that happens, please let this piece be my official will and testament that my ashes be sprinkled inside the Palais des Festivals et des Congrès, preferably in the balcony of the Grand Théâtre Lumière from inside someone's tuxedoed pant leg, à la Stalag 17 or The Shawshank Redemption. Tell my wife and parents it was all worth it, and please print out a copy of this page for the forensic report.
During the daytime screenings, I dress down in my Brooklyn uniform of t-shirt and jeans, but it's vital to spruce up for party crashing after sunset. A blazer or suit jacket is required to look the part, or a tuxedo if it's a premiere party, and I keep my press badge with me but not visible in case I have to give a false name at the door. Physical invitations never allow for a plus-one, so I prefer not to travel with more than one guest unless they're savvy enough to sneak in on their own. This year, my principal partners-in-crime became Raviolo* (a merry, scruffy Italian raconteur of hearty appetites who seemingly knows everyone), his incredibly tall and equally jolly compatriots Giacomo and Maximo, and Cassandra* (an unpredictable, always upbeat Mexican producer with an infectious cackle), though the rest of you misbehavers know who you are.
There's a common misperception and almost mythic overvalue concerning yacht parties at Cannes, as if being docked on a crowded boat or getting seasick while drinking bubbly over waves resembled anything like fun. The Côte d'Azur (that's the French Riviera to you) is absolutely gorgeous on non-rainy days, so my taste is for staying on the plage (beach), where luxury event venues are stacked side-by-side as far as the eye can see. Also on the coast is a pop-up village of pavilion tents, representing the film industries of dozens of countries (welcome, Egypt, Cyprus and Cameroon!), so you can practically choose your revelry based on the booze you'd like to sip. I'll personally vouch for the vodka at the Estonian Pavilion. Terviseks!
Sometimes I owed everything to dumb luck. With friends already inside the Marché du Film's opening night mixer, I was misinformed that anyone with festival accreditation could attend. But when my badge was scanned, the device went "bzzz!" instead of "boop!" and I was rejected for not having market credentials, only my humble press badge. If not for a kindly publicist and former Cannes press officer (here representing this event, but whom I've known for a decade from New York) recognizing my face, I'd never have been ushered past the door sentry. Neither my life nor my night would've been ruined if I hadn't made it in, but now I'm friendly with the head of the Hong Kong Film Festival after bonding over Lost Horizon. Even now, I'm not sure if we were talking about the 1937 Frank Capra version or the notorious 1973 turkey of a musical.
Three free glasses of rosé (my drink of choice in Cannes) on a pier later, I run into Cassandra and we set our aims on the Directors' Fortnight opening-night jam, which I'm eager to attend having quite enjoyed Girlhood earlier that evening. (My apologies to director Céline Sciamma, whom I not so eloquently tried to explain this to outside the party while my head started to swim.) It's invite only, but since we've arrived late and the mad door rush has dissipated, I come up with a believable bluff: "Pardon, monsieur. Parlez-vous anglais? I don't need to come back inside, but can someone retrieve my iPhone charger? It's green and plugged in next to the DJ booth. I'll wait right here, I understand there's a proper protocol." Whoosh! I'm inside. Nobody's leaving a post to get this American jerk's phone cord.
I don't like to leave any soldiers behind, so I size up the room and text Cassandra. There's an under-attended plage party next door, so I tell her to pull the same phone scam there and sneak over along the beachside. We hang up before I notice the bouncer stationed on the sand, specifically to prevent such shenanigans. I text my friend to call off the air strike, but I'm afraid she won't see it in time, so I try calling with my limited overseas minutes. No answer! By the time I finally hear her say "hola," she's tapping me on the shoulder from the dance floor. She had flat-out baffled the checkpoint guard by speaking Spanish very fast and making a lot of animated gestures, and he evidently didn't want to have to deal with her either. Compared to the usual Euro-trash disco pounding down the Croisette every night (although I'm digging this frequently heard dance track made out of Matthew McConaughey's Wolf of Wall Street chest-beating mantra), the DJ has hip tastes and ends his set of Motown, electro-grooves and funk with Rihanna's "Diamonds," a clever nod to Girlhood. Everyone danced like fools.
I've only known Raviolo for a few days but he makes me laugh at the strangest quirks, like stealing my glasses when he dances, so I follow his gregarious pied-piper routine one afternoon to an event where I don't even know what or whom is being promoted. Okay, perhaps my arm was twisted by the promise of free hors d'oeuvres (my source of protein for at least five meals this trip), since I haven't yet eaten out of poor scheduling. Raviolo does some fast talking about why it's necessary that our mob enters together —including new recruit Bad Will*, who somehow smuggled in pot from Los Angeles and offered me my own joint within 10 minutes of meeting. A shrewd marketing move, and it's finally revealed why we're here. "It's fucking Spandau Ballet!" boasts Raviolo, who pronounces the word "ballot," and sure enough, in honor of Soul Boys of the Western World — an upcoming doc about the working-class London popsters — bandmates Tony Hadley and Steve Norman take the stage and start to perform songs like "Gold" and "True." The crowd is going nuts and tipsily singing along, but all I care about are the BBQ sliders.
Speaking of delicious freebies, hands down the best thing I've put in my mouth this week (don't be vulgar) is the Magnum ice cream bar that was being served at the Red Army party. (For once, I had two invites from the publicist, which somehow got six of us in thanks to Raviolo's gesticulating charms.) While a DJ spun and Soviet hockey games from the '80s were projected on a wall, I was seduced by a fog of frozen vanilla-bean sweetness, drizzled in Belgian chocolate and sprinkled with toasted coconut flakes, chili and rose petal flakes. My vote for the Palme d'Or is that ice cream bar. The Grand Prix would then go to the spicy ramen I devoured at the Korea social, and my favorite kebab place Le Bosphore nabs the Jury Prize.
When I couldn't get into the Colombian bash because I misheard the guest-list name given to me (and who forgets how to spell their own name?), I was ordered to go to a second line that only allowed in Colombian citizens. A random attendee's photo ID was smuggled out to me, which I hid in my wallet with only the "Yo Soy Colombiano" side sticking out. I feigned confusion when the doorman started speaking to me in Spanish (not that I was feigning), flipped out my billfold, smiled and stammered, "Si, si, si, si, si," as he patted me on the back walking in. Anyone need a free schwag sombrero?
The following night, I'm given the name "Gabriel Padilla" to drop at the Panama party, but then I answer a frantic and noisy phone call from inside the party: "Don't use that name. That's the Panamanian film commissioner and he's working the door. He was at the Colombian party last night and got pretty wasted." I got this, I said. A minute later, I'm at the front of the line and see Señor Padilla for the first time in my life. "Gabriel! Aaron from New York, the writer? Man, you were so drunk last night, what a fun time. Okay to bring in a plus-one?" Having later had a lovely conversation with the man, it's like the timeline was all out of order but he was always my new amigo. Anyone need a free schwag Panama hat?
And on and on. I upped the stakes, if only for a potentially droll anecdote. On my final night in Cannes, having yet to attend a premiere party, I don the penguin suit to slip into the afterparty for Olivier Assayas' Clouds of Sils Maria. The venue was a pop-up, low-lit nightclub called Silencio — based on the Parisian original, both inspired by the smoky high-weirdness of Mulholland Drive's Club Silencio — and even being friendly with two U.S. publicists and costar Brady Corbet didn't help. But I prospered one last time (#humblebrag), drank on two rooftops, danced myself sweaty until half-past 3am, talked my way into the VIP section, and had Brady take a selfie. Just before heading home on my final night of sin (don't tell my father-in-law I was offered cocaine in the Grand Hotel restroom; I can only imagine what I might've been offered if I had attended Cannes in the '70s or '80s), three ladies asked me to take their photo, so I asked a nearby gentleman if he'd mind getting in frame, too. While the trio was temporarily annoyed and asked me to redo it without him, I'm pretty sure they'll later appreciate their photo with Monsieur Assayas. And now, party people, it's time for a 12-hour nap so I don't actually die.
* Names have been changed to protect the guilty