Back to selection
Win an Alejandro Jodorowsky Prize Pack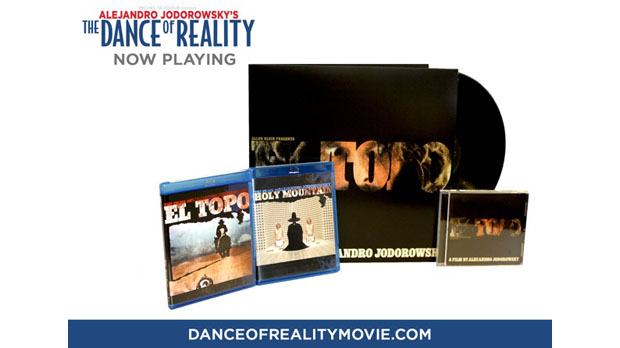 Thanks to our friends at ABCKO Films, Filmmaker has a prize pack to give away tied to Alejandro Jodorowsky's The Dance of Reality, the cult favorite's first feature since 1990's The Rainbow Thief. In this new film, Jodorowsky revisits his '30s Chilean childhood while producing typically fantastical imagery.
The prize pack includes an El Topo Blu-ray, The Holy Mountain Blu-ray, and the El Topo soundtrack on both CD and vinyl. To win, be the first to answer this question: what sci-fi novel did Jodorowsky try and ultimately fail to bring to the screen, as chronicled in a recently released documentary? Email your answer to vadim at filmmakermagazine dot com.
Here's the trailer for The Dance of Reality:
For more information on the film, read our interview with Jodorowsky from last year and visit its official website. Here's a list of theaters where it's currently playing or soon opening:
Currently Playing
Berkeley, CA | Theater: California Theater
Boston, MA | Theater: Kendall
Chicago, IL | Theater: Music Box Theater
Los Angeles, CA | Theater: Regent
New York, NY | Theater: Sunshine Theater
Philadelphia, PA | Theater: Ritz At the Bourse
Sacramento, CA | Theater: The Crest Theatre
San Francisco, CA | Theater: Opera Plaza
Washington D.C. | Theater: E Street Theater
June 6
Austin,TX | Theater: Lakeline The Alamo Draft House
Dallas, TX | Theater: Texas Theater
Denver, CO | Theater: Cheze Artiest
Houston,TX | Theater: The Alamo Draft House
Kansas City, MO | Theater: The Alamo Draft House
Miami, FL | Theater: Cinematheque
Minneapolis, MN | Theater: The Uptown
Santa Ana, CA | Theater: The Frida Cinema
June 13
New Orleans, LA | Theater: Zeitgeistinc Theater
Santa Fe, NM | Theater: Center for Contemporary Arts
Tucson, AZ | Theater: The Loft Cinema
June 20
Seattle, WA | Theater: The Grand Illusion
San Diego, CA | Theater: Ken
Nashville, TN| Theater: Belcourt Theatre
Bloomington, IN | Theater: Indiana University Cinema
July 11
Providence, RI | Theater: Cable Car Theater
July 18
Portland, OR | Theater: Hollywood Theater
N.B. This contest is only open to residents of the U.S. and Canada.