Back to selection
The New Ultra-Wide LG 34UM95 Monitor Is A Gamechanger for Sound and Video Editors (Sponsored)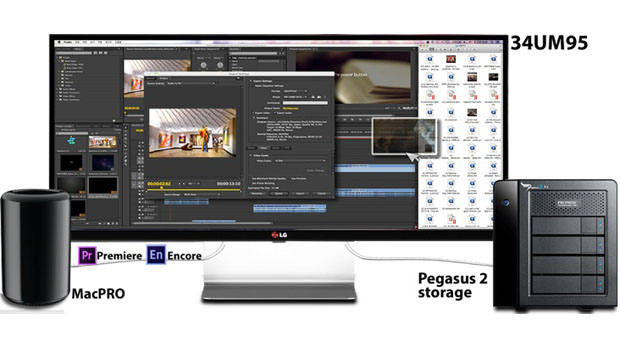 The following is a sponsored editorial post from LG.
For video and sound editors, getting enough screen space to get work done efficiently has long been a problem. Even with two 16:9 monitors running off one CPU, there's still bezel barriers to contend with, and your working space quickly grows cramped, slowing down workflow as you struggle to make all your programs fit. Now there's a solution: the LG 34UM95, an ultra-wide 21:9 monitor with 3440×1440 Quad HD resolution. Sound mixers can now see all their tracks in a wide, uninterrupted linear sequence, with the high resolution eliminating time wasted on scrolling for a track search. With 2.4 times the monitor space, MIDI programs can display up to nine activated instrument tracks and 43 controllers rather than 24.
Video editors will similarly benefit from 34 inches of continuous display space. No more struggles trying to find the exact right cut on a small screen. Toolbars don't crowd each other out and the need to remember the correct keystrokes to quickly transition through timelines is eliminated. Working on a New Mac Pro? The LG 34UM95 has two Thunderbolt 2 slots. That means four times the rendering speed available through current USB 3.0 connections.